By Joan Farnam
Freelance Writer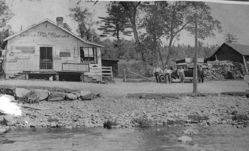 The Finland Cooperative and General Store in Finland, Minn., is a friendly place. Founded in 1913 to serve loggers and farmers, many of whom were from Finland, the co-op has a long tradition of cheerfully provisioning people with whatever they might need.
"The main reason the cooperative started (in 1913) is that the closest place to get any supplies was in Two Harbors," said Don Adams, general manager. "There weren't any roads here then. The road to Split Rock wasn't there until the late '20s. They ferried stuff by boat."
The steamer boat which off-loaded in Crystal Bay, several miles from Finland, didn't come that often, so the community decided to start their own store.
They sold shares for $10 a piece gathered the money that they could and built a small little store close to the river," he said. The little co-op thrived, and in the 1930s, members bought their first truck. They later bought land on the new Highway 1 and built the co-op there, where it can still be found.
"They've added-on three times," Adams said, including a seed and feed barn. Fuel, including gas and diesel, continues to be sold there, too.
In those first decades, the community was made up primarily of loggers and farmers, with fishing families living closer to the lake. They not only needed food, but they also needed hardware to keep their businesses going, their homes in good repair and their vehicles running, so from the very first, the co-op has stocked hardware items, plumbing and electrical supplies as well as basic foodstuffs.
"Our products are catered to the people who live in the area," he said.
So loggers working up near Isabella, for example, can find parts they need for broken equipment, fishermen can find lures and homeowners can find what they need to fix plumbing or electrical systems.
It's also a great food store, so shoppers can find fresh meat and produce, as well as well-stocked grocery shelves. There are snack foods and homemade sandwiches, too. And, added Ann Unruh, assistant manager, you can find lefse flippers as well. In short, it's an old-time general store with something for everybody.
And it's open to the public, Adams said. Unlike many cooperatives found in farming country, this one is operated like a corporation.
"Many people think it's a co-op where you work and get paid in goods," he says. "This is more like a corporation. Shares are held by the public."
The Finland Co-op holds it history with pride. Until 1941, the co-op's board minutes and annual meetings were kept in Finnish then in Finnish and English. Many of these old records have been preserved.
"The original bylaws were written in both languages," Adams said. "If you read it one way, it's in Finnish. If it's turned another way, it's in English."
The Finns have kept their heritage alive, too, he said.
"Quite a few Finlanders still live in the area here," Adams said. There's a historical site on County Road 6. One of the old school houses used to be next to the co-op here. It's been refurbished. And they're building a museum out there."