Whether a visitor to the North Shore or a local resident, Lake Superior's pristine waters and sprawling snowy woods sets the stage for pure serenity and relaxation.
For many, simply being away from the traffic and crowds of an urban setting is enough to achieve a "superior" level of physical and mental calm. Others might require an observational hike among snow-covered trees on the Superior Hiking Trail to breathe easier. A few want nothing more than to be able to sip coffee and read a book in the lodge of their resort, uninterrupted.
Recognizing the North Shore as a prime relaxation destination, massage artists in this corner of Minnesota play a significant role in area tourism. Both destination resort-affiliated spas and independent massage practitioners cater to those hoping for a bit of respite from internal and external chaos.
Massage is a general term for the manipulation of skin, muscles, tendons and ligaments. Reasons for seeking a massage are as varied as the clients themselves. Generally associated with alternative medicine, some studies confirm its effectiveness in treating medical conditions, such as soft tissue strains, fibromyalgia and joint pain. Certain methods of massage have been shown to help reduce back pain, while several focus primarily on stress and anxiety relief.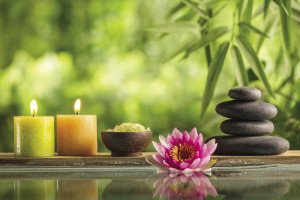 In the wintertime, many people combat symptoms of seasonal affective disorder, a depressive disorder with seasonal patterns. This disorder and its less-severe relation, the winter blues, affect as many as one in five Americans. Regular massages can help sufferers improve mood, boost energy levels and positively affect the way their body reacts to adverse influences.
Some styles of massage involve more intense physical pressure to achieve ideal results, while others may incorporate energy transfer with light touch as part of the session. Deep circular movements paired with vibration and tapping are indicative of a traditional Swedish massage, and a deep tissue massage uses slow, forceful strokes to target deeper layers of muscle. Sport massages aren't solely for athletes; anyone with a restricted joint range of motion or chronic pain may notice positive outcomes with regular sessions.
Some of the larger massage therapy studios on the North Shore are connected to the area's resorts. WatersMeet Spa and Wellness Center is a destination spa located at Lutsen Resort. It boasts services that cover a wide variety of needs, including the trademarked Feet Treat, Perfect Combination and Mini Retreat services. The Perfect Combination allows individuals to choose particular areas to experience deep tissue massage and enjoy gentle relaxation techniques on others.
Being a destination spa and wellness center means the business has lodging and full-service dining within easy walking distance of the spa, personal services such as facials, wellness services such as yoga and professional consultation services on site. They can offer customers consultations with cosmetologists, estheticians and a board certified massage therapist, among other professionals.
Waves of Superior Spa is a resort spa facility connected to Bluefin Bay in Tofte. Its 3,800 square feet includes five massage and specialty treatment rooms and a space reserved exclusively for couples. Their 90-minute Waves Signature Massage combines custom warm oil blends, hot towel hydrating wraps, warm stones and a lavender eye pillow. An indoor heated lap pool, hot tub, sauna and fitness center complete the wellness environment.
The Mountain Massage Studio at Caribou Highlands in Lutsen boasts views of Lake Superior and Moose Mountain. Their most popular massage offering is the Signature Mountain Massage, which features pampering touches, a hot towel foot wrap and various techniques meant to improve circulation and ease muscle aches.
"A relaxation massage helps us shift to a present state of being, freeing the mind and soul of our day to day struggle with the 'rat race' within. It allows us to tap into our inner self and connect to the body and its needs," says Teri Chilefone, massage therapist at the Mountain Massage Studio. "Relaxation helps us to think more clearly and creatively. I feel that receiving a frequent massage, while not only healing to the body, helps with a more grounded and centered perspective to our lives."
Rick Anderson runs the Sweetgrass Cove Guesthouse and Bodywork Studio in Grand Portage. His specialty is therapeutic massage, specifically Integrative Neuromuscular Therapy. This type of therapy combines deep tissue massage and Esalen massage, the latter of which is known for its long, integrating strokes, joint mobilization and energy work.
Ancient Traditions Healing in Grand Marais is not affiliated with a larger business. Founder Brigette Nies has been associated with the healing arts since enrolling in the Institute of Natural Healing Sciences' massage therapy program in 1997. Her resume also includes yoga instructor, master herbalist, breathwork facilitator and reiki master.
Reiki (pronounced ray-key) originated in early 20th century Japan as a hands-on technique to promote relaxation, stress reduction and healing. Following a life-changing experience, its founder recognized a sacred life force he deemed ki. Through reiki healing sessions, others are able to become effective healers. The sessions involve the gentle placement of hands on and around 12 different positions on the body, resulting in energy flowing where it is most needed. Harmony is said to replace physical, mental, emotional and physical imbalances.
"I describe my style as therapeutic massage with a gentle intuitive approach that focuses on both the physical manifestation and the energetic connection of ailments," said Nies. "My goal during a session is to assist the client in finding a state of balance and harmony and to assist them in returning to a state of peace and well-being."
Laurie Senty, owner of Shiatsu Therapy & Therapeutic Massage, located in Grand Marais, also provides Reiki. Her other services include active isolated stretching, a Swedish massage, Thai yoga massage, a chair massage, shiatsu therapy and zeus-ki.
Run by registered nurse Pamela Faye, Cedarwood Spa provides healing services five miles inland, surrounded by Superior National Forest. Her background as a nurse contributes greatly to her understanding of clients of all ages with health concerns. She is a certified healing touch and stone medicine practitioner, utilizing a holistic approach to wellness in a calm and safe setting.
"The spa is nestled in the woods among cedar trees. Cedars are said to drive out negative energy and bring good influences and it's a fitting environment for such a place of deep tranquility and healing," says Faye.
Getting a massage can be an informative and all-encompassing experience. The massage therapist should explain the kind of massage and techniques he or she will use in advance of the session. It is also expected that the therapist will ask the participant about symptoms, relevant medical history and preferred outcome from the session. Oil, lotion and scents may be used to the comfort of the participant. It's important to note any allergies or sensitivities before the massage.
While once considered solely an extravagant means of pampering, a massage can be a way to enhance overall health and well-being. Whether searching for a solution to a specific problem area on the body or simply hoping for a retreat from the stress of everyday life, there is a massage style that can be tailored to your needs. With resort-affiliated spas and independent providers scattered along the shore, relaxation is never more than a hot stone's throw away.