The holiday season has arrived, after an early start to winter in the Northern Wilds. Food is the center of many holiday traditions and often how we celebrate together. But, it is also an inspiration when it comes to holiday gift giving. Whether your holiday gift list includes a true foodie or a busy parent that needs ideas on how to get weeknight meals on the table, don't overlook food-related gifts this year. Think beyond the average kitchen gadget and discover some unique gift ideas.
The Instant Pot, or an electric pressure cooker, has become a fast favorite with cooks of all abilities that want to save time and effort in the kitchen. If you are looking for a gift for a busy family, college student, or senior, this is one to consider. It has earned a cult following by its speedy cooking, taking two to six times less time compared to traditional methods, as well as using less energy. It also has the benefits of a slow cooker in that it doesn't need to be babysat but cooking much more quickly. Blogs, Pinterest, and even Facebook have exploded with Instant Pot resources and recipes, helping cooks make use of this versatile kitchen appliance. From the perfect hard-boiled egg to beef stew to easy dry beans, it's hard to argue with its convenience and versatile nature.
As a vegetarian, I was first intrigued by the electric pressure cooker when I heard it allowed you to cook dried beans in under an hour, which takes many hours in a slow cooker and more forethought. Now, after using the Instant Pot, making easy-to-peel hard-boiled eggs is one of my favorite uses and it takes about 15 minutes from start to finish. No cracked shells or overcooked eggs from boiling or undercooked eggs from the stovetop steam method. Split pea soup from the Budget Bytes blog and mushroom wild rice soup from the Pinch of Yum blog were also big hits at our house.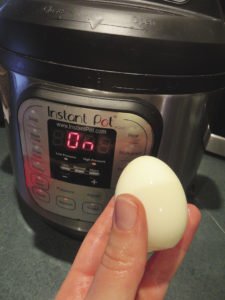 The electric pressure cooker not only reduces the cook time, which often allows more nutrients to remain in the food, it also does its thing without you having to keep an eye on it. The built-in timer allows you to preset the cook time and it will automatically switch to keep warm mode when finished. I've long been a fan of slow cookers, but the Instant Pot means that I don't have to worry about getting something in the slow cooker before I leave for work. Many freezer-to-Instant Pot recipes are coming out for those that like to prepare freezer meals and save even more time in the evening. If your gift recipient isn't the most internet savvy, include a cookbook like How to Instant Pot by Daniel Shumski. Drury Lane Books in Grand Marais will have copies available for sale this season.
If the mention of a pressure cooker makes you a little leery, fear not. This is not the pressure cooker of the past. The pressure cookers of today, both electric and stovetop, have great safety mechanisms built in. Both the product manual and a quick Google search will give you the top tips to use the Instant Pot and avoid any problems, such as using a wooden spoon to open the release valve to avoid the hot steam. A variety of models are available, with 7-in-1 being one of the most popular from the Instant Pot brand. The seven functions include electric pressure cooker, slow cooker, rice cooker, yogurt maker, sauté/browning pan, steamer and warming pot. Check your local retailer for the models they stock or buy online.
If you have an eco-conscious person on your gift list, this gift not only avoids kitchen plastic waste, it also allows users to avoid putting plastic on their food. Bee's Wrap is an alternative to plastic wrap, for covering containers or wrapping food. It is washable, reusable and compostable, made of organic cotton, beeswax, organic jojoba oil and tree resin. This mix creates a malleable food wrap that can be used for up to a year.
You may be wondering how this could possibly work. The warmth of your hands warms the wrap to allow it to be wrapped around a piece of food or over a dish. Once it cools, within a matter of seconds, it will hold its seal. It can be used to wrap a variety of foods, from vegetables to cheese to bread, although it is not recommended for use with raw meat. The Kitchen Nook (168 S. Algoma Street, Thunder Bay) carries a convenient three-size pack, perfect for a holiday gift or stocking stuffer. If your cook also is a regular user of fresh herbs, I recommend the Prepara Herb Savor from the Kitchen Nook. Instead of fresh cilantro, parsley, and others lasting days, they'll last weeks in the fridge.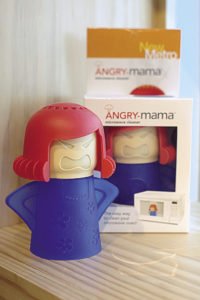 For the cook who has everything, check out a gift set from McQuade's Herbs, Spices and More. For best flavor, herbs and spices should be fresh, so they are always a perfect gift for a home cook. This season, McQuade's is offering several gift boxes, featuring some of their most popular items. The grill master will enjoy the Grill Gift Box, with Memphis BBQ rub, prime rib rub, caress rib rub, potato magic and a cooking thermometer. For any cook, the All Purpose Box includes lemon pepper, garlic pepper, Cajun, potato magic and an egg timer. For the salt conscious cook, the Salt Free Gift Box includes Cajun salt free, curry, Italian seasoning, potato magic salt free and a kitchen helper, with the answers to the most asked kitchen questions. A Tea Gift Box, Around the World Gift Box, and a Sampling Gift Box are also available. All gift boxes range from $25-$30 and are available online and in store at McQuade's Herbs, Spices and More (632 1st Avenue, Two Harbors).
We all have that one family member that is a real jokester. Whether as a gag gift or just for fun, the Angry-Mama Microwave Cleaner will get a laugh and regular kitchen use. This little gadget cleans and disinfects the microwave using only water and vinegar. While microwaving "her," steam blasts out of Angry Mama's head softening those stuck-on bits in the microwave. It might not be the most P.C. gift but I'm guessing that might be the right fit for someone on your list. This would also be a great one for an office gift exchange or for that office mate that never seems to clean up their microwave mess. The Duluth Kitchen Co., in the Fitger's Building, features this fun item (600 East Superior Street, Duluth).
Still stumped? Don't forget that gift cards to their favorite restaurant or a spot that makes for a quick weeknight meal will always be used and enjoyed. Many restaurants in the Northern Wilds are happy to ship a gift card or gift certificate, just ask. Here's wishing you a safe and joyful holiday season.