Last month, I tuned into a live webcast to learn how to make a sugar-reduced version of the Spanish summer classic, sangria. This drink is really about its presentation and has all kinds of variations—you can play around using red or white wine, and a combination of colourful berries and citrus fruits.
Hosted by Santé WildCrafted Cocktails, its co-founder, Brent Ellerson, said their (sans) sugar sangria is a "healthy alteration to a classic recipe." It uses no added sugar; only the natural sweetness from apples, oranges, lemons and berries infused in a late harvest white wine. The drink is topped with fuscia bee balm blowers, which are native to the area.
Broadcasting from its Muskoka, Ontario-based virtual bar (vbar for short), Santé WildCrafted Cocktails is an interactive online experience that teaches viewers how to create cocktails and mocktails from foraged and handcrafted ingredients. They also encourage people to create memorable experiences through artisan bartending, reflected in their slogan, "Drink to remember, not to forget."
I thought that was brilliant and it struck a chord with me. Today's mainstream culture is steeped in alcohol—practically every social gathering, celebration or occasion has undertones of drinking. Weddings, birthdays, graduations, concerts, festivals, sports games, backyard barbeques and holidays. Advertising, laced with the caveat to "please enjoy responsibly" is no help to the next generation of independent consumers, either. Some studies, like one published in the Journal of Studies on Alcohol and Drugs last year, claim that there's a correlation between underage drinking rates and the level of exposure these teens have to alcohol-related ads. There are a lot of factors at play here, but it's safe to assume that drinking alcohol at social functions has become the relative norm.
While that's a hard case for cultures across the world, excessive drinking has found a pretty comfy place in Western social settings, too. I recently attended a folk festival—you know, the kind with dancing children and barefoot musicians—and ended up camping near a group of teenagers circled up chanting "B-b-b-b-b-b-beeeeer!" as they passed around the beer bong. To me this seemed wildly out of place. Or, maybe I'm just getting old?
Yet in many parts of Europe it's common to toast to one's health. "À santé" or "Salute!" How ironic is that? But like most habits of indulgence, the problem creeps up when drinking alcohol slips from moderate enjoyment into routine abuse.
Circling back to health, there are aspects of bartending that draw from the tradition of quality, artisan ingredients combined and consumed in moderation. Go to any upscale cocktail bar and you'll find garden-grown flowers and herbs, as well as handcrafted mixes like bitters and shrubs that add depth and complexity to a beverage.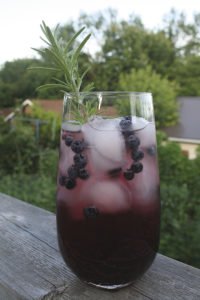 Shrubs are a colonial-style concentrated drink mix of fruit, sugar and vinegar. Bitters are a traditional cocktail ingredient and health tonic made of bitter and aromatic herbs steeped in alcohol. In favour of sweet and salty flavours, much of our culture's popular food dishes are void of bitter flavours. Yet bitter foods (dandelion leaves, for example) are actually valuable digestive cleansers that can be vital to good health.
Plants have an intriguing history of being transformed into alcohol, from herbs, trees and flowers to fruits and fungi. Sake began with rice, tequila from agave, bourbon from corn. An interesting read is The Drunken Botanist, where author Amy Stewart displays the botanical background and intricacies of popular spirits and drinks from around the world. Each of them represents a unique cultural contribution to global drinking traditions and history.
Next time you're entertaining guests (or even just yourself), try your bar hand at a cocktail or mocktail with wildcrafted or backyard-grown ingredients. Here's a local take on a classy drink from Strongwater, a company that makes small batch bitters and botanicals in the Rocky Mountains. I promise, this one won't be hard to forget.
Burn Away Mocktail
2 oz cranberry juice
3 oz soda water
5-6 muddled blueberries
1 oz Strongwater blueberry mint shrub
Shake over ice, top with soda, serve on the rocks. Garnish with rosemary sprig.