In the depths of winter, the land has gone quiet. The sun hangs low, temperatures have plummeted, and Lake Superior's shallow bays are frozen over with several inches of ice.
For Sarah Ferguson, this time of year—hardwater season, as anglers call it—is as good as any to get outside and wet a line. With her rod in hand and a sleigh full of gear, she spends most of her spare time exploring the North Shore in pursuit of fish. Often, she's lucky enough to have it to herself.
"Compared to a lot of other places, there's very low fishing pressure. You can go almost anywhere—even river fishing for fall steelhead—and you're usually alone. You might run into one other person out there, versus southern Ontario where you're going to be shoulder to shoulder with people."
Originally from Tweed, a town north of Lake Ontario between Peterborough and Kingston, Sarah grew up fishing for walleye and bass on Lake Stoco. It was a hobby that allowed quality time with her dad, who still comes to Thunder Bay for their annual father-daughter fishing trip. But Sarah's true passion for fishing wasn't ignited until she went to Newfoundland and learned how to fly fish.
"Out there it's trout fishing and Atlantic salmon fishing. Once I caught my first trout on a fly, that was the defining moment," she recalls. "Then I was obsessed."
When Sarah isn't fishing, she is usually thinking about fishing, or planning her next fishing trip. If she lost a fish, she tries to figure out how to improve her strategy next time. Sometimes she'll paint her fingernails bright pink, blue or orange to match the scales on brook trout.
"I'm always scheming fly patterns that might be effective in a different river. Even when I'm not fishing, a large percentage of my thoughts are still about fishing," she says.
Newfoundland is also where Sarah adopted Frank, a 10-year-old pug who's become her loyal fishing companion. The pair have chased cutthroat trout in British Columbia's Kootenay Mountains, Atlantic salmon in Eastern Canada and spring steelhead on the North Shore.
Donned in a faux fur-lined parka, Frank is about as outdoorsy as pugs get. He's also happy to curl up in his feather-down blanket while Sarah pulls him across a frozen lake at sunrise.
"I walk to all my fishing spots, so I have a sleigh that I tow behind me. Frank used to run alongside me when he was younger, but he quickly figured out that he could just hop in the sleigh and not do the work," she says.
On a typical ice fishing day, Sarah wears a knitted sweater under a pair of black bib overalls. Her blonde hair is loosely tucked beneath a woolen headband. Large-framed glasses rest on the bridge of her nose.
Some days she will go fishing with friends, but often she's just out with Frank, trudging off into the wilderness under her own power, on her own time. With minimal gear required, fishing has afforded her independence.
"I didn't do a lot of stuff on my own prior to [fly fishing]," she says. "So it was really cool realizing that with a rod, a box of flies and a net, it was something I could easily do on my own. I didn't need a boat and I didn't need all this equipment. I could walk up and down a river by myself and I could catch a fish. It's the same with ice fishing: a skidoo or a sled would be nice, but you really don't require much to get out and fish by yourself."
Sarah recalls one of her most memorable ice fishing moments, this time at a lake with her friends. It wasn't long after they had set up their lines that one of the rods had a bite. Sarah ran over to grab hold of it, but she was too late.
"The rod just went straight down the hole—I thought it was gone. So I set up another line in the hole and we kept fishing."
Hours later the second rod, which was set in the hole that swallowed her first rod, had a bite.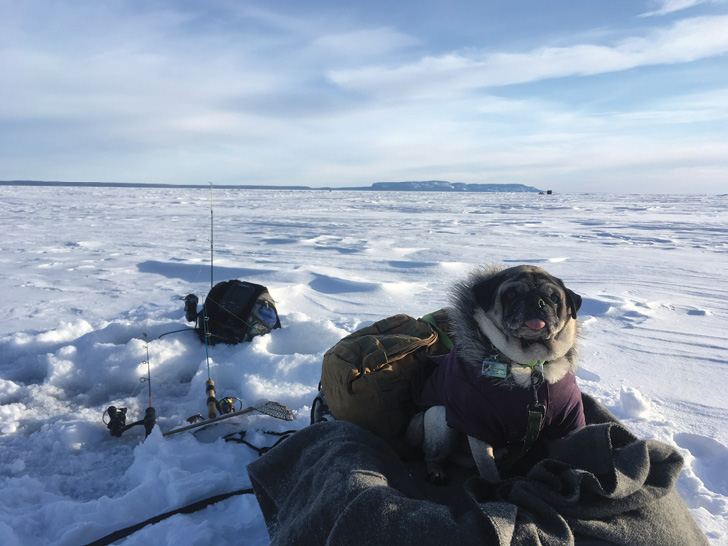 "It started going off. So I ran over and grabbed the line, and we're reeling it in. My friend was looking down the hole, and we were really confused because we could see my line and as we were bringing it up, we could see my hook but there was no fish on it. Then we realized that my hook had caught the line of the rod that went down the hole! So we actually managed to reel in the rod and the fish that was on the line."
Sarah is still using that rod. As for the 26-inch trout who took it down the hole, she released it.
"I was so happy that fish brought back my rod, I let it swim another day."
These types of experiences keep bringing seasoned anglers like Sarah back to the headwaters of northwestern Ontario. Her pace of life is governed by the rhythm of the seasons.
Every April and May, steelhead run up Lake Superior tributaries. In June, pike swim in its shallow bays. June through September are peak months for brook trout fishing in the Nipigon River. August through early September, coaster brook trout begin running up rivers, followed by king, coho and pink salmon. The fall steelhead run goes through to November, and December through March is ice fishing season.
"Every month you have a new fish to focus on," says Sarah. "It's just endless. There are some rivers that I visit where I probably get skunked 50 percent of the time, but that doesn't keep me from going back. The weird thing about fishing is that every time I'm going out I have so much hope. I could go and get skunked, or I could have the craziest fishing day possible—you just never know. And that unknown keeps me wanting to go back and catch a fish."
Follow Sarah's fishing adventures on Instagram @fishy.ferg.