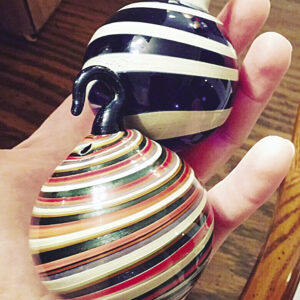 Happy Holidays
While I'm not a huge fan of the bitter cold that accompanies winter, I do love the holidays. The smell of hot cocoa or cider brewing, sparkling light displays, a kitchen filled with too much (but amazingly tasty) food, the crackling of a warm fireplace, and if you're anything like my family, a loud house filled with constant laughing and games. So in honor of this magical season, we've put together an array of winter and holiday inspired artwork from different artists along the shore. Happy holidays!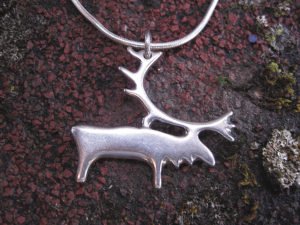 "Northern Solitude" [top] was created by Thunder Bay watercolor artist Biljana Baker. Baker is a member of Lakehead Visual Arts, Six Degrees of Freedom, and Artisan's Northwest.
Glass artist Tom Crosby creates Christmas ornaments [above left]. His work will be on sale at Betsy Bowen's studio in Grand Marais during the Art Underground event.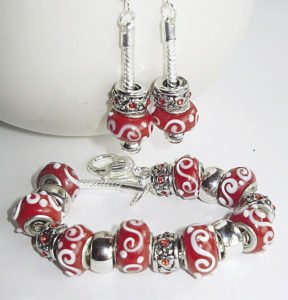 Brad Nelson, owner of B.E. Nelson Design Silversmith in Knife River, created this festive reindeer necklace [right]. For more art, visit facebook.com/benelsonsilversmith.
Terry Lewis, owner of Serenity Pines Creations, works with different mediums, such as stained glass, driftwood, antlers and glass beads, used here to create a bracelet and earring set [left]. Visit serenitypinescreations.com for more info.
Thunder Bay artist Kathy Toivonen recently created a birch bark lantern [photo unavailable]. Her work can be found on Facebook under; Kathy Toivonen artist and writer.
---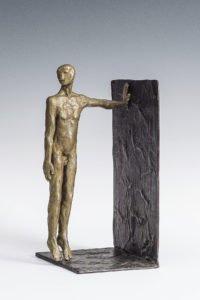 Thunder Bay Art Gallery
Two new exhibits are currently on display at the Thunder Bay Art Gallery. Named after a passage in Homer's "The Odyssey," Oxen of the Sun by John Books is a story told by small bronze figures and larger sculptures. According to Books, "It is an old story of return and love, of wandering, of searching for home—and more importantly, a search for hope."
Swine by Elizabeth Buset is a satirical exhibit using pigs as metaphors for mass consumption, featuring five large paintings of pig heads dressed in disposable dollar store items. An open reception will be held at 7:30 p.m. on Friday, Dec. 2. More information on the Thunder Bay Art Gallery can be found at, theag.ca.
---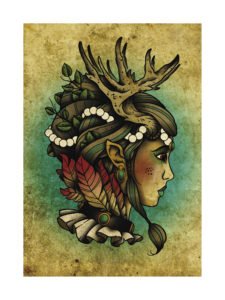 Breana's Pick of the Month
Tattoo artist Mike Gresham and his wife, graphic designer Sonya Lacroix, create neo-traditional tattoo flash, pen and ink, and digital illustrations, such as "Deer Woman," featured here. The couple owns High Tide Tattoo Parlour in Thunder Bay; a joint tattoo shop and design agency, and their one-of-a-kind custom prints can be found online on their Black Mast Shoppe via Etsy. They will be attending the Christmas Bizarre Bazaar art sale at the Baggage Building Arts Centre on Dec. 10, from 11 a.m.-5 p.m.