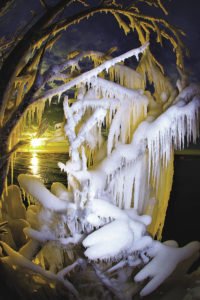 Frozen Photographers
Recently, the North Shore experienced a streak of bitter cold weather—and I'm sure there's more to come—with the daytime highs remaining below zero and dropping beyond 20 below at night. If you're someone who doesn't tolerate the cold well, like me, then it can make for a long day, or days, cooped up inside. But those brave enough to venture outdoors captured images of the ice and snow with their cameras, reminding us that despite the bitter cold, the North Shore is a wonderful, beautiful place, all year long.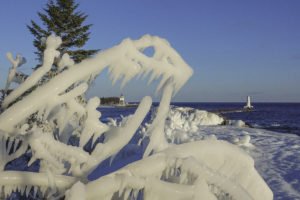 This Lake Superior photo [top], titled "Ice Eggs at Hollow Rock," was taken by Grand Portage photographer Travis Novitsky. To view more of his photography, visit: travisnovitsky.com.
This stunning Lake Superior sunrise photo [above right], titled "Golden Clarity," was taken near McQuade Harbor outside of Two Harbors by Matthew Pastick.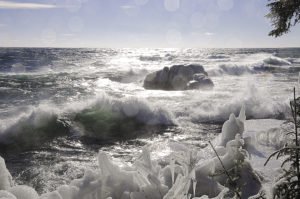 Grand Marais photographer Paul Sundberg recently took this photo [above left] of the Grand Marais lighthouse framed by icicles. To see more of his work, visit: paulsundbergphotography.com.
Hovland resident Sandra Updyke captured a cold, blustery day on Lake Superior [right], titled "Wind and Waves."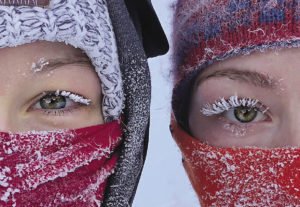 Claire Dronen recently shared this photo, titled "Sisters," in the Facebook group North Shore Tribe. To learn more about the group, click here.
Breana's Pick of the Month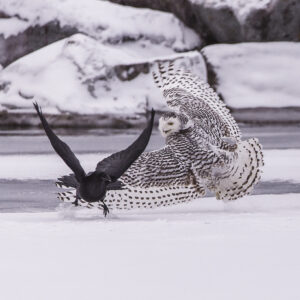 Since this is the birding issue, it seemed fitting to share a bird photo. Grand Marais photographer David Johnson recently captured this image of a snowy owl chasing off a pestering raven. To see more of his work, visit davidrjohnson.zenfolio.com.