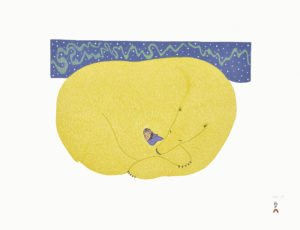 So Much Art, So Little Time
With new exhibits, an art tour and artist talks, there's more than enough art to explore this October. View artwork by more than 40 artists during the Art Along the Lake Fall Studio Tour, taking place at 14 locations throughout Cook County (Sept. 29-Oct. 8). Then, chat with Canadian Inuit and Alaskan Siberian Yupik artists during the Inuit Premiere at Sivertson Gallery in Grand Marais, held Saturday, Oct. 14. And be sure to check out the Plein Air exhibit at Johnson Heritage Post in Grand Marais, on display now until Oct. 29.
Ryan Tischer's photography will be on display at Lakeside Gallery in Duluth from Oct. 7-31. This piece [top] is titled "Awakening." To see more work by Tischer, visit: ryantischerphoto.com. For information on Lakeside Gallery, visit: lakesidegalleryduluth.com.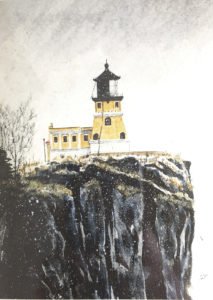 This stonecut, titled "Tiguaq" (Adopted) by artist Ningiukulu Teevee, can be seen at the Sivertson Gallery Inuit Premiere [above right]. Teevee will be attending the event. Visit sivertson.com to learn more.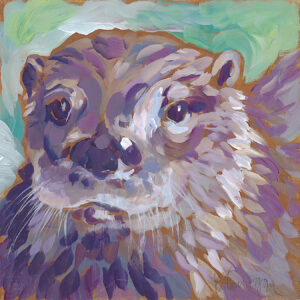 In honor of our lighthouse theme this issue, this Split Rock Lighthouse watercolour, by Stephen Emms of Thunder Bay, [left] can be found at the Lighthouse Gallery in Terrace Bay.
Sivertson Gallery in Grand Marais will also host artist Kat Corrigan and her Mostly Otters exhibit, Sept. 30-Oct. 8. Shown here is "Otter Portrait" [right].
Titled "Total Restoration" [below], Mike Rada painted this Cessna 190 airplane at the Grand Marais Airport during Plein Air.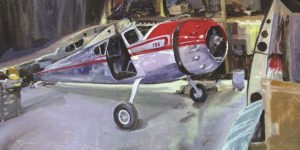 ---
Breana's Pick of the Month
Grand Marais artist Deke Burnham creates beautiful beaded jewelry, such as rings, necklaces and bracelets. Each piece is different and he even incorporates geodes into some of his jewelry. Burnham is self-taught and began making jewelry about two years ago. His work, "Each Unique by Deke," can be found at Joy and Company, as well as Ron's World Rocks, Silver and Gems, both located in Grand Marais.