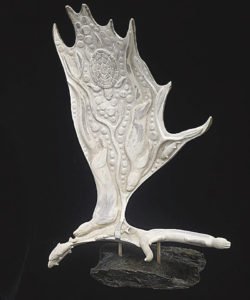 Holiday Craft Sales
Throughout the month of December, artisans of all kinds are joining together for various holiday art and craft shows on the North Shore. Each show is a little different, offering everything from live music, tasty treats, prizes and a hands-on craft table. And each show features multiple artists, showcasing handmade mittens, jewelry, paintings, pottery, ornaments, photography and more.
"Northern Lights" [top] by Thunder Bay artist Janna Zachary; acrylic and ink on a wooden tree slice. Zachary will attend the Bizarre Bazaar Dec. 9-10 and Craftland: A Winter's Market Dec. 3, both held in Thunder Bay.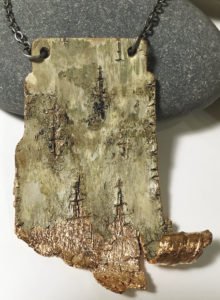 Michael Anderson carves from moose and deer antlers [above right]. To see more, visit the 16th annual Aboriginal Fine Arts and Crafts Gift Show and Sale, held in Thunder Bay, Dec. 12-16. Click here to learn more about the show.
This birch bark and copper statement piece necklace [left] was created by Cree Stevens. She will attend the Craftland: A Winter's Market event in Thunder Bay, held Dec. 3. To learn more about Stevens, visit: creestevens.com.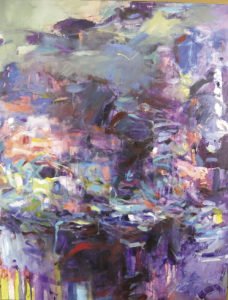 "New Day" by Janice Andrews [right] is part of the Selections from Earth Series exhibit at Gallery 33. You can view the exhibit during the Christmas Art Market, held Dec. 1-2. To learn more, visit: facebook.com/gallery33.tbay.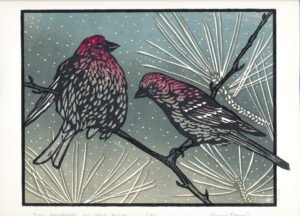 "Pine Grosbeaks" woodcut [left] by Betsy Bowen can be seen at the Holiday Art Underground event in Grand Marais, held Dec. 1-30. To learn more, visit: woodcut.com.
---
Breana's Pick of the Month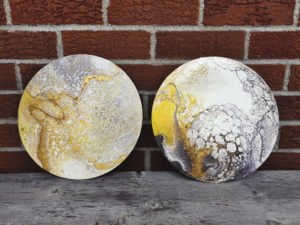 Terrace Bay artist Heidi Zettel created this piece, titled "Huginn and Muninn" after the two ravens in Norse mythology. Zettel, founder of Wild Side Art, creates her artwork in a style she calls fluid acrylic, also known as liquid art, fluid art, or pour art. To see more from Zettel, check out @wildside_art on Instagram. She will also be at the Christmas Bizarre Bazaar show, held Dec. 9-10 at the Baggage Building Arts Centre in Thunder Bay.