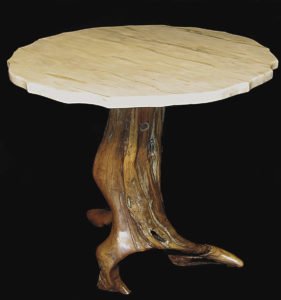 Artisan's Northwest
Known as Thunder Bay's largest and longest running Art and Fine Craft Show, Artisans Northwest was begun in 1975 by Sharon Seibert. It originally took place in the old YMCA building located in Fort William. After a few location and name changes, Artisans Northwest grew from a once-a-month, four-hour market, to an annual two-day event that occurs the second weekend every November at Valhalla Inn. This year's juried Art & Fine Craft Show will take place Nov. 11-12, starting at 10 a.m. daily; admission is free. Art of all kinds will be for sale, from pottery, photography, jewelry and soft toys, to whimsical dolls, pet supplies, painted glassware and metalwork. There will also be door prizes and a silver collection. Artisans Northwest is a not-for-profit organization. To learn more, visit: artisansnorthwest.ca.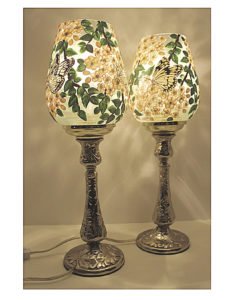 Vicki Nikkila and Kirstin Smith of Love Graffiti Studios work together to create statement furniture, such as this marble and driftwood table [above right]. They work primarily with found, salvaged and recycled materials. See more at: lovegraffitistudios.com.
Inspired by the patterns and light found in nature, Thunder Bay artist Barbara Kuschak creates intricate floral and wildlife designs on glassware, including candleholders, vases and ornaments. Ten years ago, she and her husband Clint started creating lamps [left], featuring new and refurbished lamp bases for these light "sculptures."
Artist Marilyn Boyle painted this barn owl scene with acrylics on a beautiful strip of wood [right]. Boyle is an acrylic and watercolor artist who paints on nontraditional canvases, such as; stones, birch bark, feathers, leaves, shells and more. She also creates jewelry. To learn more, visit: originalsandmoreart.com.
Known as one of northwestern Ontario's prominent watercolor artists, Evelyn Konrad has exhibited her paintings internationally. She also operates her own gallery, Mystique of the North. Shown here [top photo] is "The Norwesters." To view more, visit konradwatercolours.com.
Ceramic artists Debbie and Dave Dubeau operate Up at Dawn Studio in Thunder Bay. Debbie works on the wheel and Dave works with the slab roller, designing unique and interesting pieces for all pottery lovers. To see more of their work, visit: facebook.com/upatdawnpottery.
---
Breana's Pick of the Month
This abstract painting of Toronto, by Thunder Bay artist Biljana Baker, was chosen for the Canadian Society of Painters in Watercolour in their international juried show. According to Baker, 250 artists applied and only 41 were selected. "It was such a privilege and an honor because there were artists from U.S, China, U.K., and Russia to name a few," she said. The exhibit ended in October, but you can see "Toronto" at the Artisans Northwest show.