Not long after the world as we knew it was held hostage by a global pandemic, a friend of mine made the decision to cancel her upcoming series of wild food foraging workshops in Ontario's Ottawa Valley.
In a concerned missive posted to her social media page, Sarah wrote:
"I won't be reopening Fern & Fungi this spring, not just because I can't do in-person classes or mushroom forays due to Covid-19, but also because I personally believe a mass crisis like this is the worst time to teach people wild food foraging. There are just too many people to forage the wilds sustainably at this time, especially with the predictions that our farming supply chain may fail this year."
"Grow a big food garden," she advises. "And grow more than you think you need."
Sarah is not alone with her worries. Interest in wild food foraging is on an upward trend, and there is tremendous ecological responsibility that comes with sharing this knowledge. Given the fragility of our globalized food systems, can the wilds feed the world?
The short answer is absolutely not. There is no need for urbanites to encroach on wilderness habitat at every turn. The good news is there are many folks already leading the charge with sustainable alternatives.
On a chilly afternoon in early May, I found myself sitting several feet across from my neighbor in the sheltered warmth of her greenhouse. From our socially-distant chairs, we watched snowflakes dance in the air outside, a sight that left us little choice but to laugh at our dismay over winter's nefarious grip. Tangles of thick-stalked tomato seedlings, eager to be free from their tiny pots, laid in trays at my neighbor's feet.
The unheated greenhouse (technically a cold frame) was constructed some decades ago with scrap lumber from a garage demolition in the neighborhood. It isn't much to look at right now, but once overnight temperatures creep above lethal lows, Lucie Lavoie will place 40 tomato plants directly into the ground in a mix of composted organics and other nutrient-rich soil amendments. Organized in two rows of climbing vines, the greenhouse will yield enough tomatoes to supply Lucie and her spouse, Ken Deacon, for an entire year.
"We don't buy any canned tomatoes or bottled salsas—I make all of that," Lucie tells me. Raised in a family of lifelong gardeners, she eventually met Ken, an entomologist and expert at natural pest control. Since 1982, the horticultural duo has been growing the majority of their produce organically in their Thunder Bay backyard.
"Early on I realized that you couldn't get organic produce in town," recalls Lucie. "And we were very committed to eating food that wasn't sprayed with poison. That was part of it. So, we really tried to grow as much of our own food as we possibly could."
As time went on, they also realized they could lower their ecological footprint by growing food close to home, and by eating lower on the food chain.
"The amount of energy necessary to produce a kilogram of beef exceeds the number of calories that you get out of the beef. That's not sustainable," she explains.
"My dream, when I started this whole thing, was that all of the backyards in all of the cities would be [food] gardens. And all of the front yards would be wildlife areas where you'd have food sources for wildlife, and trees and shrubs….If we grow more of our food in the place where we live, it means that we don't have a vast expanse of conventional agriculture that really supports nothing in terms of wildlife."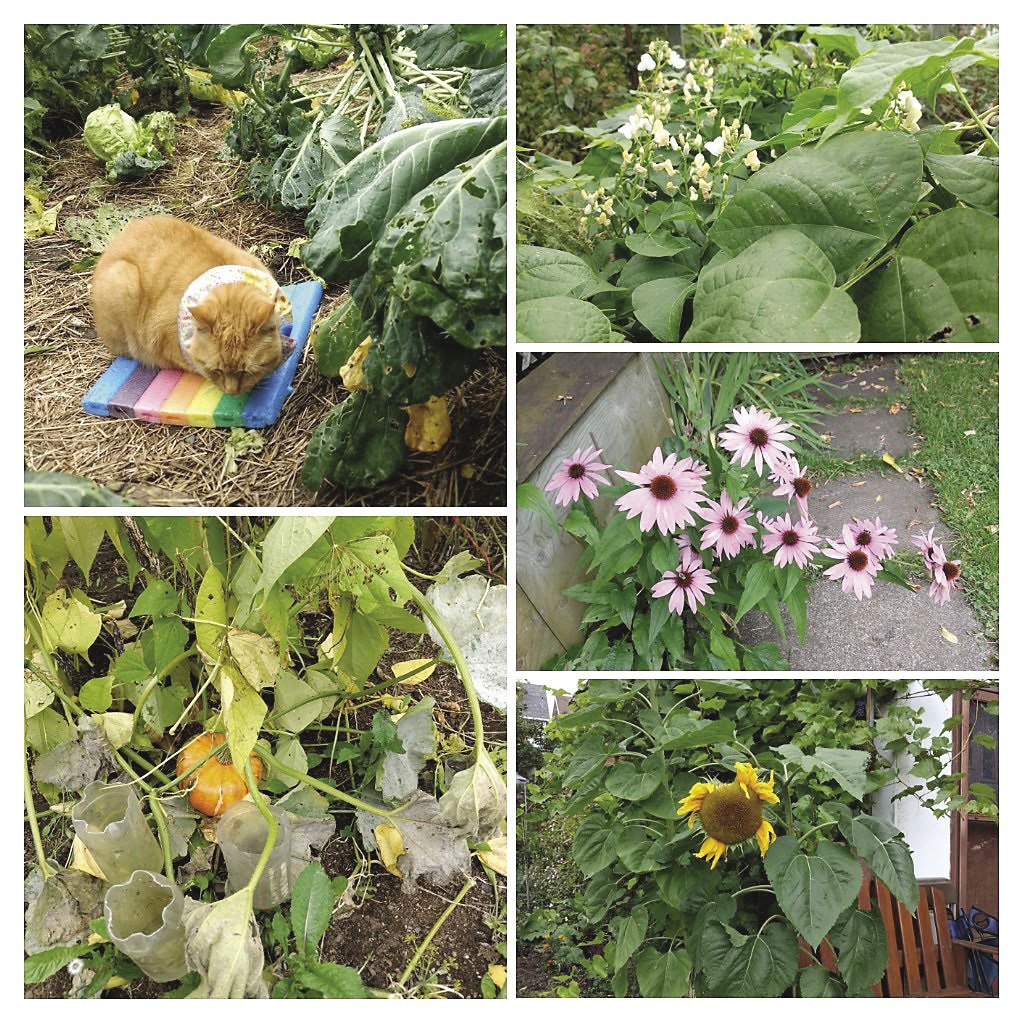 A Balsam fir and a slender birch tree border Ken and Lucie's front yard. Decades ago, they enriched the soil and brought in woodland plant species that thrive in the shaded understory. Ostrich ferns unfurl in the spring, followed by leaves of wild ginger, bunchberry and large-leaf aster.
"All of the things that we took were from areas slated for construction or development. We knew they were going to be destroyed anyway, so we transplanted them in order to create some sort of habitat. And just to create a little bit of a sanctuary in the city."
Over the years, their space has expanded to stretch across three adjacent properties they've acquired in the Bay Algoma neighborhood. There are no fences, only narrow, mulched pathways that link a labyrinth of backyard garden beds through almost every square foot of arable land.
In early spring, spinach leaves—planted the year before—are the first to sprout. As soon as the soil is workable, snap peas, lamb's quarters and other cool-weather crops follow suit.
Strawberries, ripening in July, sprawl beneath the shade of mature asparagus fronds. Raspberry canes, laden with plump, thimble-sized fruits, droop between compost heaps and a garage in one yard.
After months of preparation, daily nurturing and continuous harvest, the result is an astounding level of self-sufficiency: Ken and Lucie grow enough potatoes, tomatoes, peppers, drying beans, corn, asparagus and other vegetables to last them until the following year. They do buy fruit and occasionally other produce through a bulk-buying food co-operative. For the most part, they eat what's in season. It's a lifestyle choice, and a lot of work.
"I think people underestimate how much work it is to grow food. If they understood how much work it was, they would be, I hope, willing to pay what it's worth," explains Lucie. "Because it's a real skill to grow food."
In nearly four decades of gardening together, she and Ken have tried cultivating just about everything imaginable for their growing conditions. They also save seed and share some of that through Superior Seed Producers, a local seed-saving collective.
"We always pick the biggest, sweetest tomatoes and the most productive pea plants, and the best-sized squashes for our family and save the seeds from those. So, over the years we've kind of created varieties that are just right for us."
If there's a silver lining to be found amid a global pandemic, it's that interest in urban agriculture and local food has exploded. Lucie recently led an online gardening workshop with more than 140 attendees. Seeds are selling out from plant nurseries. The fragility of global food systems has arguably never been more apparent.
"I think it's triggered something in people where they're realizing how far they are, how dependent they are on systems that they know very little about, and how dependent they are on things that they can do very little about, except for grow their own. Food insecurity can be circumvented by growing your own food," offers Lucie.
She encourages new gardeners to wander around their neighborhoods and connect with more experienced growers for wisdom and inspiration.
"If you see [a garden] that's really nice, talk to the people who are growing it. It helps to build community, and you can learn so much more from someone who's doing it out in the garden. There are less and less people growing and so there's knowledge being lost."