It's been a long, weird winter, and the spring has been an especially cold one. However, late spring and early summer are peak walleye fishing time, and after all that cold weather the bite should be a good one. One of the interesting things about walleye is the incredible number of ways they can be caught: From the good old-fashioned jig and minnow, to fly fishing with streamers. Walleye can live in a lot of different situations and environments. If you have not done a lot of walleye fishing, it can be difficult to know what you need. There are so many options. Here is some of what I consider the basic tools and techniques of walleye fishing.
Jigs
Nothing could be simpler, or more deadly, than a jig. These lures—just a weight and hook really—should be at the core of the walleye anglers tackle box. The Northland Fire Ball Jig is a classic, with a short hook that is the best for fishing walleye with live bait like minnows and leeches. Hook the minnow through the lips for maximum wiggle. The so-called stand-up jigs such as the Lipstick and Tip Up Jig are good with both twisters and live bait. Drop the stand up to bottom, wiggle the tip a bit, lift the rod and then let the jig drop again. Walleye often grab the jig on the drop. When using plastic baits only, round head jigs with a large hook are the best choice. For plastics, it's tough to beat the Northland Gumball jig when fishing grubs or twisters. Have a selection of jig weights from one eighth to half an ounce. Guide approved jig colours include flame red, metallic gold, yellow, neon fire tiger and pink.
Rubber/Plastics
Twisters and curly tail grubs are the go-to plastic for walleye. Have a selection of 3- and 4-inch Mister Twister or Berkley Power Grubs on hand. Mepps Exude twisters are also excellent. Scented shads and plastic minnow baits like the Berkley Gulp minnow are very powerful and often work just as well as live bait without the mess of constantly re-baiting. Gulp and Power Crawlers are great for trolling with spinners and you won't have to keep changing the bait. You can use the natural colour rubber worms, or go bright pink. Some other good plastics include the Yum family of twisters and tubes.
Crankbaits
I've caught nearly all of my largest walleye—with a couple exceptions—on crankbaits. There is just something about the wiggle and profile of crank that makes walleye crazy. I always have a selection of #5 and #7 Rapala Shad Raps (perch/silver/fire tiger) in my walleye tackle, as these are one of the best trolling baits ever made for walleye. The fire tiger and perch finish Shad Raps. Wally Divers and Wally Demons in the same shades as the Shad Raps are also great for trolling up nice walleye. They are also plastic, so they last a little longer than most balsa baits. For casting, the Rapala Husky Jerk is a fine choice, as is the Rapala X Rap and Smithwick Rattlin Rogue. Lipless crank baits like the Rattle Trap and Frenzy Rattler are great for covering water and catch big fish. They make a lot of noise and are especially good in dark water.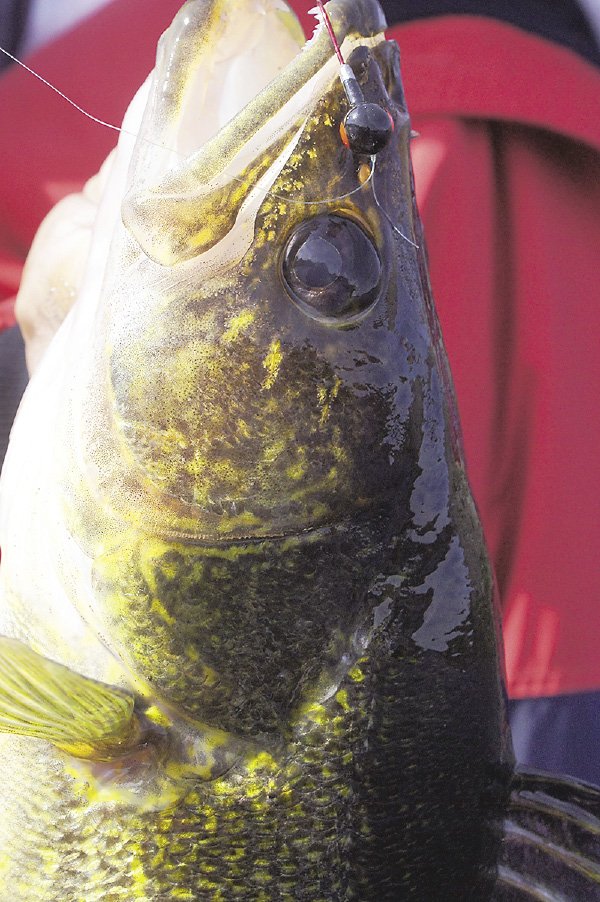 Live Bait Rigs
Nothing is more basic for walleye than a hook, sinker and live bait. You cannot go wrong with even the most basic set up of a few split shots, a hook and worm. For most walleye anglers, the classic live bait rigging is the number one fish getter. You will need to have a selection of walking sinkers from one quarter ounce to one ounce. My favourite are the Lindy No Snagg slip sinkers. Just give them a little slack when you get snagged and they usually come right out. Bottom bouncers are basically a weight on a wire bent at a 90-degree angle. These are a great tool for trolling spinners, cranks and live bait on a hook. Have a selection of bottom bouncers from one to three ounces. You will need a selection of #4, #6 and #8 bait holder hooks, a dozen barrel swivels and some leader material such as 8-pound test Maxima fluorocarbon for leader. Tie the hook to about 2 feet of leader, then tie the leader to the arm on the bottom bouncer. Add a minnow or worm to the hook and troll it right on bottom. When you get a bite on a bottom bouncer, drop the rod tip back and then sweep forward.
Spinners
Little Joe spinners with red or silver blades, Northland Tackle single blade Rainbow spinners are a classic walleye technique. Generally, you add a minnow, leech or nightcrawler to the hook and start trolling. Spinners are a great way to cover water and find fish. For casting, it's hard to beat a #3 Mepps Aglia. Even one-ounce white spinner baits will catch walleye when they are in the weeds or on the tops of reefs.
Jigging Spoons
An odd ball technique, but I've caught walleye on jigging spoons when nothing else was working. The best all-around spoon is a half-ounce silver Hopkins Smoothie. Other good jigging spoons include the Swedish Pimple, Kastmaster and Krocodile. Clip them on and drop the spoon to the bottom. Jerk the spoon hard, letting it flutter back down to the bottom.
Strikes will be bone jarring.
So that is a look at some of the walleye fishing tackle you can have in your arsenal. Pick out a few of these techniques and start refining your walleye game. Catch a few for supper and enjoy the finest eating fish in the north. They are always worth the effort.