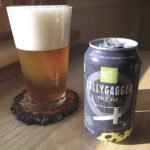 Last year, I took my wife out on a date during Minnesota's Give to the Max Day. The Bent Paddle Brewing Company hosted the Great Outdoors Party, which shut down the whole brewery. Outdoorsy people gathered to celebrate Duluth's recreational blessings. Many groups set up booths, including the Duluth Cross Country Ski Club and Cyclists of Gitchee Gumee Shores (COGGS).
The brewers were generous to let active people hang out in their place, but there was more on the agenda. The owners of Bent Paddle handed a check for $9,147.92 to COGGS to help build the Duluth Traverse. When the 100-mile mountain bike trail system is complete, the overall cost will be near $4 million.
The money came from an idea that's unique in my experience. Bent Paddle partnered with Loll Designs (a Duluth manufacturer that's also been very generous to outdoor projects) on a great idea: Lollygagger Pale Ale. This straightforward, balanced west-coast style drink comes in cans or on tap. The can features maps of Duluth bike trails, the COGGS logo, and a Loll Designs chair from their Lollygagger line. All cool. Even cooler is the text that says 5 percent of the sales are donated to COGGS for the Traverse. Their check came directly from their specialty seasonal beer.
This American pale ale is back on the shelves again this summer. So, go mountain biking. Come back, take a load off in a Loll chair, and crack open a Lollygagger Pale Ale. You're not just a beer drinker. You're a dang philanthropist.