Nowadays, if you walk into any brewery, bar or restaurant, you're most likely going to find a pale ale listed somewhere on the menu. A style with English roots, pale ales have come to define the recent craft beer movement in the U. S. Characterized by their "pale" color (the result of a light colored grain bill) and definitive hoppy flavor, pale ales are a diverse group of brews that are delicious, clean, crisp, and packed with a bitter punch of hops.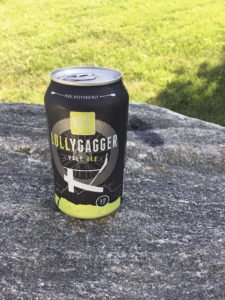 Even though pale ales are common, not all pale ales are created equal. Often times the flavors from the malt are buried in bitterness, other times the hops are so subtle that a pint just leaves you craving something more. Brewing a good, well-balanced pale ale that stands out from the rest is a challenge, and something not all breweries achieve.
The Lollygagger Pale Ale from Bent Paddle, however, is a good, well-balanced pale ale.
The nose on the beer is awesome—citrus with a layer of malt coming through that's potent enough to smell through allergies. When drinking the beer, it was the malt that took over first—defined by a nice biscuit flavor—followed by a dry finish with a lingering bitter aftertaste. The hops do add a noticeable bitterness to the beer, but at 57 IBU's it's not overwhelmingly so.
The Bent Paddle Lollygagger is a great pale ale, perfect for a warm, summer day along the shore. And on top of its great taste, five percent of the proceeds go to COGGS (Cyclists Of Gitchee Gumee Shores).