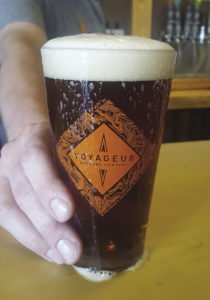 September is the perfect month on the North Shore. The birch begin turning yellow. The air is crisp and hitting a temperature perfect for hiking during the day and sleeping at night. The mosquitoes are gone. And breweries all along the Shore are transitioning from their light, summer seasonals to more malt-driven, flavorful fall and winter lineups.
As the days grow shorter and the temperatures colder, I start craving beers with a little more flavor, a little more malty-richness compared to the light ales of the summer. A dark yet drinkable style, brown ales make for an excellent fall brew. One of my favorite brown ales is Voyageur Brewing's Boundary Waters Brunette.
As one of Voyageur Brewing Company's four flagship beers, the Brunette is offered year-round by the Grand Marais brewery, but it's in the fall that this beer becomes especially seasonable. An English-style brown ale brewed with Minnesota harvested wild rice and water sourced straight from the greatest of the Great Lakes, the Boundary Waters Brunette is everything that a good brown ale should be. The wild rice adds a distinct earthy flavor to the beer that balances well with the light sweetness and caramel flavor from the malt. With a low IBU and reasonable ABV, the Brunette is both drinkable and interesting, one of my favorite qualities in any beer. Aesthetically, the beer has a nice clear, amber look to it, and a good body that finishes clean.