Mom-and-Pop and family businesses have been a mainstay on the North Shore for generations. These homegrown operations take different forms, but families rallying together to provide excellent service and products is a common thread. Many of these family operations produce unique edible items, from pure maple syrup to handmade chocolates and candy, to smoked Gouda cheese.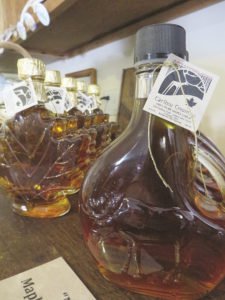 Just a few miles off Highway 61 in Lutsen you will find Caribou Cream, a maple syrup operation and shop run by Herb Wills. After growing up on a farm family, Herb made his way to the North Shore and has been producing award-winning maple syrup for over 30 years. Much like any farming family, Herb's business has not only been a labor of love but also a family endeavor with help each spring as the sap runs and the syrup boils.
"It's kind of fun and bonds us together," said Wills. For the past 25 years, one of his nephews has been a steady presence, as the timing of the season works well with his own farming operation. As farming relies on the soil and climate, so too does maple syruping. The weather and soil are important to achieving delicious syrup, much like wine and other agricultural products. And as Herb reminds us, "we are blessed with the climate up here, with the big lake."
Caribou Cream started in the early 1980s with 50 to 100 tapped trees. Today, it has grown to over 3,500 trees tapped each year. While the amount of syrup made has risen over the years, the fuel source for cooking has remained the same: wood. Many syrup operations switch to oil as a fuel as they grow in capacity, yet some argue they lose a certain something in their final product. Sourced locally in the area, the mix of maple and birch provide Herb with his fuel source for cooking down the sap into flavorful maple syrup. During cooking, a wheelbarrow of wood is needed every seven minutes. The stacks of firewood outside the shop are a reminder of not only the reliance on the maple trees for their flowing sap but also for the fuel they provide after their lifespan is reached. While Herb hasn't embraced a switch to oil, he does use a technology called reverse osmosis to achieve a high quality syrup while reducing the wood consumption by half through removing extra water from the sap before cooking.
The shop is open to the public all day every day, with maple syrup products, hand-harvested wild rice, and handmade items. Caribou Cream maple candy and maple sugar are great finds, in addition to the traditional syrup options. Another popular product is Grade B maple syrup, which is often preferred for cooking and other kitchen uses for its stronger flavor. A new product to look out for soon is Herb's new Maple BBQ Rub, for those barbecue fans.
The Caribou Cream store, located at 558 Caribou Trail, Lutsen, is run on the honor system, so Herb may or may not be there to greet you. Several local stores also carry the maple syrup. For more information, visit www.facebook.com/cariboucream.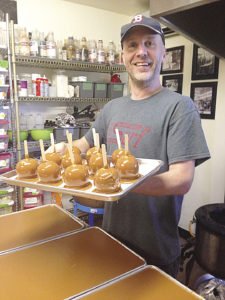 Knife River is home to Great!Lakes Candy Kitchen. These third and fourth generation candy makers learned the trade from their father/grandfather John Canelake, whose father Gust founded a candy store called Canelake's Candies in 1905 in Virginia, Minnesota, which is still in operation. Great!Lakes Candy Kitchen uses the same recipes and traditional techniques and methods that the family has used for generations.
"Our family candy history is the key to our success and we always use the same fine ingredients," said Pamela Canelake Matson, one of the family members that founded the shop.
For those interested in the history of the shop and trade, Great!Lakes has a display in the store with some Canelake's Candies memorabilia, as well as some of the antique candy machines still used to make hard candies.
The shop, open May through December, has a wide variety of handmade chocolates and popular candies. The chocolate-dipped sea salt caramels and pecan turtles are customer favorites, made on-site. Another favorite is their caramel and chocolate dipped pretzels, the perfect balance of sweet, salty, and crunchy. The family also makes caramel apples and uses local honey-crisp apples each fall when available. In the winter, Great!Lakes gears up for the holiday season and makes candy canes and ribbon candy on antique candy machines from the early 1900s. If you visit Knife River for the Julebyen festival in early December, pop on in to see a demonstration. It's another great time to stop in "as the whole store smells like peppermint," said fourth generation candy maker, Andy Matson. They also make many other candies and chocolates, including fudge, brittles, Air Crunch, candy bars, lollipops, truffles, and more. In other words, something for everyone.
Now in their 10th year of operation, the Canelake/Matson family invites all to stop by Great!Lakes Candy Kitchen, open daily 10 a.m. to 7 p.m. seasonally (223 Scenic Drive, Knife River). Visitors are welcome to take a peek in the candy kitchen to see what's cooking. They also offer online ordering from November 1 through December 20 at www.greatlakescandy.com.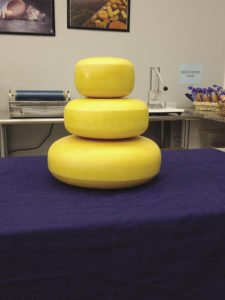 North of the border is a family business that all cheese lovers should know: Thunder Oak Cheese Farm. Started by Jacob and Margaret Schep, who come from cheese-making families in Holland, Thunder Oak has been a family operation from the start. In 1981, the family emigrated from Holland and began a dairy farm outside of Thunder Bay. In 1995, they started the cheese business after successfully making cheese in a small vat in the milk house, realizing it was a way to involve both sons and their families in the operation. This was a natural fit with the family's history: Margaret's mother was a world champion cheese maker and her brother and his wife still make cheese on the family farm in Holland. In 2007, son Walter and his wife Joanne took over the cheese making operation and their other son Martin and his wife Charmaine continued to operate the dairy farm. Both parents still help with the operations, John on the dairy farm and Margaret with the cheese operation.
This partnership of family and farm has been an ideal match, resulting in award-winning cheese made with their own milk. While Thunder Oak has a variety of cheeses and products to choose from, their aged cheeses are most popular during the cooler months. In the summer, their smoked Gouda and cheese curds are visitor favorites. They have many flavored cheese options, including jalapeno, dill, and sundried tomato. When asked which product he took the most pride in, owner Walter said, "I am most proud of our aged cheese because it is a more difficult cheese to get right and you don't know if it worked out until you open it."
Thunder Oak Cheese Farm is located about 30 minutes from the U.S./Canada border and 20 minutes from Thunder Bay (611 Boundary Drive). It is open Monday through Saturday, 9 a.m.-5 p.m. For more information, visit www.cheesefarm.ca. U.S. visitors are able to bring the cheese across the border. Other family farms and operations nearby include Belluz Farms, Chocolate Cow, Gammondale Farm, and Slate River Dairy, which sell a variety of products, from fresh produce, including pick-your-own, to yogurt.
Whether you are in the mood for some handmade chocolates or some smoked Gouda, Mom and Pop operations are supplying our area with delicious options to try. These family businesses are the lifeblood of our area, so I hope you swing in and enjoy these beloved treats.