One of the most decadent beers to be had in the Northern Wilds is Bent Paddle's Cold Press Black coffee ale—particularly when it's served up on nitro at the brewer's Lincoln Park taproom.
Luckily for those without frequent access to the nitro version, the West Duluth brewer cans the beer in 12-ounce cans sold in four-packs and is available as singles at some of the finer retailers around the Twin Cities.
It is a sipper. A dark, hoppy and dry sipper with robust, roasted coffee and chocolate notes and the slightest amount of bitterness.
At six percent ABV, this toasty beer reads heavier than its gravity would suggest.
It's a night-cap beer, or one to share with a friend. Or one to hoard at the taproom.
Next up, because I can't stay away from pale brew, was Borealis Fermentery's Vinegoblin, which is billed as a Belgian-style pale ale, a style that has been taken on by a few other North Shore brewers, who opted for more bitter IPAs.
This is a wild, funky beer that is more floral than herbal. Those familiar with the wild, fungal yeast Brettanomyces, or "Brett" will instantly recognize its presence in this riff from the Knife River brewer, one of the only strawbale breweries in the country.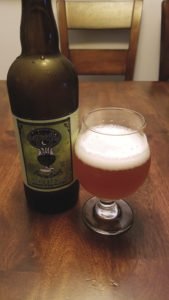 Vinegoblin, available in 750ml bottles, lists at 6.7 percent ABV, and it reads as such on the palette. There are subtle hints of malts that also come across, but the stars here are the hops and the Brett. Brewer Ken Thiemann both "kettle" and "dry" hops this beer, meaning it receives its hop dosages both during kettle/boiling stage and again during the fermentation/conditioning process.
What pours out of the bottle is a hoppy beer that is not overly bitter and that has a bit of farmhouse character.
Lake Superior Brewing in new hands: Duluth's Lake Superior Brewing Company was recently sold to new owners.
Dale Kleinschmidt will continue as head brewer, as new owners Lars Kuehnow and Lisa Blade take over the operation.
Castle Danger expanding: In November, Two Harbors' Castle Danger Brewing was set to expand into an 8,400-square-foot packaging hall, which is part of the brewery's plan to double its production over the next couple of years.
The brewery, which started out as a small operation on the grounds of Castle Haven Cabins in 2011, has grown mightily in recent years. And while the plans will ultimately expand Castle Danger's distribution footprint, it is already pretty readily available on Minnesota's North Shore and in the Cities.
Blacklist, too: Duluth's Blacklist Artisan Ales recently inked a new distribution deal, which will lead to its availability in southern Minnesota.
By Javier Serna