With fall quickly upon us, we'll share two heavier tasting beers that aren't too high in the alcohol by volume (ABV) column.
Let's start with Castle Danger Brewing's Red Hop Rising, sold in four packs. It's basically a red IPA.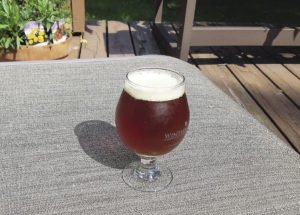 The 16-ounce can poured a shade of mahogany, but this beer from the Two Harbors brewer isn't just another amber ale.
It's a beer that crosses the familiar amber profile against the more floral and citric flavors of Mosaic, Citra and Simcoe hops, finding the slightly bitter and sweet middle ground.
If you like bright, hoppy beers, don't be dissuaded by the deep, red maltiness.
The beer drinks heavier than the 6.9 percent ABV would suggest. Red Hop Rising is a good beer to share and try with a friend.
Heading off farther into the deep we have Blacklist Artisan Ales' Dark, billed as a Belgian-style imperial stout. The Duluth brewer chose an attractive 16-ounce can for retail distribution.
While this dark chocolate-colored and flavored stout pours out at 8.0 percent ABV, it drinks lighter than that somehow. It still has a boozy nose, with hints of roasted malts, cocoa and licorice, but this stout is lighter than some of the style's thicker, more syrupy cousins.
Blacklist lists Dark as a year-round beer, and it is also available in a creamier form on nitro at the brewer's taproom on Superior Street. It is not available for growler fills, however.
Taking Note:
We'll try to track openings, events and other brewing blurbs of note.
Next month, look for notes from the new Duluth brewing operation Hoops Brewing, which opened in Canal Park in late June.
Dave Hoops, formerly of Fitger's Brewhouse, brings a lot of experience and potential to one of the more interesting brewing developments in the region.
Javier Serna is a long-time beer nerd who prefers pales, stouts and sours. Send any notes and tips on the North Shore brewing scene to outsidej@gmail.com.