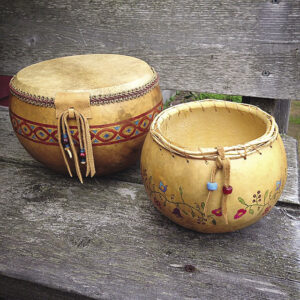 Art is subjective and comes in many different forms, from paintings, ceramics and jewelry making, to the performing arts, which includes dancing, poetry and acting. This month, we add graffiti art from Definitely Superior to our creativity list, as well as some unique handcrafted pieces from Kah-Nee-Tah.
Kah-Nee-Tah Gallery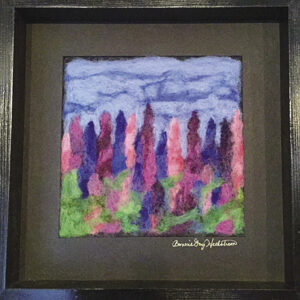 Kah-Nee-Tah Gallery and Cottages, located on the outskirts of Lutsen, has a unique history. Originally known as Moosehorn Cabins, it has housed many local residents, including artist Jan Sivertson. Then, in 1989, it was purchased by the previous owners Jeanne Schlosser and Suellen Kruse, who renamed it Kah-Nee-Tah, which translates to "Gift of the Gods" in Ojibwe. The property is now owned by Linda Garrity, who purchased it last December.
Kah-Nee-Tah features hand­crafted, Minnesota-­made artwork, many of which are local artisans. The gallery displays beeswax candles, knit purses, hats and scarves, ceramics, jewelry, paintings and more. They also offer art workshops and events. Check out the events calendar on page 26 for upcoming events. To learn more about the gallery, visit www.kaneetah.com.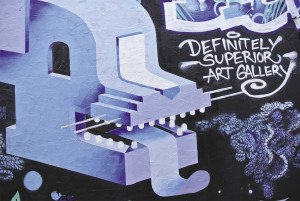 Definitely Superior Artist-Run Centre & Gallery
This month, Definitely Superior Art Gallery in Thunder Bay presents Random Acts of Poetry, a performance project that will take place throughout the city, from Oct. 5-10.
Now in its 11th year, this week-long event is one of the largest poetry performances in Canada, consisting of 120 individual performances promoting art, poetry and literacy. The Definitely Suprerior Poetry Construction Crew will be intervening public venues, schools and institutions, markets, coffee shops, the radio and TV, street corners and transit buses. This is an art that you must see and hear to experience.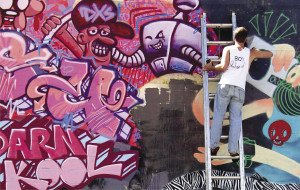 Also run by Definitely Superior is the Die Active collection. In its seventh successful year, Die Active is an art education program for the young, with more than 630 emerging artists, ranging from ages 14-30. With the help of professional artists, future young artists are encouraged to explore their abilities, while creating unique and contemporary graffiti murals, publications, performances and public art. Many Die Active projects can be seen throughout the city of Thunder Bay as well as at the gallery. Visit www.definitelysuperior.com for more info.