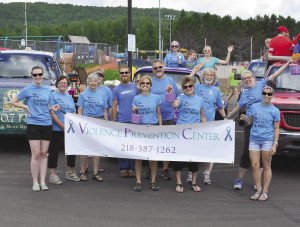 Domestic violence should not be tolerated. Yet, unfortunately, over 23 men and women were killed in Minnesota last year from domestic violence, according to the Minnesota Coalition for Battered Women (MCBW). On average, roughly 24 people per minute are victims of rape, physical violence and stalking in the U.S., which is more than 12 million people in a year (National Domestic Violence Hotline). So it's time to step up and speak out against domestic violence.
The Violence Prevention Center (VPC) in Grand Marais offers free and confidential support for anyone affected by domestic and sexual violence. The VPC consists of two paid staff, nine volunteer advocates and nine members on the Board of Directors. In honor of Domestic Violence Awareness Month, the VPC arranged a few events.
On Wednesday, Oct. 7, the VPC will host their yearly Brown Bag Lunch from noon-1 p.m. at the East Bay Suites in Grand Marais. Featured is guest speaker Sue Hakes, with "Speak up, even when your voice shakes!" A reminder to everyone on the importance of leadership and strength. Then, join others on Thursday, Oct. 8 at 7 p.m. in Harbor Park for the annual Candlelight Vigil of Hope and Remembrance.
"For many, many years, the VPC has offered a candlelight vigil to honor all who have lost their lives because of domestic violence, support individuals currently living with violence in their lives and our hope for a less violent tomorrow," said Jodi Yuhasey, VPC director.
The VPC office also provides over 650 books available for check out, covering numerous subjects, from domestic violence, family issues and sex education, to relationships, healing/coping, sexual assault, and LGBTQ materials.
Don't be a victim. Visit www.hope-4-u.org for help and/or ways to get involved. Or visit the National Domestic Violence Hotline at www.thehotline.org.