There's often a deep void in those left with chronic pain after an accident, injury, or illness—a long-term struggle with your identity once beloved hobbies and interests appear to be out of reach.
Through the years of heartwarming progress and disappointing mistakes during my own chronic pain journey, I've discovered successful ways to continue camping despite the pain. Motivated by our stunning local landscape, I'm constantly seeking out modifications and adaptations so that I, too, can experience the brilliance of the North Shore—in my own way.
My Story
The onset of my chronic pain was 2010. Prior to the diagnosis, I was a healthy woman in her early 20s with a passion for the outdoors. I studied at Montana State University in Bozeman, and spent more time exploring, hiking, snowboarding and camping than I did in class. I moved back to my home state of North Dakota one year before my diagnosis, and lived a busy, active life.
My chronic back pain began with a lifting injury, and at first, my doctors and I didn't expect a long-term problem. I pursued physical therapy and other treatments vigorously, and continued to live my life with minor adjustments as I waited for the pain to vanish.
That time never came.
For years, I struggled with that loss of identity. The activities I enjoyed, the energy I once had, the positivity I was known for—I thought all was gone.
When my husband George and I moved to the North Shore from Fargo about four years ago, we sought peace and fulfillment from a life lived in the northwoods. We moved here to be close to the Big
Lake and become part of a more active, outdoor community. Since my pain was limiting, George often explored the North Shore solo.
A Mindset Shift
Shortly after we moved here, my doctors and I switched my pain management to focus on chronic care rather than acute pain relief. I learned techniques and tricks to help me become stronger, more positive, and happier. I picked up new hobbies. I became an avid birdwatcher, and began to practice origami and calligraphy from my recliner. As my positivity increased, the desire to test my limits surfaced.
Today, I'm still not able to walk far, sit for extended periods, carry much weight, bend and flex unnaturally, and lay on uncomfortable surfaces. That doesn't mean I can't go camping.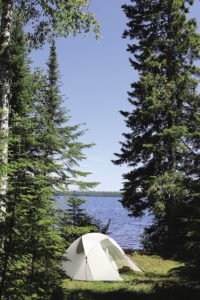 Over the years, I've carefully and thoroughly developed a comfortable system for enjoying my favorite activities—in small doses. George and I recently went to Sleeping Giant Provincial Park, just east of Thunder Bay, for a long weekend together. I may not be able to experience a camping trip like he can, but I can certainly participate, and I absolutely love that.
Learning to Camp with Chronic Pain
Whether you suffer personally from chronic pain, or you have a family member who has limitations, it's entirely possible to enjoy the overwhelming beauty of the northwoods. I can attest to that. It may not be to the same degree as others, but it can be perfect in its own right.
My husband and I manage to make camping with chronic pain work, and here's how:
Thoroughly Prepare We have a detailed spreadsheet to help us prepare for a weekend of camping, which includes all of my go-to tools for pain management. I always assume the worst-case scenario.
To prepare, I gather my medication, including my occasionally-used prescriptions that can help manage pain. I pack a heating pad, TENS unit and an extra pillow to prop underneath my legs as I lie down. At times, I bring Icy Hot or a Theracane for a simple distraction from pain. Thorough preparation helps ease my anxiety heading into the trip.
Get Comfortable Tent camping is within reach for those with chronic pain, if you modify the experience to your comfort. Over the years, George and I have picked up a three-inch-thick sleeping pad, a reclining cot for resting by the campfire, a cheap folding chair to keep my back at a 90-degree angle, and we have a pop-up tent to keep the bugs out. Any tools you own that increase your comfort, bring them along. It's worth it.
Take Breaks Often Any time we travel or pursue activities, we go slow and take breaks often. If we're driving, we schedule time to stop and stretch. If we're on a hike, my husband carries a hammock to serve as my emergency nap spot for when the exhaustion from pain kicks in. We plan our day to include a mixture of standing, sitting and walking to ensure I don't overdo it.
I sit out when needed and encourage George to continue his more vigorous pursuits. Know your limits and don't overdo it. It's easy for that to happen (this is a daily struggle for me), but keep trying. If we're doing something that may overdo it, I plan for a half-day of rest following. It's actually become one of my favorite parts of camping—solo napping in the woods while listening to the birds.
Appreciate the Small Things Over the years, I've identified low-impact activities that I can enjoy. I've become an obsessive birdwatcher and a sucker for slow interpretive hikes, taking time to appreciate the history of the area we're camping in. George appeases me as I tour cemeteries and other historical sites to study the area's past. We enjoy walking slow and capturing beautiful photographs, and teach each other how to further develop our artistic eye.
Do I miss intense activity in the woods? Absolutely. But I've accepted my limits and find extreme joy in what I can do, not what I can't.
Celebrate Victory It's most important that for us, those with chronic pain or illness, go easy on ourselves. I celebrate my small victories as much as I can. I'm pleased when I can participate at camp and wash dishes or help start a fire. I take time post-trip to journal, reflect and share the news with my family when I've reached a milestone. I celebrate when I take a short hike solo. And I'm still wildly happy about our first successful camping trip of the year.
No pain circumstances are the same, and while these techniques work for me, they may not work for you. However, my hope is that you discover simple steps to help you experience the North Shore in a way that is unique to you. It's within reach and I'm rooting for you.