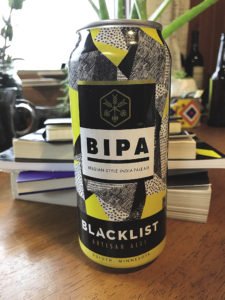 Belgian-style beers are some of the oldest, most unique styles around—and some of the most delicious. Loosely defined by their maltiness and fruity yeast flavor, Belgians are a diverse group of brews that range from sour Lambics and fruity Wits, to malt-driven Dubbels and Tripels.
Right in the heart of downtown Duluth, Blacklist Artisan Ales is a brewery on a mission to bring the rich Belgian tradition of brewing good beer to the North Shore. With a solid selection of both traditional and modern Belgian-inspired brews, Blacklist is the place to go when looking for a Belgian.
I stopped by Blacklist on a windy, May afternoon. I was craving something hoppy and with summer (supposedly) just around the corner, something fresh and flavorful to match the season. So, I went with the BIPA.
The BIPA, Blacklist's take on a Belgian IPA, is an IPA with the "juicy" fruitiness of a Belgian. The nose (aroma) of the beer is exceptional—intensely hoppy-accented with notes of fruit and malt—and the layers of flavor present in the beer adds a complexity that puts the BIPA in a league of its own. With each sip, the fruit and malt-driven Belgian flavors are the first to be processed by the taste buds, followed by a distinct bitterness from the hops that's brought together in a pleasant dry finish.
A fun beer to be sure, the BIPA was perfect for a spring afternoon.