Lots of folks on the North Shore know Tom Healy. A master of timber framing, he has been involved with North House Folk School in Grand Marais since its beginning. Although he moved to Whitefish, Montana several years ago, he returns to the North Shore every year to teach classes at North House.
Out in Montana, Healy has another claim to fame. An avid hunter, he has raised and trained bird dogs. His love of hunting also led him into the realm of political activism.
In the West, where the federal government has vast holdings of forests, plains and arid steppes (nearly all of which are open to public hunting and other outdoor recreation), there is a political movement to divest of federal holdings and transfer lands to western states. While the stated reason for making these transfers would be to give more control over the land to local communities, the reality is more complex. Federal land contains a wealth of oil and gas, minerals and timber, which currently produce revenue for the nation, in addition to other benefits such as protecting clean air and water, providing fish and wildlife habitat, and being open to a multitude of public uses. If the land is transferred to states, it very likely will be turned over to extractive industries and sold to developers. Unlike Minnesota, which has millions of acres of state-owned forests, wildlife management areas and parks that are open for public use and recreation, most western states sell off or lease their state-owned lands for commercial enterprise, because they can't afford the ongoing costs of land management. Providing opportunities for public use and outdoor recreation is a low priority.
Many outdoor-loving westerners, not just hunters and anglers, are aware that turning over federal lands to the states is not in their best interest. Folks like Healy want to make sure that federal land—our land—isn't taken away from We the People.
"In the West, the average Joe gets out on public land for hunting and other outdoor recreation, while the wealthy can lease prime private land," Healy said.
This doesn't mean that quality outdoor opportunities don't exist on public land. The biggest difference between public and private land is that you may have to share public spaces with your fellow citizens. Not everyone likes to share. Montana, with its blue-ribbon trout streams, trophy big game hunting and stand-out scenery, has become the national example of a place where the rich buy up as much of this outdoor paradise as they can afford (most often what were once family-owned working ranches) and then keep everyone else out.
One can argue that this is the American way and that a man's home is his castle. True enough. The problem is buying up private land isn't enough for folks who covet the land that belongs to all of us. Leaders in this movement include the Bundy family of Nevada, who first gained notoriety in 2014 when patriarch Cliven Bundy refused to remove his cattle from federal land where he had not paid grazing fees in over two decades. When federal officials tried to roundup the cows, they found themselves in an armed standoff with Bundy sympathizers from across the country. Rather than risk a violent confrontation, the feds backed down. In 2016, Bundy's sons, Ammon and Ryan, led the armed takeover of the Malheur National Wildlife Refuge in Oregon, which resulted in the police shooting of one of their fellow insurgents. The Bundys were arrested for their alleged crimes and were eventually acquitted in federal court. Since then, they've held rallies to espouse their anti-government views.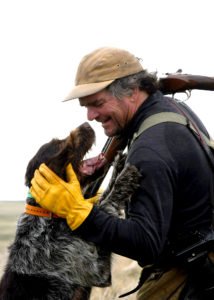 Healy has attended two of their Montana rallies as a Montana regional board member of the national organization Backcountry Hunters & Anglers. He hasn't gone as a rabble rouser, but instead to observe and, if given the opportunity, participate in discussions.
"I don't feel intimidated at all when I attend one of those deals," Healy said. "I'm there to have a conversation."
Concern over federal land transfers is extending beyond hunters and outdoor recreationists. Ranchers, who are able to graze cattle on federal land for reasonable rates, could lose access to public lands their operations depend upon. Other natural resources—timber, minerals, oil and gas—have traditionally been extracted from federal lands, providing local employment and economic benefits, as well as revenue for the U.S. Treasury. Giving up federal lands means far more than losing a place to go hunting, fishing, hiking or snowmobiling. Healy believes that broader awareness of what Americans stand to lose in land transfers is turning the tide against the Bundys and others who covet public land.
He also thinks that Backcountry Hunters & Anglers, at present the nation's fastest growing conservation organization, is turning another tide by inspiring younger generations to protect public lands and the natural resources they support. More than 65 percent of the membership is under age 45. The membership is 20 percent Democrat, 23 percent Republican, 33 percent Independent and 24 percent Not Affiliated. The love of the outdoors doesn't align with political boundaries.
Backcountry Hunters & Anglers is perhaps best known for social soirees featuring craft beer and the telling of hunting tales, but the organization has a policy agenda and is beginning to do some heavy lifting for conservation. Healy has gone to Washington, D.C. with the organization to lobby for the fully-funded, congressional reauthorization of the Land and Water Conservation Fund, which uses offshore oil and gas lease royalties to support conservation and recreation projects in virtually every community in the nation. He is hopeful the reauthorization will occur during the lame duck congressional session.
However, the organization has also made some missteps, such as supporting the appointment of former Montana congressman Ryan Zinke as Secretary of the Interior. Healy said that based on Zinke's support for public lands during his tenure as a Montana state legislator and congressman, he was the "best pup in the litter" of potential Interior candidates. After less than two years on the job, Zinke is deep beneath a darkening shadow of ethics violations and corruption complaints that appears to be leading toward a criminal investigation by the Justice Department. Backcountry Hunters & Anglers has criticized Zinke's missteps as Interior Secretary. Some political pundits predict Zinke may soon resign.
"He's absolutely proven to be no Teddy Roosevelt, as he once claimed," Healy said of Zinke.
As for Tom Healy, he doesn't really claim to anything other than a guy who loves to hunt; and one who is willing to fight for wild things and wild places. But that's enough. I suspect Teddy Roosevelt would be proud of him.