Less than a mile offshore in Lake Superior off the tip of Sibley Peninsula, a small rocky island—about 80 feet long, 70 feet wide and rising no more than eight feet above the water—was once the site of the world's richest silver mine, Silver Islet. From 1870 to March 1884, the mine produced more than $3.25 million of silver (equivalent $78.1 million in 2017).
It was also one of the most dangerous, with pumps keeping out water from the mine shafts, while miners toiled beneath the waters of the lake as far as a quarter mile down, their only light being a candle attached to their miner's hat. On the mainland across from the island, the company's mining village—originally called Ryantown and later Silver Islet—grew to more than 500 people.
The first silver nugget on the barren island was discovered in July 1868 by a member (John Morgan) of the exploration team led by Scottish-born Thomas MacFarlane for the Montreal-based Montreal Mining Company. MacFarlane named the site "Silver Islet" and, recognizing the richness of the silver vein, recommended the company spend $50,000 ($1.2 million value in 2017) to develop what would be Canada's first major silver mine. However, without telling MacFarlane, the company got spooked about spending so much money and sold all of their mining claim—108,000 acres including Silver Islet—for $225,000 ($5.4 million value in 2017) to an American syndicate, effective September 1, 1870.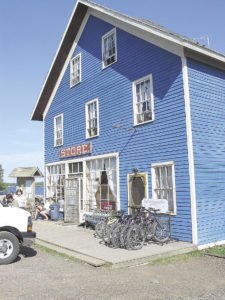 According to author-historian Elinor Barr in her best-selling book, Silver Islet: Striking it Rich in Lake Superior, MacFarlane later said, "The first intimation which I had of the sale of the whole property was at Silver Islet on the night of the 31st of August, when the propeller City of Detroit arrived."
The new owner was the Silver Mining Company of Silver Islet, headquartered in New York with Alexander H. Sibley as president. He was the brother of Minnesota's first governor, Brigadier General Henry H. Sibley and the son of Detroit's first mayor Judge Solomon Sibley.
While Detroit was Alexander's home, he and his family spent summers at Silver Islet in their 21-room mansion, which became known as the White House (his wife Marie Louise Miller, a classical musician, had her grand piano shipped from Detroit each summer). Guests to White House—which had servants and a coachman—included investors, European royalty, famous Americans and two Governor-Generals of Canada. (The White House burned down sometime before World War II.)
Alexander's friend, Irish-born William Frue—who had advised Sibley to buy the mine site—was hired as the mine superintendent. He had been at Silver Islet when the deal closed, having chartered the City of Detroit to bring the first workforce of 34 men, hoisting engine and mining supplies (including 300 tons of clay) to begin construction for an open pit mine.
Within 30 days, they had put in place 460 feet of cribbing (breakwater) bolted together, filled with rock, with a 70-foot coffer dam inside around the silver vein. Mining commenced on October 5, 1870, just about the same time as the beginning of Lake Superior's storm season.
The first storm hit Silver Islet 21 days later on October 26, carrying away almost half of the cribbing, damaging the coffer dam and filling the open mine pit with rocks from the cribs. Repairs were made and mining resumed November 18. Storms continued to smash onto Silver Islet, prompting Frue to write after a series of storms in March 1871, "Lake Superior worked itself into a fury and sea after sea came rolling in, heavily laden with ice, which battered down our works as though they were reeds." He called it a total mess of ruins. Following a brutal December 1873, he wrote, "Rocks were whirled around the Islet like hail stones." Repairs continued to be made as needed.
Nonetheless, mining continued with the company changing its name in 1877 to Silver Islet Consolidated Mining and Lands Company. However, seven years later in March 1884, operations ceased and Silver Islet mine shut down. The reason? Before end of navigation, the steam freighter H. B.Tuttle failed to deliver the coal shipment required to operate the pumps that kept the mine shafts dry. And when the pumps stopped, the mine flooded, ending 14 years of operations.
With the closing of the mine, people began leaving the mining village of Silver Islet, until there was only the former mine captain James Cross and family left. By 1912, with Cross as caretaker, Silver Islet had welcomed thousands of summer excursion day-trippers (4,000 in one single day in 1910) on steamers like the 600-passenger paddle wheel steamer Forest City. Eventually, the miner shacks were sold and became summer residences, bringing life back to the once-abandoned community.
Today, Silver Islet is an off-grid cottage community with a mixture of renovated mining-era houses with new ones. Even the company's original general store built in 1871, was restored and re-opened for business in 1989 by the Saxberg family. And though currently closed and for sale after years of being the hub of Silver Islet, the historic Silver Islet General Store remains an iconic Lake Superior landmark of the world's richest silver mine.