We were hungry after mountain biking, so I suggested pizza to the family. My kids chanted, "Thirsty Pagan! Thirsty Pagan!" like they were at a concert. Twist my arm, I thought. We'll get great pizza, but more important, I get to have great beer.
I ordered a Velo Saison (from the French for "bike season"). It was a hazy, gold color, with a thin, lacy head. It had a sweet and spicy aroma and finished smooth. I spoke with Allyson Rolph, head brewer at Thirsty Pagan Brewing, about this Belgian-style farmhouse ale.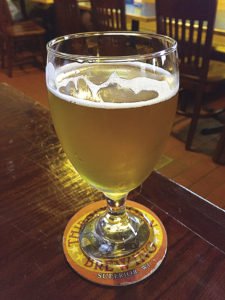 "It's made with a local Duluth yeast," Rolph said. "Our neighbors had a plum tree. Some plums were fermenting on the ground. We gathered some in a bag, cut them up, and put them in a growler."
The yeast colony she isolated is what they use in Velo Saison and Troublemaker Tripel (another great brew I don't have time to praise). The fruity esters you sense come from yeast right here in the Twin Ports. You can't drink more local than that.
Rolph described how they pitch the yeast (mixing yeast with wort) and carry the strain of yeast forward. She mentioned that if the character of the yeast were to "drift," they have a backup plan. A microbiology professor at the University of Wisconsin – Stevens Point preserves a batch of this yeast, just in case. (I like to imagine the yeast protected in a secure underground bunker.) Drive over the bridge to Superior, Wisconsin and enjoy a Velo Saison. At the Thirsty Pagan, bike season lasts all year.