Autumn is a beautiful time on the North Shore, with the star attraction being the fall colors. The leaves of the maple, birch, and aspen start their annual show each September, reaching full peak with a vibrant mix of reds, yellows, and oranges, often by early October. The seasonal colors can be enjoyed from a variety of modes, from a leisurely drive, a gondola ride, on a hike, or even from a treetop zipline canopy tour. Any outing wouldn't be complete without a stop for a meal, so I've paired some of the favorite leaf peeping opportunities with restaurants to try. This fall, satisfy your desire for a gorgeous view and a delicious meal in one outing.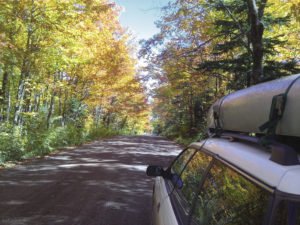 From the Sawbill Trail outside of Tofte, the 600 Road starts its meander through the forest that may be some of the best leaf viewing on the North Shore. Also known as Forest Road 166, the road goes through the highly colorful maple forest with the canopy overhanging the road in many spots. In 2015, the bridge over the Temperance River at the start of the 600 Road was replaced with a new bridge, constructed of timber components fabricated in Minnesota. Along the route you will come across Heartbreak Ridge, named for being a steep ridge that broke loggers' hearts during the days of horse logging, as the horses could not haul up or down the rise in the winter. Don't forget to stop the see the plaque about its history. Do be aware that the 600 Road is a gravel road that can be in varied condition, so plan for a leisurely, slow drive to enjoy the colors and save your vehicle's undercarriage.
While Tofte has several tasty eateries including the Coho Café and Bluefin Grille, a fun destination for this fall colors drive is the Trestle Inn. Just across the county border in Lake County, the Trestle has been long known as a local restaurant destination year-round. To find your way to the Trestle, continue on the 600 Road until it ends at Lake County Road 7. Take a right onto 7 and drive less than two miles to get to the Trestle. You'll see it on your left, with its hard-to-miss look. Built out of an abandoned railroad trestle bridge last used in the 1920s, the Trestle Inn was constructed with the long Douglas Fir timbers from the bridge, each weighing 1,950 pounds, and opened in 1985.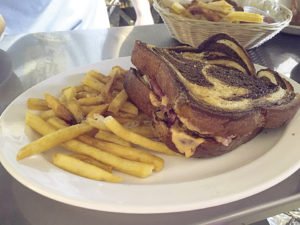 This restaurant is known for its burgers like the Trainwreck, which has a beef patty and bratwurst patty with bacon and cheese. Or get a "Trainwreck with Casualties" and the cook will surprise you with an additional unusual topping or two on this burger—from fried egg rolls to hash browns and eggs. Being a restaurant and saloon, the Trestle also has a full bar with some local beer options on tap. Recently, Castle Danger's Cream Ale was featured. Bring cash or use their ATM for a cash withdrawal, as they do not take cards.
After your meal, there are several options for your return trip. If you enjoyed the 600 Road, return to take one more look on your way home. Or, take one of two other alternate routes back, either the 600 Road to the Temperance River Road to Highway 61 by Temperance River State Park, or follow Lake County 7 back down farther to Lake County 8, which turns into Cook County 1/Cramer Road and takes you back to Highway 61 in Schroeder.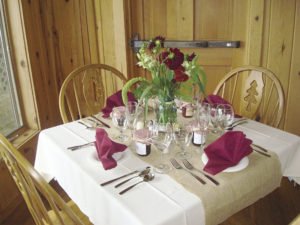 If you are looking for a different kind of adventure for your fall colors viewing, look no farther than the end of the Gunflint Trail. Forty-five miles from Grand Marais on the south shores of Gunflint Lake sits the Gunflint Lodge and its Towering Pines Canopy Tour. The lodge was started in 1925 and over time has become a destination for visitors and residents alike. In 2012, the Towering Pines Canopy Tour was added to the resort. This 2+ hour naturalist adventure trip brings participants through the canopies of huge old growth white pine trees with a series of eight zip lines. The tour is led by two sky guides and provides stunning views of the nearby lakes and forest behind the lodge. In the fall, the colors add to this beautiful and fun tour. Reservations are recommended for the $89/person tour (218-388-2296). Participants must be 10 years old or older and weigh between 75 to 240 pounds.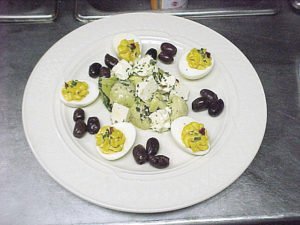 After your tour, stop into the lodge and check out its dining options, with the Red Paddle Bistro and Justine's Fine Dining offering breakfast, lunch, and dinner. The great views continue in the restaurant as it overlooks scenic Gunflint Lake. In the evening, Justine's Fine Dining offers entrees, including steak, a chicken breast, a pork loin or chop, two styles of walleye, and a pasta/vegetarian meal. All day long the Red Paddle Bistro offers casual fare, from blueberry buttermilk pancakes in the morning to walleye chowder and sandwiches the rest of the day. Wine, beer, and cocktails are also available, including several Minnesota specialties.
Interested in heading to Ely this autumn? Highway 1 offers another great opportunity for leaf viewing each fall. Traveling through the Superior National Forest, the drive offers beautiful conifers, fir, and spruce, with sections of maples, birch, and aspen mixed in. Late in the season, you can see some tamarack as they turn a yellow-golden color that pops in the forest once all the leaves have fallen and only the evergreens remain.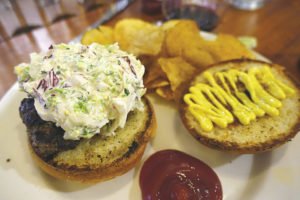 Once in Ely, check out Insula Restaurant at the corner of Sheridan Street and Second Avenue East. Opened in 2015 by executive chef Daniel Vollom and Sarah Wigdahl-Vollom, Insula is located in the spot vacated by the former Vertin's restaurant. The restaurant is named Insula for the Boundary Waters Canoe Area Wilderness lake, where co-owner Daniel went on his first canoe trip. Calling itself fusion American dining, Insula is open Sunday-Saturday for breakfast, lunch, and dinner (no dinner service on Sundays). At breakfast, enjoy a different take on an eggs benedict with the New England-style crab cake bene or a breakfast burger, complete with grass-fed beef, bacon, egg, cheddar, and hollandaise. Sandwiches, burgers, and salads are also available for lunch. Look for some of the unique options like a Vietnamese banh mi sandwich, with house-made pickled carrots. For dinner, entrees like braised short ribs, braised with Minnesota beer Surly Bender, will satisfy the meat-eater and a cassoulet is perfect for the vegetarians, made with vegetables, potato, mock duck, and tempeh. Cocktails, wine, and beer, including many local Minnesota favorites, are available. Reservations are appreciated but not required (218) 365-4855.
No matter where you enjoy the fall colors this autumn in the Northern Wilds, be sure to stop in and try a new restaurant or a new menu item at one of your favorite spots. Your eyes and your stomach will delight in these fall treats.