During your travels in Northern Wilds, have you come across a distinctive rock with an almost perfectly circular hole in it?
Well, chances are you found an Omarolluk, commonly called an omar, and it came from just one place on earth: the Omarolluk Formation on the Belcher Islands in the southeast part of Hudson Bay. The omars were carried by glaciers more than 700 miles south and spread across central Canada and northern U.S.
An Ontario Geological Survey noted, "It may not be the prettiest of rocks, but this grey rock (wacke) with brownish circles (calcareous concretions) has travelled a very long way." Maybe not pretty, but they have become very popular with rock hounds; there's even a Facebook page "Omar Omarolluk Collectors."
The omars are dark siliceous greywacke (a variety of sandstone) and easy to identify because of its distinctive round holes. The pitted holes are the result of calcareous concretions (hard round mass of mineral matter) that were scooped out over time by weather and wave actions.
Omars were first reported by Robert Bell of the Geological Survey of Canada back in the late 1800s. In 1879, he wrote about the abundance of dark grey fine-grained quartzite [greywacke] in the country between James Bay and Lake Superior and Huron. "Well-rounded fragments of this rock…characterized by round spots, from the size of a pea to that of a cricket ball or larger, of a lighter colour than the rest of the rock, which weather out into pits of the same form," wrote Bell.
And there is a Thunder Bay-connection to Omarolluk. The rock is named after Omarolluk, the Inuit hunter-guide and companion to Robert Flaherty, the famous filmmaker of the 1922 film, Nanook of the North, now considered the "Father of Documentary Film." According to Macleans Magazine (January 14, 1980) "Omarolluk's hunting and guiding skills allowed Flaherty to be the first white man to cross the northern Ungava Peninsula." The connection? Michigan-born Flaherty lived a number of years in Port Arthur, (present-day Thunder Bay) and continued to visit relatives in the city throughout his life.
Imagine night walking on a Lake Superior beach with a flashlight and seeing rocks that glow in the dark. Thanks to Michigan's Erik Rintamaki who discovered them in 2017, those glowing rocks now have a name, Yooperlites.
The grandson of Finnish immigrants, Rintamaki has been a long-time agate hunter on the beaches of Lake Superior, just like his father and grandfather. Years ago, after teaching his brother-in-law how to find agates, the two of them learned about fluorescent stones and minerals—and it became their dream to go searching at night for those rocks. But it wasn't until 2017 that Rintamaki purchased an ultra-violet (UV) flashlight on eBay, headed out at 4 a.m. to a Lake Superior beach in Michigan's UP Peninsula to see if he could find a fluorescent stone.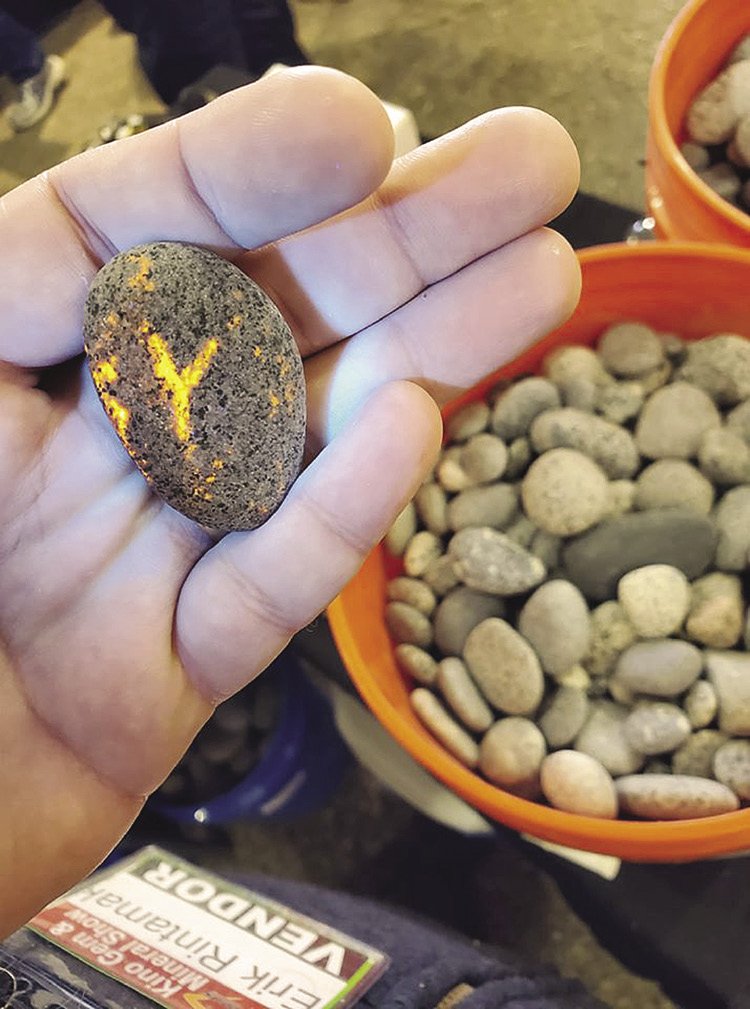 He did find a few small ones, went back, found more stones, upgraded to a 100 UV light—and kept finding more stones. But the strange glowing stones were not listed in any of the books on Michigan minerals.
"No one could tell me what they were," said Rintamaki. "I called them Yooperlites as the people from the UP Peninsula are called 'yoopers' and that's where I found them." (He has now trademarked the name Yooperlites, has a Facebook page and website: yooperlites.com.)
So what makes the Yooperlites glow? While the rock itself is the granite-like syenite, blue-grey in colour with white streaks, it's the presence of a fluorescent mineral called sodalite that makes the stone light up and glow streaks and specks of orange-yellow when placed under UV light.
Rintamaki's Yooperlites were analyzed at Michigan Technological University and University of Saskatchewan and according to an article in Mineral News (May 2018), were "the first verified sodalite documented from the state of Michigan."
"Rocks with fluorescent sodalite have been previously found in Michigan but were never sent to be verified," said Rintamaki. "I wasn't the first person to find one, but I am credited with the discovery."
And there's an Ontario connection to Yooperlites. Researchers believe these Yooperlites came from the Coldwell Alkaline Complex on the North Shore of Lake Superior between Schreiber and Marathon, and were transported by glaciation from Canada to Michigan. Dating back 1,100 million years, the complex is the largest alkaline intrusion in North America. On a visit with geologists to the area, Rintamaki did find Yooperlites at Pebble Beach near Marathon.
Rintamaki, who gives Yooperlite tours, said "People get hooked. They find the first one and then look to find another. Same thrill when finding the first and last one—same adrenaline. And if I can find one, anyone can."