In mid-February, we packed up 14 dogs, two mushers, one handler and a toddler and headed to the UP200, a 230-mile race starting and ending in Marquette, Michigan.
My husband Matt drove the team and I drove the truck. The UP200 is an assisted race, meaning, handlers meet the team at each of the three checkpoints and help care for the dogs while the musher catches a nap before hitting the trail again. The race was fairly uneventful. Matt had smooth runs on a fast trail. Fast enough that Anna (our friend and handler) and I barely made it to each checkpoint before the team arrived. This was partly due to us trying to catch naps and help my mother-in-law with Sylvia. Example: After Matt left the first checkpoint, which is 70 miles into the race and where he stayed five hours between the hours of 1 and 6 a.m., we went back to the hotel room to catch a nap. I thought for sure as soon as we fell asleep, Sylvia would wake up, thereby providing our alarm clock. But at 9:30 a.m., I awoke, realizing we had exactly an hour and a half until Matt arrived at the next checkpoint, leaving us one hour of drive time and a little time to set up the truck—15 minutes, is how much time we had before Matt and team came in.
This pattern continued the rest of the race—we slept through our alarms several times. Even at the finish, we found the last possible parking spot, wedging into a crammed parking lot of dog trucks and welcomed Matt and team in to his fifth-place finish. Given the competition, we were quite happy with his place and a decent purse check.
But, forebodingly perhaps, we had three sick dogs at the end of the race. Word was that a GI bug was making its way around the teams. Two dogs for sure had it and a third, Beezus, just wasn't eating. By the next morning, I asked the vets at the race banquet to look at him. He was running a fever, a fast pulse, and had nothing to eat or drink for 24 hours. The vet suggested we stop at their clinic on the way out of town.
From Marquette, Anna and I parted ways with Matt and Sylvia who returned home. Anna, myself and the dogs continued east toward Maine. We visited the vet who gave us fluids to give Beezus on the drive—we are both nurses, so not a problem, we thought. The vet and I still thought this was a GI bug, based on the other two dogs being sick.
By the time we hit Canada out of Sault Ste. Marie, Beezus seemed worse, breathing rapidly and still running a temp. As nurses, Anna and I knew he was becoming septic. We stayed overnight in Sudbury and went to another vet the next morning. Beezus had full-blown pneumonia, requiring IV fluids, antibiotics and a hospital stay. Anna and I spent the next three days visiting Beezus and skijoring with the other 13 dogs in Sudbury. Our nice race check from the UP went directly to pay for Beezus' care, but worse of course, was that Beezus would no longer be able to race Can AM with me in just over a week and worse than all that was the possibility that he would not recover at all. It was with huge relief that we were able to drive away with Beezus in the back seat of the truck a few days later and continue on to Maine.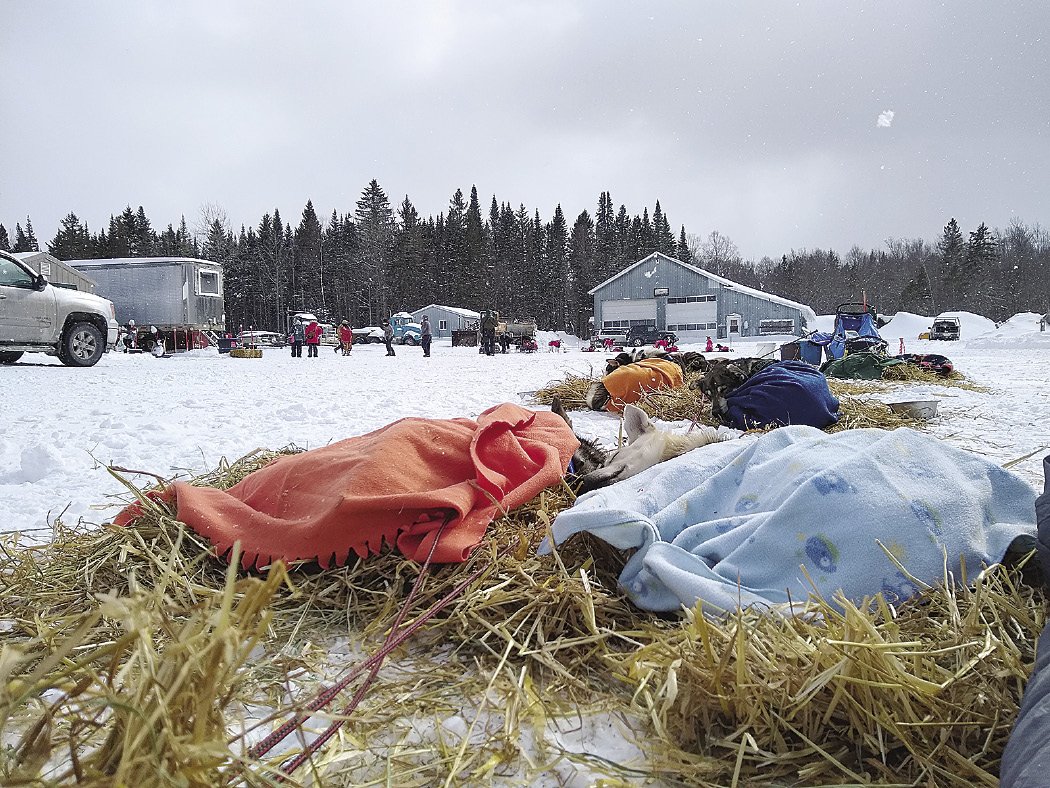 We spent five days at the home of friend and musher Sally Manikian's mushing palace, as she calls it, running trails in the mountains. The first day I whacked my head on my snowhook after tipping my sled on a really tight corner. The goose egg and shock of the fall along with warm temps in the 30s and 40s had us run six-dog teams the next few days. Most of the dogs seemed in fine form and though I considered dropping down to the 100-mile race in the Can AM, I felt I had a team ready for the 250 and decided to stick to the plan. Anna flew home, Matt and Sylvia flew out and we headed to Fort Kent, a town in northern Maine that borders New Brunswick. I finished the Can Am 250 two years ago in fourth place and Matt has finished twice as well. The pressure was on (perhaps self-inflicted) to do well.
Nancy, an 8-year-old leader, and our young and rising star Temper led me the first 62 miles to Portage. I had bib 4, so I didn't have many mushers to pass before I was leading the pack. I assumed a couple mushers behind me would pass, as we usually have a much slower first leg than some of the Canadians. But, these mushers never appeared and when we hit Portage Lake, as first musher in, a snowmobile processional led the way down the lake. They carried flags and for a moment, it felt like we were winning something. There were a number of extra congratulations at the checkpoint.
The next leg didn't go as well as I mistakenly took two dogs that should have been dropped at the first checkpoint. One rode into Rocky Brook in the sled bag. By the time I left Rocky Brook, I had 10 dogs on the team, had banked a 45-minute nap in the past 24 hours and was nursing two sore wrists, one belonging to my trusted leader Nancy. We continued on to Sylver, arriving early afternoon. Here the team would rest almost four hours, and though I laid down next to Nancy and tried to shut my eyes, I couldn't sleep. As my leave time approached, I was again running in fourth place in the standings.
Nancy's wrist was too sore for her to continue. Always, hindsight is 20/20. I wish that I had made the decision to rest longer, see if Nancy would recuperate. But, I chose to be competitive. We left the checkpoint with eight dogs, Temper and Itsy in lead. It would soon be dark. Allagash was over 50 miles away through some of the most mountainous country I have ever traveled by dog sled. I knew what I was up against. Itsy didn't want to lead. She stopped and looked at me with confusion. I tried Tom. He was uncertain. Temper wouldn't go solo. I tried him with Houdini but Houdini only wanted to turn around and smell Hush who was in heat. I tried Hush next to Temper but Temper could then only think about the girl next to him like some crush-crazed teenager. My possibilities quickly dwindled. I spent an hour trying dogs, moving a few hundred feet at a time. Finally, when the next musher passed me, we turned around, went back to Sylver and scratched.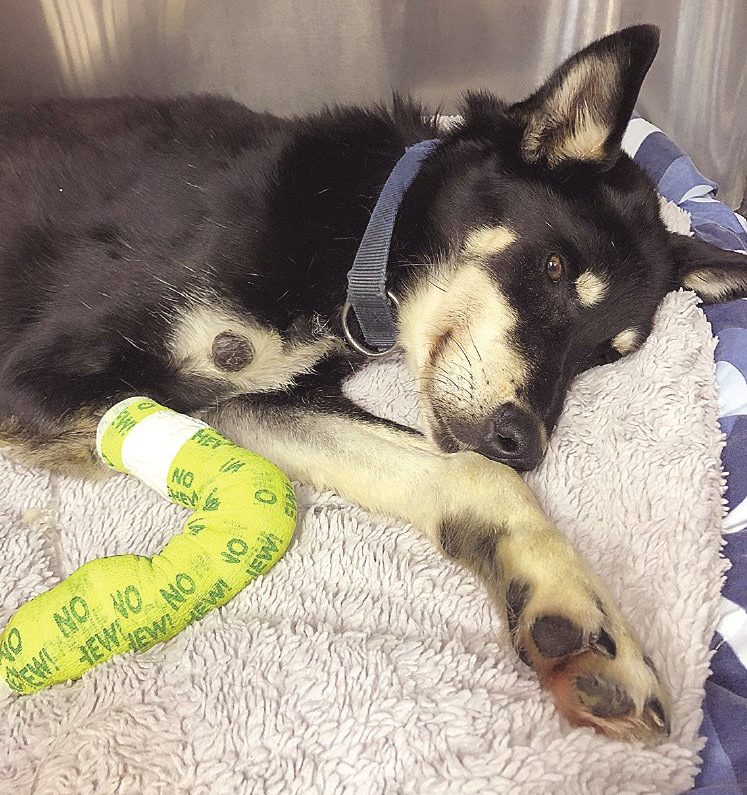 I've never scratched before. I've always been the one to get going when the going gets tough. But without a leader, we had little choice.
Within a few days of returning home, I listened to a new audiobook on my commute up and down the Gunflint; "If we're brave enough, often enough, we'll fall … I've never met a brave person who doesn't know failure, disappointment and heartbreak," narrated Brene' Brown from her book, Dare to Lead. It's a harsh way to end a long season of training and one that ultimately seemed to be plagued with bad luck. But, after long discussions about our future with sled dogs on the two-day drive back through Canada, I have come back full circle to the belief that I would be utterly and impossibly bored without the adventures and mis-adventures of our life with dogs.
The day after we got home, I hooked up the puppies and watched them settle in, on their first run, to a steady gait and a tight tug on the gangline giving me a swell of hope for the future. Matt ran 2-year-old Sting in lead and found him to charge ahead. Sylvia has taken several short rides on the sled with me while I run the puppies and seems to be more enthusiastic about mushing all the time. Onward.