Friend of the author Kirsti Harris displays her custom made fillet knife after fishing an unknown lake for walleye. | KIRSTI HARRIS
---
Like most natural resource industries, Lake Superior's commercial fishery has experienced dramatic changes over the decades. Shifting target species and their respective harvest limits have been influenced by factors like over-fishing, the introduction of invasive species, and environmental degradation since the 1800s.
Still, the fishery for both subsistence and commerce continues to play a pivotal role in the history, culture and economy in our waterborne part of the world.
The Ojibwe of Northern Ontario have traditionally depended on a regular harvest of fish, including whitefish, walleye, northern pike, suckers and sturgeon. Communities like Webequie, located about 300 miles north of Thunder Bay, continue to rely on fish as a staple food source, and is said to have been established on the site of a traditional fishing camp. Today, many Ontario fishing locations are under fish consumption advisories due to contamination from mercury, polychlorinated biphenyls (PCBs), dioxins, furans, insecticides and heavy metals.
After European settlement and during the colonization of what's now called Ontario, fishing was one of the first industries established in new communities that sprang up as settlement spread into the Great Lakes through the early years of Canada's founding.
Ontario's licensed commercial fishery operates in nearly all of the Great Lakes in addition to smaller operations in Lakes Nipigon, Rainy, Lake of the Woods and a few smaller inland lakes under the auspices of the Ontario Ministry of Natural Resources and Forestry.
Today, there's still evidence of an economy and culture driven by locally-caught and marketed fish along the shores of northwestern Ontario.
Liisa Karkkainen operates the Fish Shop, a must-stop for visitors and residents along Lakeshore Drive east of Thunder Bay that sells locally caught freshwater fish landed by commercial fishermen. In 1970 her mother, Hilkka Hautala, began selling fish smoked in the traditional Finn fashion using green alder without the use of chemical additives.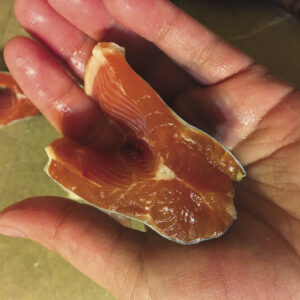 Four decades later, Karkkainen continues to operate the Fish Shop and has since expanded its inventory to include imported seafood and fish prepared using techniques from other cultures, including salmon jerky and candied fish.
But the handful of shoreline restaurants and subsistence fishing that happens in our region represents only a fraction of the commercial fish stay in the surrounding communities. The Ontario Commercial Fisheries' Association reports that a whopping 90 percent of the catch from Ontario's commercial fishery is exported to the U.S. and Europe.
With an increasing demand for local food, at least one emerging business in Thunder Bay is trying to change that.
Eat the Fish is a social enterprise dedicated to ensuring a fresh supply of local fish from the region's waters. Owned by Anthony Chiodo and Paul Drombolis, Eat the Fish brings the likes of whitefish, herring, Superior lake trout (char) and other Lake Superior species to the Thunder Bay Country Market on Saturdays, and is expanding its market into online sales. They've also brought in pike and whatever else might turn up in bycatch including burbot, also known as ling or lingcod, the only freshwater species in the cod family.
"The commercial fishing industry is a tribute to our region's past. The industry once sustained the development [of] the North. Our business is based on the desire to preserve this connection and bring it into the minds and tables of our community," states the business website.
Historically, each of the Great Lakes supported sizeable commercial fisheries, but pressures from over-harvesting, non-native species and habitat degradation has caused many of those stocks to become relics of the past. Thankfully, more people in cities like Thunder Bay are seeing the value of serving local fish on local tables, helping to guide all those fish that would have found their way across oceans and continents to stay closer to home.