My grandfather, Hans Kragseth, arrived in Two Harbors from Hakallestranda, Norway, in 1910. There to greet him were two of his seven siblings who had emigrated earlier: brothers Johan and Gustav. Johan was at the time captain of the tug boat Edna G. Hans would eventually settle in Duluth. During the 60 years Hans lived in Minnesota, he returned to his homeland just once.
In May, my wife Kathy and I traveled to Norway to meet our son Tor, who had spent the year at a folk high school in Elverum. Tor had spent the year engaged in outdoor adventures and had become fluent in Norwegian. I felt his education would not be complete without a trip to the ancestral homeland, to connect with his Nordic roots, meet relatives, and get a feel for the place where his great-grandfather grew up.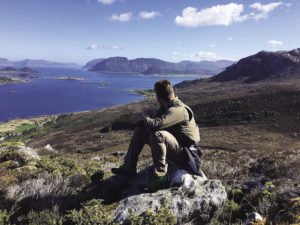 After a morning of sightseeing in Oslo, we drove approximately 90 miles to Elverum. Situated along the Glomma River, Elverum's topography is reminiscent of northern Minnesota. A short walk from our campground brought us to the Forest History Museum, which houses an extensive three-story collection chronicling Norway's relationship to forestry, hunting and fishing. The size and breadth of the collection was impressive. Outside was an arboretum and a vast collection of old buildings related to forestry. A walking bridge across the Glomma led to the Glomdal Museum with a vast collection of old farm buildings from throughout Scandinavia.
Every parent wants for their child to be happy, to feel accepted, and to have a richness of experience. It was gratifying to witness the depth of Tor's friendships and to hear in more detail the experiences of his year in Norway. He stated repeatedly that this was the best year of his life. He didn't want for it to end. We were able to meet the families of his friends, and even received an invitation to stay with one family in Oslo during our final night in Norway.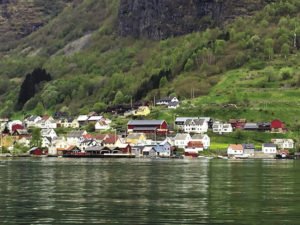 After we left Elverum, we headed west toward the coast and our relatives. We drove through Jotunheimen National Park, site of the two highest peaks in northern Europe. Tor had traveled here to climb and ski during his school year and recounted his adventures as we drove. The day was overcast and rainy, so we could not see the peaks. As we ascended the pass at Sognefjell, we nervously watched the car's thermometer as temperatures dropped precariously close to freezing. Norwegian roads are notoriously narrow and windy. Near the top of the pass, snow banks rose up to 10 feet on either side, obscuring any view of oncoming traffic.
We descended into fjord country. The next day we explored the famous Sognefjord, our big day of tourist sightseeing. At the town of Flåm, we splurged on a tour by Fjord Safaris of Aurlandsfjord and Nærøyfjord, two of the narrowest and most scenic fjords in Norway. We had to don wool-lined raincoats, a life vest and goggles. We traveled by high-speed rib boats and stopped frequently to observe porpoises, waterfalls, and well-framed views of the fjords. We also got great views of the towns of Undredal, famous for its goat cheese and for being the setting for the movie Frozen, and Gudvangen, where scenes from the T.V. series Vikings was filmed. Our captain served as our guide and provided interpretive information at all our stops. The narrow fjords towered above us, and the views were about as stunning as scenery can be. Our day ended at the town of Voss, where we met with our relatives Jørn-Magnus and Åse and their three young boys.
Kjellaug Kløvning, widow of my mother's cousin, was waiting at the end of her driveway as we wound up the narrow coastal highway in Hakallestranda. This community of about 250 people is located near the western most point in Norway and is about 50 miles south of the city of Ålesund. After we were situated in the house and reacquainted, we sat down to a traditional Christmas dinner featuring pinnekjøtt, or salted lamb, homemade sausages, mashed rutabagas, potatoes, lingonberry sauce and bread. It is interesting to note that they do not eat lutefisk here for Christmas.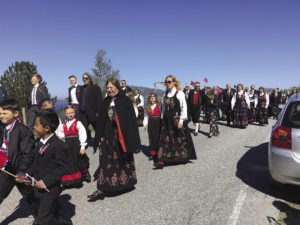 Our bellies full, we walked the length of the community. Kjellaug pointed out the houses of relatives, and we stopped in front of a smallish white house perched just up from the fjord—my grandfather's childhood home. On our return trip we encountered Vidar, another relative, and his family. Vidar's hobby is restoring old cars and boats. He tracked down and purchased his grandfather's car, the first ever in Hakallestranda.
The next morning, Jacob Emblom, Jørn-Magnus' father, led us on a hike up Kragset Horn, a small mountain from which my grandfather got his name. During his childhood, my grandfather or one of his siblings had to climb the mountain twice a day to milk the cow. I imagined how fit they must have been as I stopped to catch my breath. I felt a strong connection to my grandfather in this place, and it pleased me to see Tor's enthusiasm for this journey. At one point, Jacob stopped to show us a boundary to my grandfather's farm. The wind was fierce near the summit, and we were clad in jackets and wool hats as we marveled at the view of the fjord and the vast ocean beyond. We stopped briefly for pictures and hurried down, for this day was Syttende Mai, Norway's independence day.
It is a rare honor to be included in the festivities of another culture; to be accepted as part of the community. The rest of the day was filled with rituals and celebrations. It began with a parade, led by a car festooned for the occasion, marching music blaring. Most of the locals were dressed in their bunads, traditional Norwegian costumes. The parade traveled along the length of Hakallestranda and back again, to the church. The church service featured a speech by the rector and much singing. After the service, people gathered at the graveyard to commemorate those who died in World War II and those who died at sea.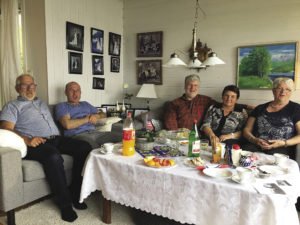 The community center is next to the church, and we filed there for a meal of meat, potatoes, and open-faced sandwiches. There was some free time where people ate hot dogs and ice cream, mingled, and some competed in shooting and darts. Afterward, there was a program in the community center that featured speeches, humorous skits, and music, topped off with a touching violin and piano duet of Edvard Grieg's "Våren." Afterward, there was coffee and cake and more socializing.
As the evening wound down, we went to the home of Jacob and his wife Målfrid for coffee and more conversation. Tor was invited to ride on the fjord in Vidar's old boat. As the sun slid along the horizon, we stepped out onto the deck. The sunset was in full splendor; Tor puttered along in the old boat atop the crimson sea. I believe I have never felt more at home anywhere in the world.