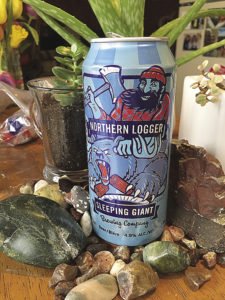 Sleeping Giant Brewing Company, located in the heart of Thunder Bay, is a brewery that stands out from the rest for more reasons than just their northern location. With a wide selection of year-round and seasonal brews—ranging from a special coffee-vanilla porter holiday release to a uniquely hopped English Pale Ale with their 360 Ale—Sleeping Giant has a beer for every occasion, and, judging by the couple of styles that I've tried so far, a delicious beer for every occasion at that.
I sat down to try one of Sleeping Giant's beers on a warm, sunny April evening after a long day spent hiking and taking full advantage of the spring waterfall season. Naturally, I was in the mood for something smooth and refreshing after a day spent in the woods, so I went with the Northern Logger Golden Ale—how could I not choose the blue can with the bearded lumberjack riding an angry grizzly with antlers? Also fitting was the description on the can, "Made to be refreshing after a day of taking on the world."
Smooth with a pronounced malt flavor that leaves a pleasantly sweet after taste, the Northern Logger Golden Ale is an excellent, versatile beer that serves well as both a refreshing pick-me up after a hot afternoon, or a warming malt-driven brew for a cold winter's day. Or after riding a grizzly bear with moose antlers, I suppose.