The Growing Season's Garden Grill Sandwich uses zucchini, onions, roasted red peppers and feta.

|GROWING SEASON
---
When I came back from my first year of college a vegetarian, I quickly realized the North Shore was not a very friendly dining scene for those not eating meat. I remember one server trying to reassure me saying, "We have lots of options with chicken." Luckily for vegetarians and meat-eaters alike, in recent years many local restaurants have expanded their menus to include delicious vegetarian options. Whether you don't eat meat, are looking for a healthier option, or just like good food, try eating vegetarian your next meal out.
When Michael and Maureen O'Phelan purchased Cascade Lodge and Restaurant in 2004, Michael couldn't eat at the restaurant as it didn't have any vegetarian options. They sought to change that and over the years they have become known for having a nice assortment of vegetarian dishes, even winning a few Northern Wilds Restaurant Awards in the process. While many restaurants may feature one vegetarian entree, Cascade Restaurant has two sandwiches, a burger, two salads, three dinner entrees, and many breakfast dishes that are vegetarian.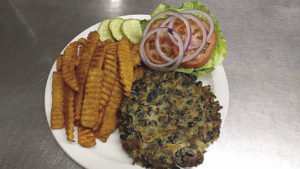 One of their most unique vegetarian items is the O'Freuben sandwich; a vegetarian take on a reuben. Not only is it a tasty sandwich, it is also noteworthy in that it contains tofu. Tofu is a staple of many a vegetarian's diet, yet it is quite rare on restaurant menus in the northwoods. The O'Freuben took one and a half years to develop, with the original inspiration found in a recipe from a blog. It also happens to be one of my favorite sandwiches on the North Shore.
Cascade Restaurant's most popular vegetarian item is their Veggie Bennie on the breakfast menu (available until 2 p.m. daily). Two basted eggs, served atop tomato slices and sauteed spinach on an English muffin, with hollandaise sauce and hash browns. One local customer decided to try her own vegetarian mash up by ordering the Veggie Bennie with Cascade's black bean and wild rice burger patty as the base. Veggie brilliance or insanity? Only those that try it will know.
This year, Cascade Lodge and Restaurant is celebrating its 90th anniversary. If you are looking for a place that is "healthy, tasty, and with reasonable prices," the O'Phelans look forward to seeing you. Cascade Restaurant is open for breakfast, lunch and dinner, seven days a week; 7:30 a.m.-8 p.m. weekdays and until 9 p.m. on weekends. Starting Memorial Day, it will be open until 9 p.m. weekdays and 10 p.m. weekends (3719 W. Highway 61, Lutsen).
In Duluth, the vegetarian options may be more plentiful, but one restaurant has become a vegetarian favorite over the years: the Duluth Grill. Not only is the Duluth Grill popular for its multitude of vegetarian entrees, it is also known for its commitment to local food and growing its own produce for the restaurant.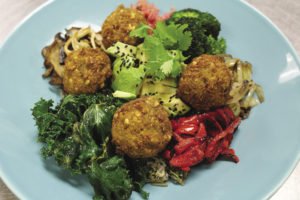 When you pull into the Duluth Grill's parking lot, you see right away that something is different about this restaurant. Container gardens and berms dot the landscape, making use of the space to grow food. The Duluth Grill's goal of producing as much food as they can from their location becomes apparent with this landscaping. While you might be impressed by their on-site operation, they also run an urban farm at two houses nearby in the Lincoln Park hillside. Overseen by their full-time farm manager, Francois, the operation is producing a broad range of foods from mint and basil to berries to rabbits for the Grill.
With a large menu and a busy restaurant, they are not able to meet all their produce and food needs. Instead, they support many other local growers and producers, last year spending close to $500,000 with local vendors.
General manager, Dan LeFebvre, explained, "It's about figuring out why you do what you do, not the what (serve food). The why, for us, is about producing amazing food with local ingredients with a good, knowledgeable staff."
Some of this amazing food includes the Buddha Bowl with chimichurri wild rice, roasted red peppers, grilled onions, housemade kimchi, broccoli, wild mushrooms, marinated kale, avocado, falafel, infused pepper oil and fresh cilantro—all in one bowl. The Thai-Ghetti, with fresh zucchini noodles and Thai flavors, is also popular.
The Duluth Grill is known for more than vegetarian food, as "we still sling burgers, onion rings, bacon, and sausage: it's our bread and butter," said LeFebvre.
This is the perfect location when you have a mix of herbivores, carnivores and omnivores in your group. The Duluth Grill is open seven days a week, 7 a.m.-9 p.m. (I-35 & 27th Ave. West).
Just over seven years ago, four women saw that there were not many dining options for vegetarians in Thunder Bay. They sought to meet this need by opening a restaurant serving vegetarian and vegan food and pressed juices: The Growing Season. Today, they continue to serve nutritious, colorful and refreshing food.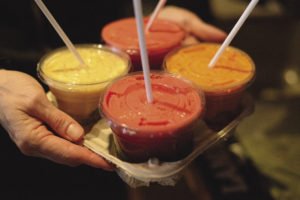 "We are a casual, comfortable, and friendly neighborhood eatery that makes simple, good food fairly quickly," said one of its owners, Amy Kelterborn.
With several vegetarians and a vegan on staff, they understand vegetarianism and what people are looking to enjoy when out for a meal. Their signature dish is the vegetarian Season Sandwich, made with local Thunder Oak Gouda cheese in a grilled, open-faced sandwich with avocado and homemade pesto. The Chipotle Tofu Unwrap and the Venus Rice Bowl are two other veggie favorites, mixing fresh, healthy ingredients with bold flavors. The Growing Season partners with many local farms and vendors, using locally grown items to create their menu.
This past summer I finally stopped in to try out The Growing Season after it was recommended to me countless times. It is a smaller restaurant with a strong take-out business, so we put in our order and then took our delicious veggie-laden lunch to nearby Boulevard Lake. A perfect option on a beautiful day. The restaurant is also a great spot to eat, with nice decor and lots of light. The staff help make it a warm and lively environment. The Growing Season is open 11 a.m.-8 p.m. Monday through Saturday (201 Algoma Street).
Individuals who are vegetarian, or eat partially vegetarian, do so for a variety of reasons; these restaurants are similarly varied. Each brings its own flavors and ideas to vegetarian cooking, yet all are serving up delicious food for vegetarians and meat-eaters alike. Enjoy a meal, get a few extra servings of vegetables, and support a local business. Sounds like a win-win-win.