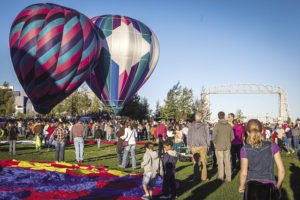 Hot Air Balloon Fest
September 16-18 Have you ever wanted to ride a hot air balloon? Now is your chance.
The annual Duluth Hot Air Balloon Festival will be in Bayfront Festival Park and offer numerous family-friendly attractions, including hot air balloon rides, a craft beer tent, food, live music, vendors, kids activities, and a family kite fly. With more than 20,000 attendees, this event has something for everyone. And the best part? Free admission!
Gates will open at 3 p.m. on Friday, Sept. 16, and begin with a balloon launch at 5 p.m. (weather contingent) and an opening ceremony event at 7 p.m., featuring a Moon Glow. A Moon Glow is the process by which the balloons inflate and the burners fire and fill up the balloons, making the balloons glow like jack-o-lanterns. If the wind is above 9 mph, then the balloonists will remove the envelopes (the actual balloon itself) and do a basket burn, shooting flames as high as 20 feet into the air.
Students from local middle and high schools will be launching "weather balloons" at roughly noon each day, and the Kiwanis Club of Friendly Duluth will host a free Family Kite Fly on Saturday, from 10 a.m.-4 p.m. Free kites for the kids will be provided.
The Craft Brew Village will be returning to this year's festival, showcasing microbreweries and brew pubs from around the region. The village will be open on Friday from 4-9 p.m., and Saturday from noon-9 p.m.
Also running in conjunction with the festival is the 5k Tropicolor Color Run; known as "the happiest 5k on the planet." It will take place at Bayfront Festival Park on Sunday, Sept. 18. Registration is required.
Don't miss your chance to witness balloons ascending over the Lake Superior shoreline. For more info on the festival, visit www.kernz.com/balloon.
RASC Sky Gazing
Sept. 2-4 The Royal Astronomical Society of Canada (RASC)–Thunder Bay Centre is inviting people to join them for a weekend of sky gazing at Sleeping Giant Provincial Park. It will be held over Labor Day weekend and free presentations will be offered each evening. On Friday, Sept. 2, there will be an informative talk about the basics of astronomy and more information about the wonders of the sky will be held on Saturday. On Sunday, hands-on instruction will be available for people wanting to learn about night photography. Viewing equipment will be provided. To learn more about the RASC, contact Brendan Roy at novationheart@hotmail.com.
Hymers Fall Fair
Sept. 4-5 The village of Hymers, near Thunder Bay, will host their annual classic country fair. There will be huge locally grown pumpkins, cattle and horse shows, games, live entertainment, and more. This year's theme is Blue Jeans N' Country Dreams. www.hymersfair.com
Fall Superior Trail Races
Sept. 9-10 This challenging race offers multiple distances including; 100, 50, and 26.2 miles. And if the distance isn't challenging enough, the terrain is. It is a rocky, rooty, and rugged single-track trail. The race is located on the Superior Hiking Trail in the Sawtooth Mountains. Each race will finish at Caribou Highlands in Lutsen. www.superiorfalltrailrace.com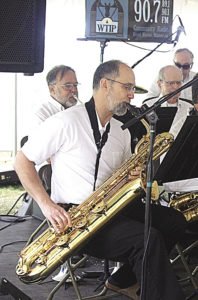 Radio Waves Music Festival
Sept. 9-11 WTIP's 9th annual Radio Waves Music Festival in Grand Marais will present three days of live music, held at the Rec Park. There will be a diverse mix of local and regional artists and bands, such as SkyBlue Trio, the Fish Heads, Plucked Up String Band, Jim and Michele Miller, and more. Admission is available at the gate and tickets are $10 per day or $20 for the weekend. Children 12 and under are free. www.wtip.org
Harvest Moon Festival
Sept. 9-11 Enjoy the fall weather and beauty in Ely for the Harvest Moon Festival. There will be 125 local and regional artists and craftsmen showcasing original arts and crafts. This is a three-day festival filled with art, food, entertainment and activities for the whole family.
www.ely.org
Gravel Conspiracy Bike Ride
Sept. 9-11 This free ride will take 75 co-conspirators on a three-day journey through gravel and dirt roads. This year's race will begin near Silver Bay and loop around Ely, with mandatory stops along the way. The event is meant to be challenging, but also give the riders a chance to hangout after a day full of riding. www.gravelconspiracy.blogspot.com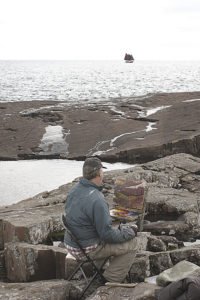 Grand Marais Plein Air
Sept. 9-16 Venture outside and you may see local artists hard at work, drawing or painting their surroundings for the Plein Air competition. Artists can be spotted anywhere from the Canadian Border to Schroeder. There will also be opportunities to take classes with Dan Wiemer or Bonnie Paruch at the Grand Marais Art Colony. The Plein Air exhibit will be held at the Johnson Heritage Post and Grand Marais Art Colony from Sept. 17-Nov. 13. www.grandmaraisartcolony.org
Fort William Fall Street Festival
Sept. 10, Saturday Enjoy a celebration of food, music and art with the Fort William Fall Street Festival from 11 a.m.-5 p.m. This free family-friendly event will offer live entertainment, a culinary market featuring an array of foods for every palate, a children's area with pony rides, Shriner's train rides, clowns, face painters and inflatables. Guests will also have the opportunity to purchase items from local artists and crafter pavilions, such as jewelry, soaps, clothing, postcards, art, and more. www.fortwilliambusinessdistrict.com
/events
Billy Currington
Sept. 10, Saturday Head over to the Community Auditorium in Thunder Bay to hear country singer-songwriter Billy Currington on his Summer Forever tour. Some of his hits include, "Must Be Doin' Somethin' Right," "People Are Crazy," and "We Are Tonight." Concert begins at 8 p.m. Tickets are available online. www.tbca.com
Dance Til' There Is No More
Sept. 10, Saturday The Violence Prevention Center in Grand Marais is hosting "Dance 'Til There Is No More" during the Radio Waves Music Festival, from 11 a.m.-5 p.m. Dancers will be collecting pledges to support the VPC's work to eliminate domestic and sexual violence. www.violencepreventioncenter.org
Lake Superior Harvest Fest
Sept. 10, Saturday The Duluth Harvest Festival is celebrating 23 years of connecting producers and consumers. There will be music, food, and crafting. There will also be information about beekeeping, composting, and backyard chicken-raising. The event will be held at Bayfront Festival Park from 10 a.m.-4 p.m. www.sfa-mn.org/harvest-festival
Caribou Charity Ride
Sept. 11, Sunday The 7th annual Caribou Charity Ride was created for people to challenge themselves while contributing to the Northern Cancer Fund. There are three different races to choose from; a 50k, 75k, or 100k. All you need to participate is a bike, certified helmet, and determination. All rides start at the Best Western Nor'Wester Resort Hotel on Highway 61 and travel through Oliver Paipoonge Township near Thunder Bay. www.cariboucharityride.com
Unplugged XV
Sept. 15-18 The North House Folk School in Grand Marais presents the annual Unplugged Festival, featuring eight singer-songwriters performing live music under the big top. There will also be crafts available, with more than 10 courses to choose from. www.northhouse.org
NorthShore Inline Marathon
Sept. 17, Saturday Be a part of the largest inline marathon in North America this summer by joining the 2.2 mile Inline Marathon in Duluth. This North Shore course follows the same scenic course used for Grandma's marathon. Races with shorter distances will also be held, including a kids sprint. www.northshoreinline.com
Booya Harvest Festival
Sept. 17, Saturday The fourth annual Booya Fest in Finland will be held on Saturday, Sept. 17 and feature crafts, vendors, live music, the famous bowl of Booya and Bread, and more. There will also be a car show, sponsored by Don's Auto & Towing. The festival will be held at the Clair Nelson Community Center from 10 a.m.-4 p.m. www.facebook.com/booyaharvestfest
The Color Run
Sept. 18, Sunday The "Happiest 5k on the Planet" is returning again to Duluth during the Hot Air Balloon Festival. The run takes place at 9 a.m. and will include a post-celebration at noon. The Color Run promotes a healthy life style, happiness, and giving back. Color runners of all skill levels are encouraged to join the event. www.thecolorrun.com
Duluth Hawk Festival
Sept. 18-20 This annual festival held by Hawk Ridge Bird Observatory in Duluth celebrates the fall bird migration. There will be field trips, workshops, presentations, social gatherings and more, to showcase why Duluth is one of North America's best places to experience the fall bird migration. Registration is required for this event. www.hawkridge.org
Fall Colors Photography Workshop
Sept. 20-Oct. 2 Photographers of all skill levels may attend this fall weekend workshop. Barry Wojciechowski will be leading the workshop, which covers various topics, including techniques for sunrise and sunset photography, mastering histogram, and camera setting and controls. Activities include walks to scenic shoot locations and trails around Sleeping Giant Provincial Park, and personal feedback. www.superiorvisits.com
Ely Marathon
Sept. 23-24 Sign up for one of three Ely runs. The Northern Lights 5k Glow Run will be held on Friday, Sept. 23; runners, walkers, wheel chairs, and families with strollers are all welcome. The Natures Full Marathon (26.2 miles) and Boundary Waters Bank Half Marathon will take place on Saturday, Sept. 24.
www.elymarathon.com
Lake Superior 20/20 Studio Tours
Sept. 23-25 Take the road less traveled and see a variety of artistic talent, while enjoying the autumn colors. Various forms of art will be shown, demonstrated, and offered for sale. The tour will be well marked along Highway 61, and will take place at various art studios between Gooseberry Falls and Duluth. Studios will be open from 10 a.m.-6 p.m. www.lakesuperior2020.com
Crossing Borders Studio Tours
Sept. 23-Oct.2 The Crossing Borders Studio Tour offers a unique experience, allowing the public to participate in a free self-guided tour through a select group of professional artist studios, located along the North Shore of Lake Superior. This year's show will feature stone sculptures, Ojibway art work, pottery, jewelry and much more. Studios will be open from 10 a.m.-6 p.m. daily. www.crossingbordersstudiotour.com
Ann Reed Concert
Sept. 24 Saturday The North Shore Music Association in Grand Marais is excited to host Minnesota singer-songwriter Ann Reed. Many things make her unique, such as she primarily plays a 12 string guitar. Reed also donates up to 25 percent of her tour bookings to organizations that address women and children. The concert will begin at 7:30 p.m. at the Arrowhead Center for the Arts. Tickets are available at the door or online at www.tix.com. www.northshoremusicassociation.com
The Price is Right
Sept. 27, Tuesday Come on down to Thunder Bay on Tuesday, Sept. 27 at 8 p.m. for a chance to win at The Price is Right. Classic games from this popular show will be played, such as Plinko, Cliffhangers, the Big Wheel, and even the Showcase. Must be 18 years or older to participate. www.tbca.com