Thunder Bay—Remember when you tasted something that was so delicious that you almost couldn't believe your senses? Chances are, you closed your eyes at that moment. What might it be like to eat your entire meal that way? On Friday, Oct. 18, a small group of diners in Thunder Bay will participate in just such an experience: Dining in the Dark, hosted by the local Canadian National Institute for the Blind (CNIB).
"It's an opportunity for people to dine out in a whole new way and raise money for the CNIB," says Kelly Rooney, coordinator for Community Giving. "It's not what some people might think—the room is not blacked out. People will go to their tables, where they will find a blindfold to put on. Once that's done, they can eat their meal, while exploring textures, flavours and aromas in a whole new way."
Why eliminate the sense of sight for this meal?
"We've noticed that when eating out, people close their eyes on experiencing a delicious morsel," Rooney says. "So, this is simply an extension of that. And more. Of course, some people take a peek under their blindfold, but most keep the blindfold on throughout."
The concept of Dining in the Dark originated in Paris, France, in 1997, spreading to Switzerland by 2000 and later around the world. As suggested, the main idea was to enhance the dining experience and crucially, for sighted persons to get a sense of the reality of vision impairment.
Many believe that when you can't see what you are eating, you taste and feel the texture of the food more vividly. According to a 2012 study by researcher John S. Allen, there is a suggested neurological basis for this belief. In his book The Omnivorous Mind: Our Evolving Relationship with our Food, Allen suggests that "we eat with our minds as much as our stomachs."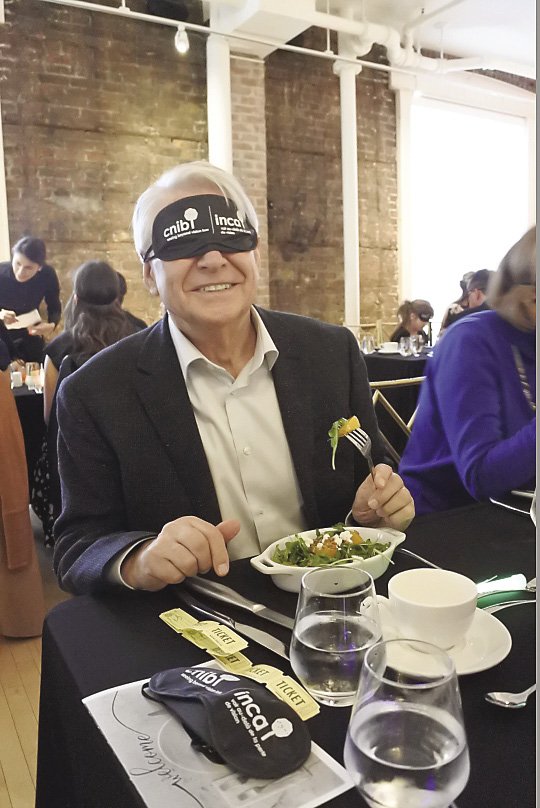 Whatever the case, participants in this year's Dining in the Dark will not only experience the culinary work of caterers The Redhead and the Chef, but the stylings of local musician Arley Cox. In addition, there will be a live auction, again with participants blindfolded.
"You raise your hand to bid as you would in a normal auction," Rooney says, "and we have volunteers, who will be touching your shoulder when the bid comes back to you."
According to Rooney, there will be an array of "great local prizes."
"We are so grateful to local businesses who have been so generous with their prizes for us," she adds.
Now in its fifth year, the Dining in the Dark event usually changes venues yearly to offer a different perspective for those participating. This year, diners will also experience the ambience of the Urban Abbey.
"We're fund raising to increase our accessibility for our clients," says Rooney. "The national CNIB is creating CNIB Hubs, where clients can access a wide variety of accessibility technology. Dining in the Dark is part of a fundraising effort to upgrade our own facility in that direction, to accommodate all sorts of needs and tear down barriers to inclusion for blind people."
To help offset social isolation, the local CNIB offers, among many other activities, a book club, a creativity circle and cooking classes.
"We have a beautiful building, with a lot of open space," Rooney says. "But it needs some renovation to make our facilities more comfortable for our clients and bring people together."
Contrary to a widely-held misconception, vision impairment is a spectrum, not necessarily a totality of vision loss.
"Over 90 percent of our clients have some vision," Rooney says. "We work with people experiencing vision loss, to help them live the best life they can with the vision they have."
Dining in the Dark will happen at the Urban Abbey, 308 Red River Road, Thunder Bay, Friday, Oct. 18, 7-10 p.m. For tickets, contact Kelly Rooney at: (807) 345-3341 ext. 5478.