A purr-fect evening
Duluth—Do you love animals? (Of course you do.) Do you love dressing up and having the time of your life for a good cause? (Of course you do.) The 19th annual largest area fundraiser for Animal Allies is coming up and the organization would love to have animal lovers unite for a lovely gala on Oct. 19 at 5 p.m. at the Northland Country Club in Duluth.
"It [the fundraiser] was originally started by volunteers who wanted to raise money to help the animals. As the years went on, the event grew and expanded and has become our single largest fundraising event every year," said Michelle Carter, Animal Allies' development officer. "Money raised at the Fur Ball supports the shelter's needs throughout the year. We also run a special campaign each year to raise money to fulfill a special need. This 'Fund-a-Need' helps with special projects that are difficult to find funding for or are a more immediate need for the animals. This year's Fund-a-Need is to replace our aging transport vehicle and provide funding for local transports from regional rescues in the Midwest."
Besides just donating to a good cause and having a good time, there are also friendly faces to be seen.
"Dan Hanger is our MC this year and always brings the party!" Carter said.
Not only are there other animal lovers attending, but some of the animals themselves will be there.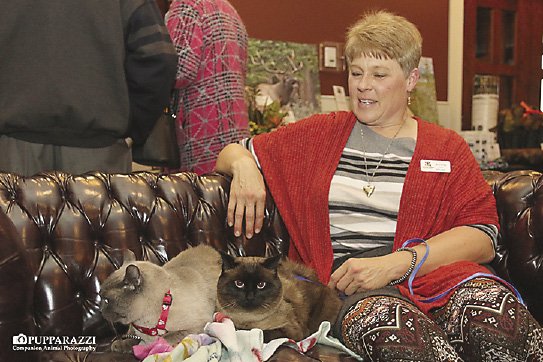 "Animal greeters are a special part of the event. Most of these pets are Animal Ambassadors that work in our community as therapy pets, have been adopted from Animal Allies, or are owned by our wonderful volunteers. We do not adopt animals from this event," said Carter.
Who all shows up?
"We do have supporters who have come to Fur Ball every year, and we also have new people each year. It is a nice mix of young and old," said Tracie Ray, Animal Allies' development assistant. "Last year was my first Fur Ball Gala. My favorite part was seeing so many people from the community come together to help us."
"Every year my favorite part is the people. We get together once a year and all pool our resources to help the animals. It is fun, heartwarming, and endearing to gather with friends who share these life-saving values. The Fur Ball Gala is like a big, fancy, family reunion where all of our friends gather and celebrate how far we've come," said Carter.
The event starts at 5 p.m. with a silent auction and games occurring until 7 p.m. Dinner will be served at 7 p.m., followed by a live auction and Fund-a-Need at 8 p.m. Tickets to attend are $100 each. To buy tickets or learn more, visit: animalallies.net.