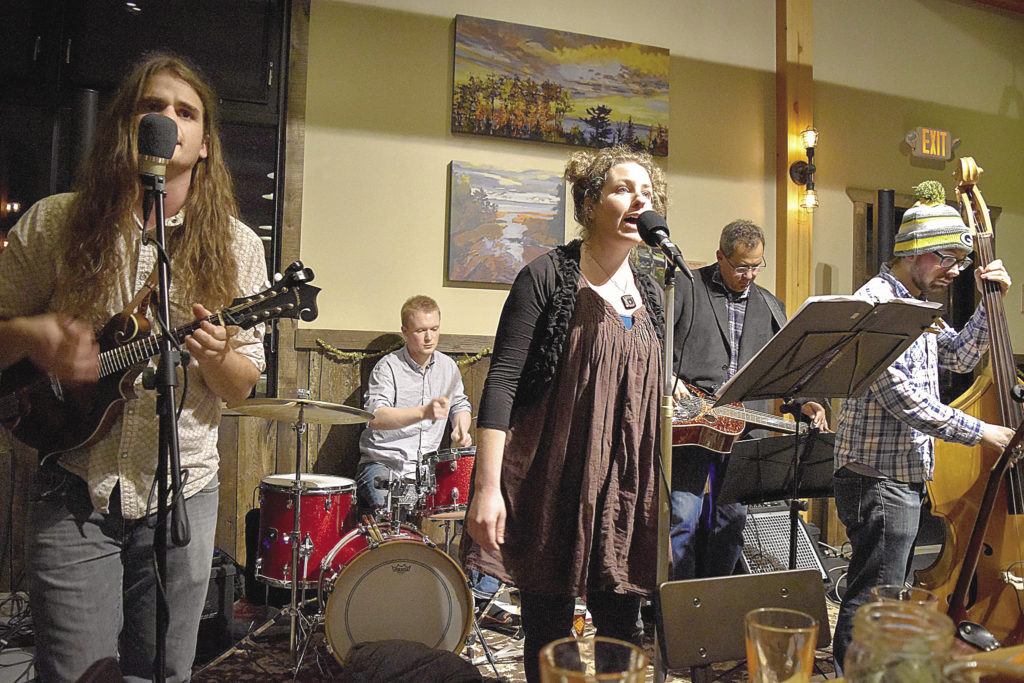 With a name and sound that make most people do a double take, Plucked Up String Band is one of the newer beloved groups in the Grand Marais area. An original "alternative bluegrass" vibe and combination of talents draw crowds both locally and at gigs as far away as Montana.
Dobroist Bill Hansen individually recruited most of the members over a span of about nine months. After getting the consent of each musician to be added to the roster, the group began figuring out how to weave their respective styles and contributions together. The end result was not quite was Hansen had originally intended.
"He wanted it to be really old-school and traditional, almost spiritual-type stuff," said bassist and vocalist Will Moore. "Elliot Noyce came in and said 'I have five original songs' and it all changed."
Despite the different direction, Hansen has been nothing but pleased with the group he formed just over a year ago.
"There's good chemistry and it's really fun. Noyce brings this harmonic sense; he's got a really sophisticated sense of harmony. Will's an amazing wordsmith. Amanda's got a beautiful sense of melody," touts Bill. "When you put those three together, it's really special. It's a unique combination of skills that really works."
The group of six includes the aforementioned Bill Hansen and Will Moore along with Elliot Noyce on mandolin and vocals, Matt Nesheim on banjo and vocals, Kieran Scannell on drums, and Amanda Hand as a vocalist.
Plucked Up String Band welcomes the opportunity to travel and share their sound outside of the North Shore. A recent trip to Montana involved eight gigs in nine days at breweries, coffee shops and pubs. It was capped off by a successful stop at the Ashland Folk Festival at Northland College.
"It was really fun. The total smartphone culture was obvious. There were like five people there when we started playing. They got on their phones and soon there were about 200 kids that came out of their dorms dancing their tails off and screaming at us," mused Hansen.
The evolution of the group's sound has also meant a shift in their ratio of originals and covers. Original songs were the most common at the first gigs, then there was a shift to an equal number of originals and covers. Now, the group has settled on somewhere close to two originals to every cover song. Even when they play covers, uniqueness is a key theme.
"My goal is to never play a cover song that's been covered in [Grand Marais]," explains Noyce. "We keep originality in mind all the time and try to make it different, even the songs we cover. Even the songs we are writing together are getting more intricate and more detailed."
So what's next for Plucked Up? Short term upcoming gigs include afternoon sessions at Voyageur Brewing Company in Grand Marais on September 2nd and 8th, an evening playing in the Lutsen Resort Lobby on the 3rd, as well as a Friday afternoon slot during the annual
Radio Waves Music Festival at the Grand Marais Recreation Area and Campground on the 9th. If you can't make the local shows, keep an eye out for them on a festival circuit next year.
"Our goal for next year is to keep playing locally, which we love, and play some festival dates. We crushed it at Ashland and got invited back everywhere in Montana. If any festival promoters are reading, they can call us up," said Hansen.