Sept. 11-13
WTIP's 8th annual Radio Waves Music Festival in Grand Marais is an annual event that takes place the weekend after Labor Day and highlights the talent and diversity of local and regional musicians. This year marks the 8th festival and features over 30 acts, covering all musical tastes, including rock, jazz, Americana, classic and alternative country, folk and more.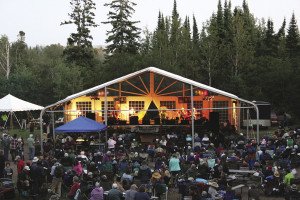 In addition to live music throughout the day, the festival features on-site food vendors, camping and a children's activity area. The festival also offers a large tent for musicians and attendees, making it a rain or shine event. The festival will be held at Sweetheart's Bluff, at the Recreation Park. Tickets are $10 per day or $20 for the weekend. Children ages 12 and under are free. Visit www.wtip.org for more info.
New this year is the Violence Prevention Center's Dance 'Til There is No More fundraiser on Saturday, Sept. 12. Participants will be gathering pledges beforehand and then dancing from 11 a.m.-5 p.m. For more info on the fundraiser or to donate pledges, visit www.hope-4-u.org.
The Radio Waves Music Festival is sponsored by WTIP North Shore Community Radio, a local, independent radio station, broadcasting from 90.7 FM. WTIP provides area listeners with local news, weather and information. They also provide numerous locally-produced programs and features, such as the North Shore Digest, Community Conversations, Mountain Stage, Voices from the Circle, the Youth Radio Project Mix and Living on Earth.
Music Festival Performers:
Friday
North Shore Community Swing Band
Sky Blue Trio
Angel Hair Rasta
Oversize Load
Shoot from the Hipsters
Wild Berry Jam
The SplinterTones
Saturday
Heck Yeah String Band
Frozen Britches
The Coast Connection Band
Fred Anderson
Portage
Briand Morrison
Larry Carpenter
and Laura Moe
The Curry Family Band
Roxann Berglund
The Brother Love Band
Sam Miltich & the Clearwater Hot Club
Earth, Wind & Todd
Andy Keith
Cook County's Most Wanted
Lake Effect
Rich Mattson & the North Stars
Sunday
The Carpenter Ants with Gordon Thorne
Gillman & Bowers
Amaroq
Gina Lee
Trails End Band
Lehto & Wright
John Silliman
The Pete K. Group
Maria Nickolay
Louis Medina
The Carpenter Ants