Queen—It's a Kinda Magic
Sept 1, Tuesday
This re-creation of Queen's 1986 World Concert tour features over 20 of Queen's greatest hits, including 'We Will Rock You,' 'Bohemian Rhapsody,' 'We Are the Champions,' 'Under Pressure,' and 'Fat-Bottomed Girls.' With authentic costumes, lighting and vocals, this is almost like the real thing. The concert will be held at the Thunder Bay Community Auditorium at 8 p.m. Visit www.tbca.com for tickets.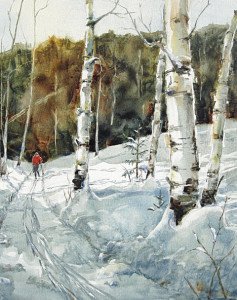 Lake Superior Watercolor Society & Lost Resorts Exhibit
Sept. 1-Oct. 17
The Cross River Heritage Center in Schroeder will be displaying the exhibit "Lost Resorts" and an exhibit by the Lake Superior Watercolor Society. There will be an opening reception on Sept. 13, from 2-4 p.m. with refreshments. Then, enjoy Sharing Stories about Resorts, "Making Beds and Slinging Hash" seminar on Sept. 16 and Wills and Estate Planning, Sept. 23, both at 7 p.m. There will also be a wine and beer tasting held Sept. 24 from 6:30-8:30 p.m. And don't miss the chance to Celebrate Fall in Watercolor with Trish Hunter from 9 a.m.-noon, Sept. 26. Visit www.crossriverheritagecenter.org for more info.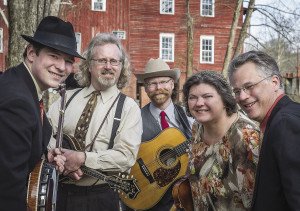 Monroe Crossing
Sept. 3, Thursday
Monroe Crossing is returning to Grand Marais. Named in honor of Bill Monroe, "the father of bluegrass music," this unique ensemble of five will be performing at the Arrowhead Center for the Arts. Monroe Crossing has been awarded "Bluegrass Album of the Year" by the Minnesota Music Academy in 2003 and they were inducted into the Minnesota Music Hall of Fame in 2007. The concert will begin at 7:30 p.m. and tickets are on sale now. Visit www.arrowheadcenterforhearts.org for more details.
Ole & Lena at the State Fair
Sept. 4-5
The Grand Marais Playhouse presents Ole & Lena at the State Fair. It's Ole's favorite time of year; State Fair time. However, Lena doesn't share his excitement, as Lena's arch rival always wins the coveted blue ribbon, but things are about to change. Filled with fun, laughter and antics, this play is great for the whole family. Show begins at 7 p.m. at the Arrowhead Center for the Arts. Tickets are $15 for adults and $5 for ages 18 and under. For more info, visit www.arrowheadcenterforthearts.org.
Hymers Fall Fair
Sept. 6-7
The village of Hymers near Thunder Bay is the annual host of the Hymers Fall Fair, a classic country fair, full of locally grown pumpkins, horse and cattle shows, contests, food and fun. This year's theme is: There's Country in the Air at Hymers Fair. Admission is $6 for adults and $4 for seniors and children under 12. The fair will begin at 9 a.m. Visit www.hymersfair.com for more info.
Bay Street Film Festival
Sept. 9-13
The annual Bay Street Film Festival is a not-for-profit media arts festival that presents Canadian and International films, videos and film installations of all genres, in Thunder Bay. This year, filmmakers can enter in the Hatch a Film Contest, giving finalists the unique opportunity to pitch their idea to an industry jury for a cash prize of $2,000. The festival will also include live music, award-winning film screenings, workshops, performances, discussions and more. For more info, visit www.baystreetfilmfestival.ca.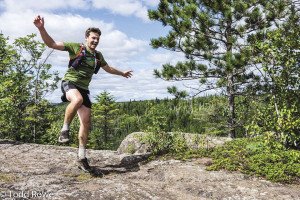 Fall Superior Trail Races
Sept. 11-12
Do you have the endurance to run 100, 50 or 26.2 miles on the Superior Hiking Trail? Each race will provide aid stations and cross some of the toughest but most scenic parts of the Boreal Forest, over rivers, streams and breathtaking peaks. Due to high demand, the race will be handled through a "lottery" process with limited spots available, so register early. Lodging and transportation will be provided by Caribou Highlands in Lutsen. See
www.fall.superiortrailrace.com for details.
Gravel Conspiracy Bike Ride
Sept. 11-13
Join the Gravel Conspiracy group and bike from Grand Portage to Duluth, using only dirt and Forest Service roads. This is not a race and there are no signs or aid stations. You are on your own. However, there will be mandatory stops along the way, including lunch and tetherball at Trestle Inn and overnight stays in Grand Marais and Silver/Beaver Bay. Registration is open but limited to 75 bikers, so sign up quick. Visit www.gravelconspiracy.blogspot.com for more info.
Fall Harvest Moon Festival
Sept. 11-13
The Harvest Moon Festival, in Ely, is a celebration of the area's history and culture, featuring a Voyageur Encampment and entertainment representing the local heritage: Native American, Finnish and Slovenian. There will also be a farmer's market and over 125 artists and craftsman showcasing and selling their original art, handcrafted jewelry, wood, pottery and more. The festival will be held at Whiteside Park and is fun for the whole family. On Sept. 12, the 9th annual four-mile Harvest Moon Run will be held at 9 a.m. at Miner's Drive. For more info, visit www.ely.org.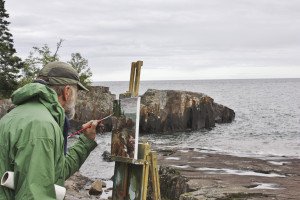 Plein Air Grand Marais
Sept. 11-Oct. 4
Head outdoors and you might spot local artists painting or drawing the breathtaking landscape, creating a work of art before your own eyes. The Plein Air event opens with a juried art competition from Sept. 11-17, followed by a public art exhibit at the Grand Marais Art Colony from Sept. 18-Nov. 15. An opening reception will be held Sept. 18 from 5-7 p.m. The 2015 juror will be Tom Nachreiner, who will be holding a Plein Air class Sept. 19-20. Cash prizes and awards will be given to the top 3 artists. For more details, visit www.grandmaraisartcolony.org.
Lake Superior Harvest Festival
Sept 12, Saturday
Celebrate locally grown and sourced food with the Harvest Festival, the region's largest farmer's market. Learn about backyard composting, chicken-raising and beekeeping. Also enjoy live music, handmade arts and crafts, good food and more. The festival will begin at 10 a.m. in Bayfront Park, Duluth. Visit www.sfa-mn.org/harvest-festival for more info.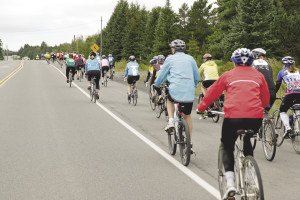 Caribou Charity Ride
Sept. 13, Sunday
The 6th annual Caribou Charity Ride will take place in Thunder Bay and proceeds will benefit the Northern Cancer Fund for patients across Northwestern, Ontario. This year, cyclists can choose to ride the 50k, 100k or the new 75k route. Lunch and prizes will be given after the race. Registration cost is $75 and includes a t-shirt, lunch and a $10 Thunder Bay Community Auditorium gift certificate. Sign up or donate at www.caribou­charityride.com.
The Tenors
Sept. 16, Wednesday
The Tenors, a Canadian quartet, just released a new album, "Lead With Your Heart," and will be performing at the Thunder Bay Community Auditorium at 8 p.m. Despite their short career, the group has already performed on the Oprah Winfrey Show, for Her Majesty The Queen during her Diamond Jubilee at Windsor Castle, at the opening ceremonies of the 2010 Vancouver Olympics, at the 2011 Los Angeles Emmy Awards and more. They have also shared the stage with Paul McCartney, Neil Young, Sarah McLachlan, Brian McKnight, Justin Bieber, Paul Anka, David Foster and Natalie Cole. Check out www.tbca.com for tickets and more info.
Unplugged XIV: The Northern Harvest with Mountain Stage Radio Show
Sept. 17-19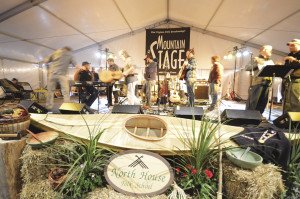 North House Folk School in Grand Marais presents the annual Unplugged music festival, featuring nationally and internationally recognized performers, as well as crafts, food, dancing, sailing, campus tours, workshops, an auction and more. Learn to make your own music with jam sessions, meet the makers in the Craft Artisan Market, and learn a new craft with one of the mini courses or public programs. Also featured is NPR's Mountain Stage with Larry Groce, which includes a pre-show with outdoor music and Fulton Beer and Voyageur Brewery. This will be the fifth and final year that Mountain Stage Radio will be featured. On Saturday is the Featured Fundraising Performance with Jon Vezner, which includes the Backstage Beer and Bites Benefit at 5 p.m. with limited seating. Visit www.northhouse.org for more info.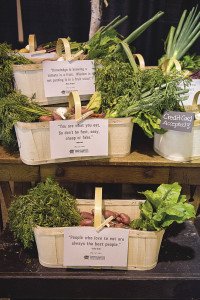 Savour Superior Fest
Sept. 18-19
Experience a variety of international wines and spirits, craft beers, gourmet coffee and teas, desserts, locally grown and prepared produce, cuisines and more at the Savour Superior Festival in Thunder Bay, at the Canadian Lakehead Exhibition Coliseum. Tickets include 20 sample tickets and are $40 in advance. Must be 19 years of age or older to attend. See www.savoursuperior.com for more details.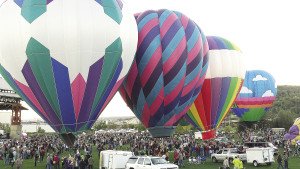 Hot Air Balloon Festival
Sept. 18-20
Always wanted to take a hot air balloon ride? Well now's your chance. With free admission, over 20,000 people will attend this three day festival, providing fun for the whole family. There will be live music by the 314th Infantry Band of the MN Army National Guard, tethered balloon rides, kite flying, the Middle School Weather Balloon Project, drinks at the craft brew village, food, merchandise and more. The festival will be held at Bayfront Park in Duluth. Visit www.kernz.com/balloon for more info.
Hawk Weekend Festival
Sept. 18-20
Birders will flock to the annual Hawk Weekend Festival in Duluth to celebrate the bird migration. Participants can attend workshops, presentations, speakers and more. Registration is now open and includes meals both nights, a field trip on Saturday and Sunday, admission to an Advanced Hawk Watching workshop and discounted prices for the new two day pre-festival workshop, "Best of Hawk Ridge," and Lake Superior Mississippi Railroad Birding and Natural History by Train field trip on Friday. Visit www.hawkridge.org to register.
Lake Superior 2020
Sept. 18-20 & 25-27
Tour studios and enjoy a variety of artistic talent, such as woodworking, ceramics, watercolor, photography, printmaking, oil and acrylic paintings, jewelry and glass. Studios are located along Highway 61 between Two Harbors and Duluth and will be marked with a bright neon green sign. This self-guided tour from 10 a.m.-6 p.m. and will also include demonstrations, music and refreshments. Visit www.lakesuperior2020.com for a downloadable map and addresses and check out the art Spotlight section on page 23 for more info.
NorthShore Inline Marathon
Sept. 19, Saturday
The 20th annual NorthShore Inline Marathon is the largest inline skate marathon in North America. It will be held in Duluth and consist of multiple race categories for all ages. Racers can also participate in a costume contest. Visit www.northshoreinline.com for more info.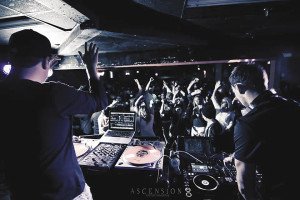 Music for the Masses
Sept. 18 & 26
Music 99.9 presents Music for the Masses, a multi-venue music festival in Thunder Bay, Ontario. Over 40 performances will be held throughout seven different locations each evening. Artists include Hey You Millionaires, Forever Dead, The Hours, Lock Eyes, The Goods and more. Must be 19 or older to attend. To purchase tickets or find more info, visit www.mftmlive.com.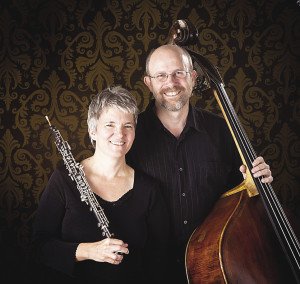 The Vecchione/Erdahl Duo
Sept. 25, Friday
The award-winning chamber group Vecchione/Erdahl Duo was recently called "pioneers" by Minnesota Public Radio for "forging ahead with a new chamber music combination." Oboist Carrie Vecchione and bass player Rolf Erdahl have their own repertoire of music, influenced by ethnic folk songs, dances, jazz, tango and literature. As the world's only professional oboe/bass duo, they are on a mission to educate, entertain, inspire and engage their audience in the power of creative music. They will be performing at the Arrowhead Center for the Arts in Grand Marais at 7:30 p.m. Tickets are $15 for adults and free for ages 18 and under, and will be for sale in advance or at the door. Visit www.northshoremusicassociation.com for more details.
Crossing Borders Studio Tour
Sept. 25-Oct. 4
The Crossing Borders Studio Tour offers a unique opportunity to visit the home studios of a select group of artists and view and purchase artwork. Learn about the artists' artistic processes and how the surrounding environment influences their aesthetic decisions. There will be 16 guest artists this year, including Ron Piercy, John Books, Fritz Lehmberg, Melissa Wickwire, Jo Wood, Stephan Hoglund, Tim Lloyd, Karin Kraemer, Brenna Klassen-Glanzer and more. This self-guided tour stretches along the shore from Duluth to Grand Portage. For more info, visit www.crossingborderstudiotour.com.
Oktoberfest
Sept. 26, Saturday
Eat, drink and be merry at Oktoberfest 2015, located in Thunder Bay at the Canadian Lakehead Exhibition. Enjoy an evening of authentic German food, live music and beer. There will also be a commemorative beer stein and entertainment from the Polka Pirates. The party will begin at 11 a.m. For more info, visit www.cle.on.ca.
NSHCF Golf Scramble
Sept. 27, Sunday
Enjoy 18 holes of golf at the 20th annual Golf Scramble, held at the Superior National Golf Course in Lutsen. Put together your own team of four, or sign up to join a team. Registration will begin at 8:30 a.m. and the event will begin at 10 a.m. Entry fee includes a golf cart, fun money, contests and prizes, a drink ticket, continental breakfast and lunch, and a buffet reception at Lutsen Resort. For more info, visit www.northshorehealthcare­foundation.org.
Heck of the North Bike Race
Oct. 3, Saturday
The Heck of the North began in 2009, with the premise that you and you alone are responsible for getting yourself to the finish line. No signs to guide you home, no aid stations and no sag wagons. Just your strength and ability to navigate miles of forested gravel roads. The race changes locations each year. This year's event will start and finish near Two Harbors. If you think you have what it takes, then sign up at www.heckofthenorth.com.