Some say the most unique travel destinations are the ones most difficult to access. There is truth to this claim for a far-flung place like Porphyry Island.
Extending into Lake Superior as the farthest point in a chain of islands along the North Shore's Black Bay Peninsula, Porphyry gets its name from the quartz and feldspar crystals, or porphyries found in volcanic rocks of the late Precambrian era.
After nearly two hours of travel skippered by our guide, Rod Swatton of Sail Superior, who offered plenty of stops to view wildlife and historic points of interest, our zodiac approached the rugged shores of Porphyry on a calm, windless morning. A mosaic of bright orange lichen clung to a backdrop of cliffs and boulders jutting out of the water. And the island's iconic lighthouse, constructed in the late 1800s and later restored, served as a reminder that we were in a remote, wild place.
Paul Morralee is the managing director of Canadian Lighthouses of Lake Superior and spends his summers on Porphyry. For four months of the year, he connects tourists, students, artists-in-residence and other visitors with the island's marine history, conservation initiatives and unique geology.
"We're on a volcanic island—go figure. You think you're supposed to be in Hawaii when you talk about volcanic islands, but here we are in Northwestern Ontario," he explains as we walk along a forested trail toward the island's lighthouse.
The trail is flanked by woodland plants, from lichen-covered black spruce to soft sphagnum moss dappled with creeping bedstraw, strawberries and bunchberries. As a protected nature reserve on the southern margin of the Boreal forest, Porphyry Island also hosts a number of species that are uncommon to the area. The rocky volcanic shores, rich in calcium, support arctic-alpine disjunct plants and more curiously, a cluster of devil's club. According to Ontario Parks, populations of this thorny shrub on Porphyry and its adjacent islands are the only known occurrences east of the Rocky Mountains in Canada.
The island's lighthouse emerged from a clearing as we approached the end of the trail. Erected in 1873, it was the second lighthouse constructed on Lake Superior, serving as a critical navigation aid for shipping and commerce throughout the Great Lakes.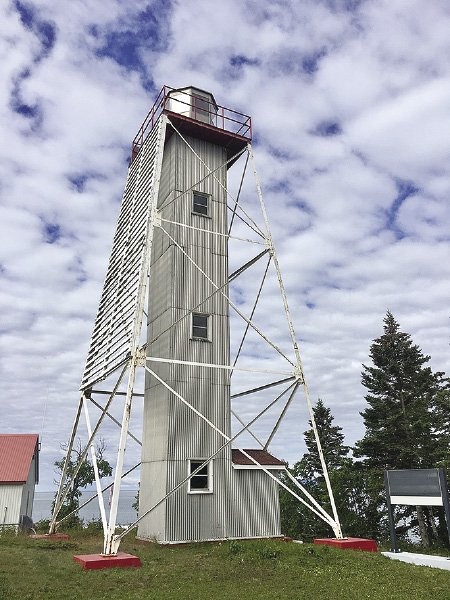 Before the shift to automation in the 1980s, Government-sponsored lightkeepers were stationed at lighthouses across Canada. Without immediate access to provisions and medical assistance, life in remote locations was challenging.
"Sustaining and surviving on the lake here and on these islands wasn't a trait that the white man first had," explains Morralee. "He had to reach deep and connect with our First Nations brothers and sisters here who helped to shape the opportunity for the white man to settle Canada."
One example was Scotsman Andrew Dick, one of the earliest lightkeepers who married an Indigenous woman from the area. For 30 years, they lived on Porphyry Island with their children.
"The homesteaders had to fish and they had to pick berries. It's a story of survival but it was required so they could move the commerce back and forth from Fort William and Port Arthur and move it through the Great Lakes to other ports around the world," says Morralee. "Canada would not have gotten a toehold had it not been for the First Nations."
Today, Porphyry Island hosts excursions, events and programs throughout the summer, including a two-week artist-in-residence program where participants develop art and share it with visitors.
"At first, we didn't really understand the full effect of what it would be like to bring in an artist in residence, and what we can say now is that [they] help to tell our story through their eyes, through their lens," Morralee says.
This summer, Porphyry Island is hosting two youth for OceanBridge Direct Action, a field-based program for in-depth learning and engagement with marine conservation efforts across Canada.
Guided by EcoSuperior and other partner organizations in Thunder Bay, Kelsey Herglotz and Simon Boudreault will spend two months collecting local climate data and adding to the island's inventory of flora and fauna. Personal nature connection work and forest therapy are also part of the residency curriculum.
"We're seeing another level," says Morralee. "One of helping to conserve our environment, and also considering that our provincial government doesn't really have much to do with the provincial park nature reserve here at Porphyry, we're actually amplifying that through this program to share it with more people."