I was at the Zeitgeist Arts Café in Duluth for my kid's piano gig. Or de Belgique (Gold of Belgium) by Blacklist Brewing was on tap. The name was fancy, matching my mood. I wasn't disappointed.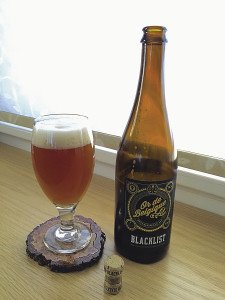 Later, I bought a 750 ml bottle. It had a light-colored head, a deep honey color, and a bright, almost peppery flavor. The carbonation was crisp and there was no mistaking the Belgian character. A strong beer at 9.5% ABV but without the overt heat.
"The yeast strain and the process make Or de Belgique unique. Yeast is a live organism and can be influenced by many things; temperature, pressure, what they are eating, and many other variables within their environment," said Brian Schanzenbach, head brewer at Blacklist Brewing.
This year, they're moving into a building on Superior Street in Duluth.
"We're doing everything we can to be open by late summer. Some days I'm excited and some days I'm overwhelmed. There's so much work to be done." said Schanzenbach.
The reason behind the big bottle? Schanzenbach said, "The styles of beer that we currently make are beers that can be aged for a long time. We feel the packaging is a perfect vessel for long storage, and there is beauty and timelessness in a corked 750 ml. When we are in our new facility, we plan to release certain varieties in cans for those outdoorsy types."
Schanzenbach also said that Or de Belgique makes a great base beer for additions. They also have Or Verte (hoppy) and Or Cran (fermented with cranberries).