Crossing Borders Studio Tour Sept. 25-Oct. 4
The Crossing Borders Studio Tour offers a unique opportunity to visit the home studios of a select group of artists and view and purchase artwork. Learn about the artists' artistic processes and how the surrounding environment influences their aesthetic decisions. There will be 16 guest artists this year, including Ron Piercy, John Books, Fritz Lehmberg, Melissa Wickwire, Jo Wood, Stephan Hoglund, Tim Lloyd, Karin Kraemer, Brenna Klassen-Glanzer and more. This self-guided tour stretches along the shore from Duluth to Grand Portage. See www.crossingborderstudiotour.com for more info.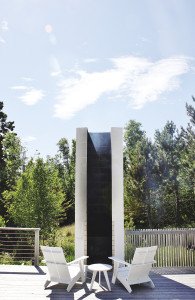 Tour d'Art Home Tour and Exhibit Opening Oct. 3, Saturday
Participants will have the unique opportunity to visit four art-inspired homes along the North Shore. Homeowners will talk about how their home evolved, the architect and/or designer that inspired them and the art that enhances their space. On display will be architecture and designs by John Howe, Dale Mulfinger, Richard Olson and David Salmela. After the tour, the Grand Marais Art Colony's Artful Abode Exhibit will be open to the public from Oct. 4-15 and highlight the art of architecture, home design and functional art. Tour tickets are limited and can be purchased in advance. Visit www.grandmaraisartcolony.org for more details.
Heck of the North Bike Race Oct. 3, Saturday
The Heck of the North began in 2009, with the premise that you and you alone are responsible for getting yourself to the finish line. No signs to guide you home, no aid stations and no sag wagons. Just your strength and ability to navigate miles of forested gravels roads. The race changes locations each year. This year's event will start and finish near Two Harbors. If you think you have what it takes, then sign up at www.heckofthenorth.com.
Fall Hunter's Banquet Oct. 10, Saturday
The Arrowhead Chapter Deer Hunters Association will be holding a Fall Hunter's Banquet at the Grand Marais Community Center. The event will begin at 4:30 p.m. with games, raffles and a social hour. A prime rib dinner will be served at 6 p.m., prepared by local guest chefs Michele Silence, Jason Gesch and Pete Johnson, in cooperation with Upper Lakes Food chef Patty Clark. The guest speaker is Bobbi Zenner form Laurentian Environmental Center, located in Britt. For more info, visit MDHA-Arrowhead Chapter on Facebook.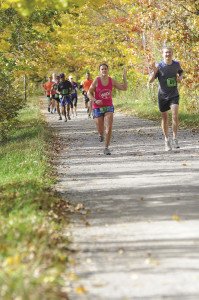 Whistle Stop Marathon Oct. 10, Saturday
The Whistle Stop Marathon event includes numerous races for the whole family. Runners can enter the Marathon or Half-Marathon, which begin in Iron River, Wisc. and finish in Ashland, Wisc. Not feeling up to the mileage? Try the "Cruisin' the Corridor" 5K and 10K races at 8 a.m. There will also be the "Little Engine That Could" toddler marathon, where all participants are winners. Registration for the adult races include a free ticket to the pasta feed and fish boil, a finishers' medal, T-shirt and aid stations during the run. Register online at www.whistlestopmarathon.com.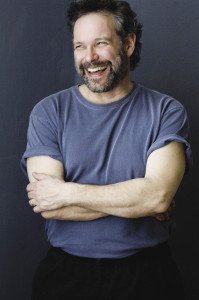 John Gorka Oct. 10, Saturday
Folk singer/songwriter John Gorka will be performing at 7:30 p.m. at the Arrowhead Center for the Arts in Grand Marais. Gorka recently released his 12th studio album, Bright Side of Down, with Red House Records. Over the years, he has performed on NPR's Mountain Stage, PBS and venues worldwide. He is also the 1984 winner of the New Folk Award at the Texas Kerrville Folk Festival. Gorka is a folk fan favorite and his albums have graced the Billboard Folk Charts as the most played folk albums on the radio. Tickets are $24 for adults and $8 for youth (18 and under). Visit www.tix.com to purchase online or buy your tickets at the door. Visit www.northshoremusicassociation.org for more info.
Duluth Senior Expo Oct. 13, Tuesday
Head to The DECC in Duluth for the 13th annual Senior Expo. Seniors and their families will find fun and information with over 100 exhibitors, seminars and speakers, samples and health screenings. The expo will also have a fashion show, dance performance, magician and live entertainment. Expo is from 9 a.m.-3 p.m. For more info, visit www.seniorexpoduluth.com.
Family and Intergenerational Learning Weekend Oct. 15-17
The North House Folk School is offering a weekend line-up of family friendly courses and activities. Highlights include a talent show, dance, pizza bake, stories around the campfire and free craft demonstrations. Courses include beginning knitting, sausage making, intro to felting, a kid's only wood shop, mask making, Swedish baking, starting and using fire and more. Visit www.northhouse.org for more info.
Fall Wonderland Sept. 16-Oct. 31
While not necessarily Halloween devoted, Belluz Farms in Slate River Valley, Ontario provides food and fun for the whole family. Activities include pumpkin bowling, a pumpkin hunt, pony rides and a kid's play area with petting zoo. There is also a three acre corn maze and a farm wagon tour to Strawhenge. Warm up afterwards with the Harvest Café, which offers seasonal treats, soups and chili. The farm is open 11 a.m.-5 p.m. daily with no admission, simply pay per activity. Visit www.belluzfarms.on.ca for more info.
Festival of India Dandiya Night Oct. 16, Friday
Immerse yourself in traditional East Indian culture with an evening of music, arts, dancing and food. This annual celebration of India will begin at 8 p.m. at the Valhalla Inn Ballroom in Thunder Bay. Festival Tickets are $10 in advance or $15 at the door. Visit Festival of India, Thunder Bay, on Facebook for more info.
Moose Madness Festival Oct. 16-17
A festival of moose-related activities throughout Cook County will provide fun for the whole family. Many activities geared for children make this an especially popular long-weekend get-away in Grand Marais. Kids can earn "moose bucks" for certain events and activities. And don't forget to take your picture with Murray the Moose! Check out page MM1 of this issue or head to www.visitcookcounty.com for more info.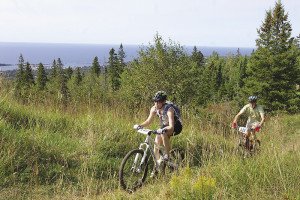 Sawtooth Mountain Bike Challenge Oct. 17, Saturday
The Sawtooth Mountain Challenge is a single track mountain bike race with routes for children, citizen, sport and expert racers. Races begin at 9 a.m. at the Pincushion Mountain recreation area in Grand Marais. Pre- and post-ceremony events will be held at the Voyageur Brewing Company. The children's race is also part of Moose Madness and participants will receive "moose bucks." All proceeds from the races will go to the local bike organization, the Superior Cycling Association. Visit www.superiorcycling.org for more info.
Oktoberfest with Josef Diethelm Oct. 17, Saturday
Enjoy food, drinks and live music by Josef Diethelm the Cascade Lodge Oktoberfest celebration. Show starts at 6:30 p.m. at the Cascade Lodge and Pub in Lutsen. Visit www.cascadelodgemn.com for more info.
Empty Bowls Caring Hearts Oct. 18, Sunday
The 16th annual Thunder Bay Empty Bowls Caring Hearts Dinner will be held at the Moose Hall. For $30 and a canned good donation, you will receive a handmade pottery bowl or set of quilted placemats. Doors open at 5 p.m. and dinner will be served at 6 p.m. Tickets are $15 (meal only) for adults or $5 for children 12 and under. Tickets are available at Fireweed, George's Market and Kabab Village. All proceeds will go to the Thunder Bay Food Bank and Thunder Bay Shelter House. For more info, visit www.emptybowlsthunderbay.com.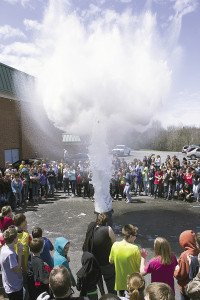 Iron Range Mind Trekkers Stem Showcase Oct. 24, Saturday
Michigan Technological University's Mind Trekkers will be hosting a STEM showcase at the Iron Range Recreation Civic Center in Eveleth from 9 a.m.-4 p.m. on Saturday, Oct. 24. Mind Trekkers is a nationally recognized traveling "road show" that provides STEM showcases; Science, Technology, Engineering and Math. This extravaganza is free and fun for the whole family. Engineering students from the Iron Range and Itasca Community College will work side-by-side with Mind Trekker students to conduct dozens of hands-on STEM related activities. This equals over 90 tables of fun! Visit www.mindtrekkers.mtu.edu for more info.
Off-Road Half Marathon Oct. 25, Sunday
The Thunder Bay Nordic Trails Organization presents the Kamview Off-Road Half-Marathon and Relay. No pavement here! Endure rigorous trails with climbs and turns that are sure to burn. Register early for $40 per runner. All entrants will receive a Solomon hat or T-shirt. Races begin at noon at the Kamview Nordic Centre in Thunder Bay, Ontario. For more info, visit www.tbnordictrails.com.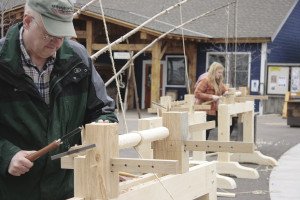 Fresh Cut Wood Turning Symposium Oct. 26-Nov. 4
The North House Folk School is hosting the first-ever Wood Turning Symposium, bringing conversations and techniques to the green wood turning world, appropriate for all skill levels. Both traditional and contemporary turners will have the opportunity to converse and share ideas. The symposium includes 12 speaker sessions, 12 live demonstrations, multiple workshops, mini-courses and more. Featured instructors include Robin Wood, Michael Hosaluk and Michael Cullen. www.northhouse.org.
Art Colony Members Show & Sale Oct. 30-Nov. 22
The annual Grand Marais Art Colony Members Show & Sale allows artists to share their inspiration with other artists and the public. The event begins with an opening reception on Oct. 30, from 5-7 p.m. and the exhibit runs until Sunday, Nov. 22. This year's theme is Wabi-sabi, meaning "beauty that is imperfect, impermanent and incomplete." Don't miss the opportunity to purchase a variety of pieces by local artisans. Visit www.grandmaraisartcolony.org for more info.