Halloween Events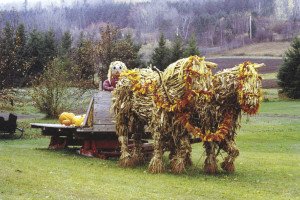 Corn Maze & Agri-tainment Center Sept. 12-Oct. 31
Engwalls in Hermantown offers numerous Halloween-related events throughout the month, including flashlight tours, scarecrows, corn cannons, hayrides, pumpkin bowling, corn pits, a mini maze and much more. Don't forget to attend Corn-I-Ville and Field of Screams on Oct. 31 for spooky, unnerving fun. For more info, visit www.engwalls.com/corn-maze.html.
Haunted Ship Tours Oct. 2-31
Tour the S.S. William A. Irvin ship in Duluth if you dare, where the trapped souls of the ship's crew come to life for the month of October. Beware as you walk through eerie hallways with flickering lights and startling sounds. Don't be fooled; the William A. Irvin isn't just rumored to be haunted, paranormal sightings and investigations have been recorded. Mr. William Wuori, who died aboard the Irvin, is frequently seen wandering the ship. Come see for yourself. Admission is $10. Visit www.duluthhauntedship.com for times and dates.
Haunted Fort Night & Kids' Halloween Hoot Oct. 2-31
Recommended for ages 12 and older, the Haunted Fort Night has been a popular, award winning event for about two decades, with a new theme each year. This spooky event will be held most Thursdays-Sundays from 7-10 p.m. Admission is $15 for all ages and tours last a little over an hour. Adult-only tours are also available. Kids' Halloween Hoot, appropriate for ages 12 and under, will be held every Saturday and Sunday, from noon-5 p.m. Youngsters can enjoy spooky crafts, trick or treating, storytelling, a haunted maze, a scavenger hunt and a dragon tower bouncy castle. Both events are held at the Fort William Historical Park in Thunder Bay and are rain or shine events. Visit www.fwhp.ca for more info.
Boo at the Zoo Oct. 10 & 17
Trick or Treat with the animals at the Lake Superior Zoo and enjoy Halloween-themed activities, including a "Creepy Critters" animal exhibit, hourly costume contests, too-many-to-count treat stations that never run out of candy, a huge pumpkin patch to play in and free hayrides. There will also be face painting, games and food vendors. Fun for the whole family! Visit www.lszooduluth.org for more details.
Haunted Cornfield Oct. 16-17, 23-24 & 30
Enter if you dare! Visit the Gammondale Farm in Slate River, Ontario for an evening of ghosts and terror. Make your way through the haunted cornfield, filled with creatures of the night lurking behind every corner. Must be accompanied by an adult if under the age of 18. Don't forget to visit the Boo Barn, appropriate for all ages. Open at dark until 10 p.m. Admission is $15 per victim. For more info, visit www.gammondalefarm.com.
Jack O' Lantern Carving & Annual Spooktacular Oct. 18-20 & 22-25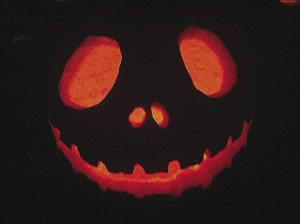 Glensheen Estate in Duluth invites you to the 5th annual Jack O' Lantern Spooktacular. Oct. 18-20, from 1-7 p.m., community members and UMD students are invited to carve a pumpkin to light up the Estate. Each carver will receive a free ticket to the Spooktacular event from Oct. 22-25, where guests will have the opportunity to walk the grounds, admiring 1,000 illuminated pumpkins. There will also be a live fire dancer and free s'mores. Those who don't carve a pumpkin can purchase tickets to the event. The gates will be open from 6-9 p.m. each night. Visit www.glensheen.org for more info.
Kid's Halloween Party Oct. 29, Thursday
The Finland Community Youth Program will be hosting a kids Halloween party at the Clair Nelson Center from 6-9 p.m. A variety of activities will provide fun for the whole family. Be sure to come in costume.
Pet Costume Contest Oct. 30, Friday
Even the pets are getting dressed up for Halloween at the Dog Hus in Grand Marais, part of the Arrowhead Pharmacy. A pet costume contest will be held from 9 a.m.-5 p.m. with prizes from Zukes, Taste of the Wild, Diamond and other brands. All pet food and products will be 5 percent off on the 30th and sales will be donated to the Arrowhead Animal Rescue group. Visit www.arrowheadpharmacy.com.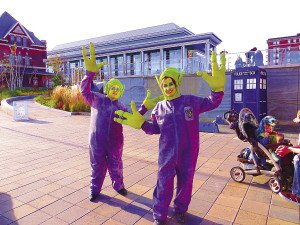 Spooktacular Oct. 31, Saturday
This year's 4th annual Spooktacular event at the Baggage Building Arts Centre in Thunder Bay will be held from noon-4 p.m. The event is created and run by artists and volunteers, with lead artist Chris Rantala creating black light special effects. There will be a spooky maze, activities, crafts, games and door prizes, all free of charge. Also featured will be Eric the Juggler, characters from Thunder Con, Alana Forsland from C.H.E.P. with the Blanket Fort Project, the Thunder Bay Wood Carvers carving pumpkins on site, and the Creature Feature Puppet Troupe led by Marcia Arpin. Don't miss this family friendly event.
Hunger 10 Halloween Cabaret Oct. 31, Saturday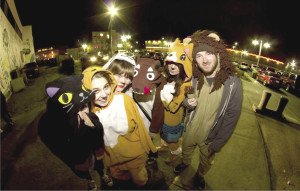 The 10th annual Hunger 10 Halloween Cabaret is one of the largest Halloween music events in Thunder Bay, with roughly 4,350 in attendance last year. Presented by Definitely Superior Art Gallery as a fundraiser for the contemporary arts, this 19+ event includes 58 music and performance acts, at nine different downtown bar venues. Dress to impress and you might win a prize for Best Costume, given away at each location. The party will run from 8 p.m.-2 a.m. throughout Thunder Bay, with a single cover charge of $15. Visit www.definitelysuperior.com for more details.
Halloween for Youth Lock-In Oct. 31, Saturday
Head to the Cook County YMCA after a night of trick-or-treating, for a youth lock-in, ages 8-15. Complete with a pool movie and games. The lock-in will be held from 7 p.m.-7 a.m. Visit www.cookcountyymca.org for more info.