Holiday parades and festivities can be found at numerous locations throughout the month of November.
On Saturday, Nov. 12, a Gingerbread Workshop will be held from 1-3 p.m. at the Nordic Center in Duluth. The grand opening of the Gingerbread Village will be held on Friday, Nov. 18 from 4-10 p.m. The village will then be open every Saturday and Sunday afternoon through Dec. 11. www.nordiccenterduluth.org
The annual downtown Duluth Christmas City of the North Parade will be held on Friday, Nov. 18 from 6:20 p.m.-8 p.m. A holiday tradition since the 1950s, it will feature marching bands, dance performances, colorful floats, and an appearance by Santa. There will be free parking downtown after 5 p.m. The parade will be broadcast live on KBJR-TV and online at www.northlandsnewscenter.com.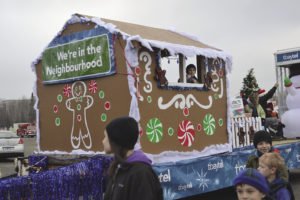 Thunder Bay will hold the 26th annual Rotary Christmas Parade on Saturday, Nov. 19 at 10 a.m. Roughly 60 floats will begin at the Real Canadian Superstore parking lot and will travel north on Memorial Ave. to end at the Thunder Bay Community Auditorium. Rotary district governors and Thunder Bay club presidents from Fort William, Port Arthur and Lakehead rotary will lead the parade in honor of the 100th anniversary of rotary clubs in Thunder Bay.
Also on Nov. 19 is the Holidays in Schroeder event at the Cross River Heritage Center. Held from 10 a.m.-2 p.m., it will feature handmade crafts, baked goods, krumkake and lefse demonstrations, Mrs. Claus and a quilt raffle. The kaleidoscope queen size quilt was created by Colalyn Koschinska and the Cross River Quilters. Raffle tickets are $2 and can be purchased at the door. www.crossriverheritage.org
Bentleyville, America's largest free walk-through lighting display, will open its doors on Nov. 19 until Dec. 26. Located in Duluth's Bayfront Festival Park, Bentleyville features millions of lights and hosts thousands of visitors each year. It also offers a small gift shop, fire pits for roasting marshmallows, music, free popcorn, reindeer, Santa, cookies and hot chocolate. www.bentleyvilleuse.org
The Oh Ole Night Christmas Parade in downtown Grand Marais will be held on Friday, Nov. 25 at 5:30 p.m. Following the parade is the tree lighting and caroling in Harbor Park. Visit www.visitcookcounty.com for more info. Then, head to Papa Charlie's in Lutsen for the New Standards Holiday Show at 8:30 p.m. www.lutsen.com
The Ely Greenstone Holiday Fantasy Arts and Craft Fair will be held Nov. 25-26 at the Ely Arts & Heritage Center. On Saturday, Nov. 26, spend the day shopping downtown; participating businesses will feature prizes and sales. Then, head to Whiteside Park from 3-7 p.m. for the city tree lighting ceremony, carolers, cookies, hot cocoa and cider. The parade will begin at 5 p.m. www.ely.org
Hovland will hold the annual Holiday Sale Arts Festival on Nov. 26, featuring a variety of medias, such as fiber art, ceramics, woodworking, homemade candles and jewelry. Hot chocolate and treats will be provided. The festival will be from 10 a.m.-4 p.m. at the Hovland Town Hall. www.facebook.com/hovlandartsfestival
The annual Holiday Market at Last Chance Gallery and Studio in Lutsen will be held on Nov. 26 from 10 a.m.-7 p.m., featuring special holiday art, food, caroling, a bronze pour demo at 4 p.m. and a tree lighting ceremony at 5 p.m. www.lastchancefab.com
The AmericInn in Silver Bay will become the center for local shopping with the Mall of AmericInn event on Thursday, Dec. 1 from 3-8 p.m. Call (218) 226-4300 for more info.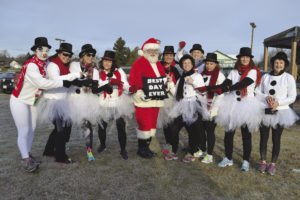 Lastly, the Thunder Bay Salvation Army will sponsor the Santa Shuffle on Saturday, Dec. 3 at the Current River Recreation Center. It will include a 1k Elf Walk and 5k walk, beginning at 10 a.m., followed by a 5k run at 10:15 a.m. Each participant will receive a medal and Santa will be on hand cheering and presenting prizes. Festive attire is encouraged. An awards ceremony with soup will be held after the races, and there will be a drawing for gifts wrapped under the tree. Registration is required. www.santashuffle.ca
See the Northern Wilds calendar for more events info. Happy Holidays!
---
The Lost Forty Concert
Nov. 3, Thursday Bemidji native Brian Miller has teamed up with Wisconsinite Randy Gosa to form The Lost Forty. The Lost Forty revives and performs the Irish-influenced songs of men who roamed the Great Lakes region in the days when pine was king. Miller and Gosa will conduct a residency at William Kelley School in Silver Bay, and they will perform in the school's theater on Thursday, Nov. 3 at 7 p.m. www.northernlakecountyartsboard.com
Fall Food & Wine Lover's Weekend
Nov. 4-5 This year's Food and Wine Lover's Weekend at Bluefin Grille in Tofte will feature Minneapolis-based chefs Jamie Malone and Erik Anderson. Known by many foodies for their unique style of French-inspired cooking, this culinary power couple will be working with Stuart Sutherland and Johnson Brothers to pair wines with four and five course dinners served on Friday and Saturday evening. There will also be a wine tasting and education event Saturday afternoon. Registration is required. www.bluefinbay.com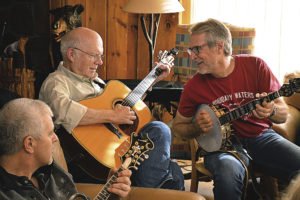 Bluegrass Masters Weekend
Nov. 4-6 Celebrate, make music, learn and listen at the North Shore Music Association's 26th annual Bluegrass Masters Weekend at Lutsen Resort. This year's featured instrument is the guitar and featured performer and instructor is Nashville musician Jim Hurst. Register for a full day of instrumental workshops, followed by a concert at 8 p.m. on Saturday. All skill levels are welcome and there's no participant limit. Tickets can be purchased at the door. www.northshoremusicassociation.com
LUNAfest
Nov. 5, Saturday The Violence Prevention Center in Grand Marais is celebrating 30 years as a non-profit by hosting LUNAfest—a short films program by, for, and about women at the Arrowhead Center for the Arts. The program will begin at 6:30 p.m. with music by Lake Effect. Films will start at 7:30 p.m. Proceeds will benefit the Violence Prevention Center and the Breast Cancer Fund. For more info, email hope4u@boreal.org or visit www.lunafest.org.
Eat Downtown: Flavors of Fall
Nov. 6-12 Duluth's downtown waterfront restaurants have teamed up to offer patrons an appetizing variety of multi-course, fixed price menus for this week-long event. Restaurants will offer a special menu with $10 lunches and $10 or $25 dinners. Participating restaurants are Fitger's, Grandma's Saloon in Canal Park, Midi Restaurant, Red Lobster, Zeitgeist Arts Café, Canal Park Brewery, 7 West TapHouse, Restaurant 301, Dubh Linn Pub, Bellisio's Italian Restaurant and Wine Bar, Black Water Lounge, The Blind Pig, Cloud 9 Asian Bistro, Valentini's Vicino Lago, JJ Astor and Lark of the Lake Café. www.downtownduluth.com
Empty Bowls
Nov. 10, Thursday Help the battle against hunger in Cook County with the annual Empty Bowls event, hosted by the Grand Marais Art Colony. Stop by the Bethlehem Lutheran Church for a soup lunch between 11 a.m.-1 p.m. or for supper from 5-7 p.m. Cost is $5 for soup and $10 for a handcrafted bowl. This year, the event also features wooden bowls made by North House Folk School intern Sam Gathje. There will also be a bake sale and silent auction, held until 6:30 p.m.
www.grandmaraisartcolony.org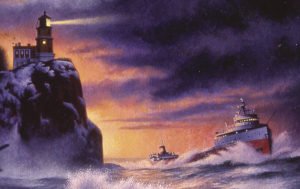 Edmund Fitzgerald Memorial Beacon Lighting
Nov. 10, Thursday On Nov. 10, 1975, the Edmund Fitzgerald was lost with her entire crew of 29 men near Whitefish Bay at the eastern end of Lake Superior. Every year since the tragedy, the Split Rock Lighthouse near Two Harbors lights a beacon at dusk to honor those men, and all sailors, who have lost their lives. This year, the lighthouse and fog signal building will be open to the public from 11 a.m.-6 p.m. with costumed guides. A ceremony on the lighthouse steps will begin at 4:30 p.m. and the beacon will remain lit until 6:30 p.m. www.sites.mnhs.org/historic-sites/split-rock-lighthouse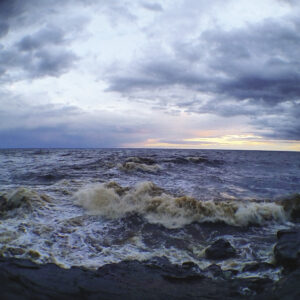 Cook County Storm Festival
Nov. 11-13 The fourth annual Cook County Lake Superior Storm Festival will offer multiple family-friendly activities throughout the weekend. Attend the Taking Fashion by Storm show at Stone Harbor Wilderness Supply in Grand Marais on Friday, Nov. 11 at 5:30 p.m. Also on Friday evening is a painting class at Kah-Nee-Tah Gallery in Lutsen. Participants can sip wine while painting a stormy Lake Superior scene with local artist Kathy Fox-Weinberg. Then, participate in the annual Wave Dash on Saturday at Lutsen Resort at noon. Other events include a discussion about the Edmund Fitzgerald with historian Jim Shinners at Caribou Highlands, dinner and live music by Timmy Haus, who will perform favorites from Gordon Lightfoot at Moguls in Lutsen, and a book discussion on Wintering with author Peter Geye at Voyageur Brewing Company in Grand Marais. www.visitcookcounty.com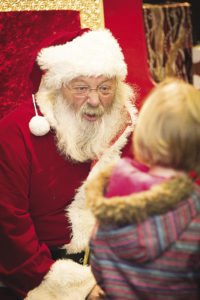 Festival of Trees
Nov. 12-13 The Festival of Trees is the Junior League of Duluth's largest fundraiser, held at the Duluth DECC. In the past, this event has included over 170 of the area's top crafters and vendors showing their wares. This year, Santa will arrive with his sleigh on Saturday for pictures. Other highlights include JLD toffee, live entertainment, and beautiful hand-decorated trees. Proceeds will go to the Junior League of Duluth and community projects. www.juniorleagueduluth.org
Northwest Artisans Craft Show
Nov. 12-13 The not-for-profit Northwest Artisans group in Thunder Bay will be celebrating their 41st annual juried Art & Fine Craft Show at the Valhalla Inn, featuring 97 artists. Admission is free and there will be door prizes. The show will be held from 10 a.m.-6 p.m. on Saturday and 10 a.m.-4 p.m. on Sunday. www.artisansnorthwest.ca
Outdoor Adventure Expo
Nov. 18-20 Calling all outdoor lovers for the 63rd bi-annual Outdoor Adventure Expo at Midwest Mountaineering in Minneapolis. This year's expo will feature more than 60 exhibitors, vendors, a beer and gear social night and raffle, food, a kid's area with prizes, more than 90 presentations, and the Banff Mountain Film Festival World Tour. Featured speakers and programs include, "A Year in the Wilderness" with Dave and Amy Freeman, "Dogsledding with Greenland's Polar Inuit" with Paul Schurke, "Aboard the Draken Harald Harfagre: A Modern Viking Ship" with Suzanne Arnesen, "Surviving the Everest Avalanche" with Andrew Towne, "Footing it Around the World" with Andrew Seissman and "Utah Hiking and Canyoneering" with Rod and Sharon Johnson. Admission is free (minus the Banff Mountain Film Festival). www.outdooradventureexpo.com
Winterer's Gathering & Arctic Film Festival
Nov. 18-20 Celebrate the crafts, customs, landscape, history and stories of winter travel with the annual Winterer's Gathering and Arctic Film Festival at the North House Folk School in Grand Marais. This year's featured speakers are Dave and Amy Freeman who spent a year in the boundary waters. The festival will also include evening films, community dancing, a poetry slam, chili feed, gear swap and winter tent camping. Workshops include carving Christmas figures, ethnic pastries, build your own snowshoes, and Saami-inspired embroidery for embellishment. www.northhouse.org.
Holiday Fantasy Arts & Crafts Sale
Nov. 25-26
Presented by Ely Greenstone Public Art and many talented artists and crafters, this year's two-day event includes toy trains and moving figures, holiday villages and 35 tables laden with unique items. Visitors will find tasty Finnish baked goods, books, cards, ornaments, doll clothes, crocheted items, pottery, handcrafted jewelry, candles, quilted items, photography and more. New this year will be handcrafted furniture, antiques and vintage items, Scandinavian folk art and soft sculptures. Holiday Fantasy is open Friday, Nov. 25 from noon-4 p.m. and Saturday, Nov. 26 from 10 a.m.-2 p.m. at the Ely Arts & Heritage Center at the Pioneer Mine Complex. Santa will appear on Saturday from 1-2 p.m. www.elygreenstone.org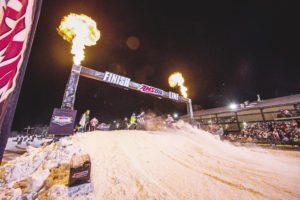 Amsoil Snocross National
Nov. 25-27 The annual Amsoil Snocross National snowmobile races, hosted by Country Cat, will be held at Spirit Mountain in Duluth Nov. 25-27. Rider categories include Pro Open, Pro Lite, Pro Am Plus, and Transition, Sport, and Junior riders. There will be vendors, food and autograph opportunities. Parking will be at the Proctor fairgrounds. Shuttle services will be provided. www.spiritmt.com
Root Beer Lady: The Musical
Nov. 26-27 Barb Cary Hall has crafted an original musical production based on the famous Bob Cary book, The Root Beer Lady. The show will be held over Thanksgiving weekend at the Vermilion Community College Fine Arts Theater in Ely. The show will be held at 7 p.m. on Saturday and 2 p.m. on Sunday. www.northernlakesarts.org
Free Day at the Dentist
Nov. 28, Monday The North Shore Health Care Foundation's Oral Health Task Force is partnering up with the Grand Marais Family Dentistry to offer a free day at the dentist. Children and young adults up to 26 years of age can take advantage of free exams, cleanings, x-rays, fluoride and/or sealants. Free fluoride well water testing is also being offered in any home with a child. This includes houses of pre-natal moms, day cares, and grandparent's homes. Slots fill up quickly, so schedule your free appointment now. www.northshorehealthcarefoundation.org
Julebyen
Dec. 2-4 The fourth annual Knife River Julebyen Christmas Village will expand to three days this year, featuring a Tour of Homes, marketplace, food catered by New Scenic Café, special Julebyen craft beer brewed by Castle Danger Brewery, a silent auction, train rides, a live Nativity with animals, storytelling, workshops, sliding, skating, puppetry, artisan and food huts, live entertainment, children's activities, and more. The festival is free and fun for all ages. www.julebyen.us.