Duluth—Contractors are wrapping up renovations on the Great Lakes Academy of Fine Art, a first-of-its-kind educational facility in Duluth that trains students in Classical Impressionism, and teaches students the skills necessary to create high-quality oil paintings.
Jeffrey T. Larson, an accomplished and nationally known artist from the area, bought St. Peter's Church last November, after it had been sitting vacant for three years. The church is located just west of Mesaba Avenue on West Third Street. Larson was drawn to the hand-built structure due to its long bank of north windows that provide abundant indirect natural light, which is perfect for artists. In addition, the facility had ideal dimensions: 45 feet by 100 feet.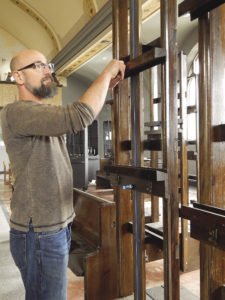 Larson began the extensive renovation process last January, repairing old electric, heat, and plumbing, and replacing windows, working to modernize the building while still preserving its unique history.
"This was really the spiritual, cultural center for Italians in Duluth," said Larson. "There is a lot of neat history, a lot of emotion, a lot of people who are glad that it won't be demolished."
The Great Lakes Academy of Fine Art is a small, private four-year classical painting program that focuses on training and apprenticeship, modeled after the traditional European Atelier system. Students work at their own pace to learn the material, and only the most talented and dedicated individuals are accepted to keep the student-teacher ratio as small as possible. Larson said there is a resurgence of interest in Classical Impressionism, after a decline beginning at the turn of the last century, when abstract art reigned supreme.
"For the first time in the last 10 years, 20-somethings are just clamoring to try and learn this movement, this traditional painting,"said Larson.
The Academy will compete on a national scale, as its one of only a dozen or so similar academies worldwide. Despite ongoing renovations, a handful of students from the region are already starting their education, or building onto their prior education after receiving college degrees.
"They will come here with fine art degrees and whatever innate talent they have," said Larson. "We are really looking for drive and determination, and for students who have decided there is nothing else in life, and that they have to do this."
Construction is tentatively planned to be complete early next month. Once construction is complete, the academy will educate 20 full-time students at a time. In the future, the Academy will host part-time and night programs, which will be open to the community hoping to hone their skills or pursue an unexplored passion. Learn more at www.greatlakesacademyoffineart.com.