In the spring of 2022, nearly one month before the sun reached its zenith in the northern hemisphere, I joined two other crew on a 1,300-mile ocean passage in the North Atlantic Ocean.
As is the way of sailing, each day of our two-week voyage brought a new problem to solve. Sea sickness lingered in my stomach for the first 48 hours. Thick blankets of sea fog settled along Canada's east coast, hampering any sight of passing ships without the aid of radar. A knee-weakening bout of COVID struck our captain, leaving the rest of us to soldier on. Once we left the safe haven of Newfoundland's Bonavista coastline, the Labrador Sea brought 30 knot headwinds, flurries of snow and 12-foot rolling seas. One hundred and forty miles from our destination, convoys of warehouse-sized icebergs floated past us in eerie silence before we reached the sheltered embrace of the world's largest non-continental island.
With nearly 80 percent of its surface covered by ice, Greenland (Kalaallit Nunaat in the Inuit language) has been a focal point for decades of climate science and research. The latest studies point to an arctic that is warming four times faster than the rest of the planet.
As first mate of ArcticEarth, a 56-foot aluminum sailing vessel designed for remote high latitude expeditions, Captain Magnus Day and I spent a polar summer working with scientists and filmmakers who are turning to the Greenland Ice Sheet and its coastal environment for answers. ArcticEarth is an initiative of filmmaker and conservationist David Conover, who manages the charters and vessel we operate.
For expedition info and programmes, visit: arcticearth-charter.com.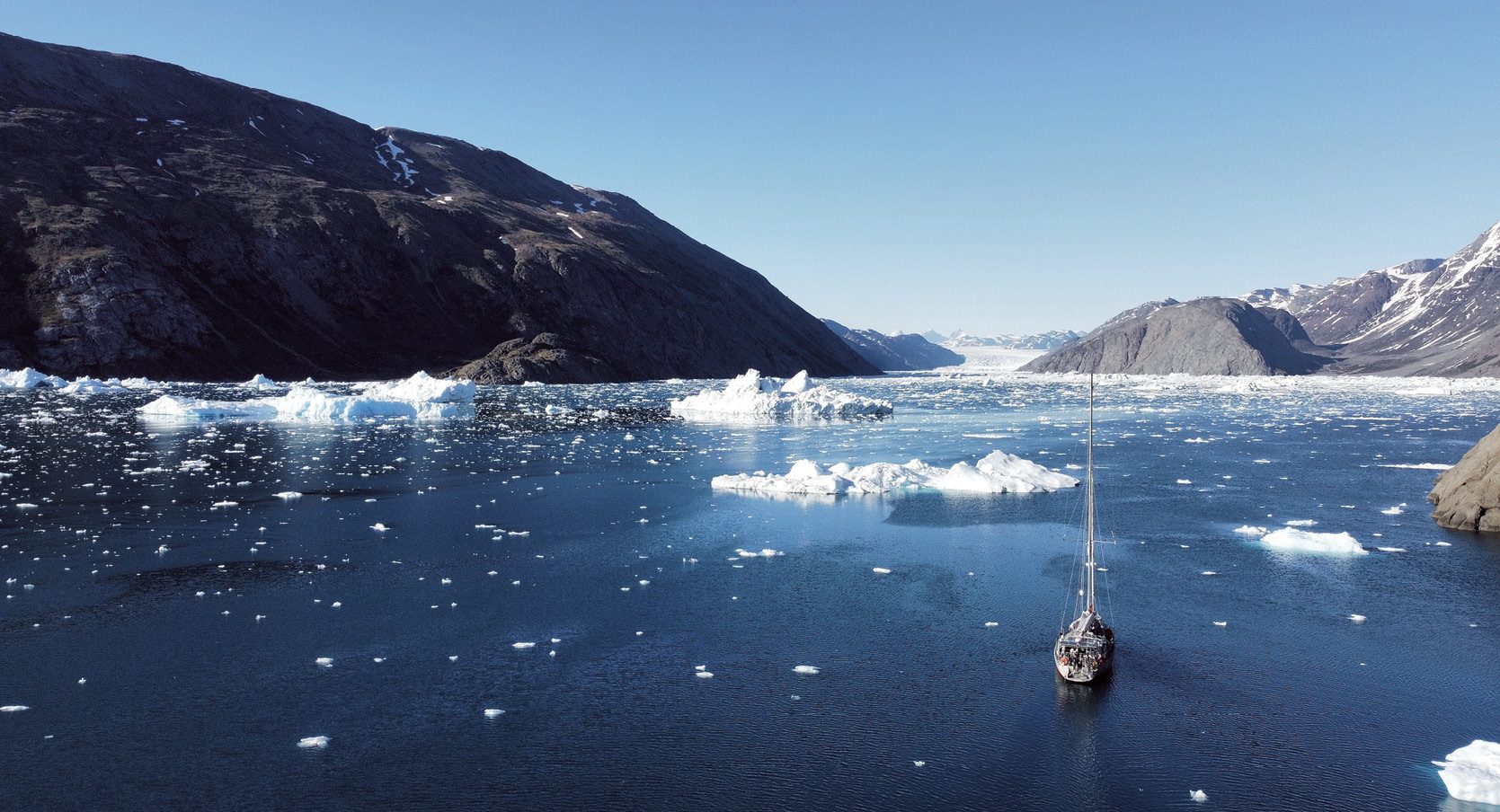 Sailing west, we made our way into Greenland's intricate network of fjords—deep water channels flanked by towering faces of barren rock and snow-capped peaks. ArcticEarth had her first major encounter with large chunks of ice, which have different names depending on their size: Growler: A piece of ice smaller than a bergy bit and floating less than 1 meter above the sea surface, a growler generally appears white but sometimes transparent or blue-green in color. Bergy Bit: A piece of glacier ice, generally showing 1 to less than 5 meters above sea level, with a length of 5 to less than 15 meters. Small Iceberg: A piece of glacier ice extending 5-15 meters above sea level and with a length of 15-60 meters.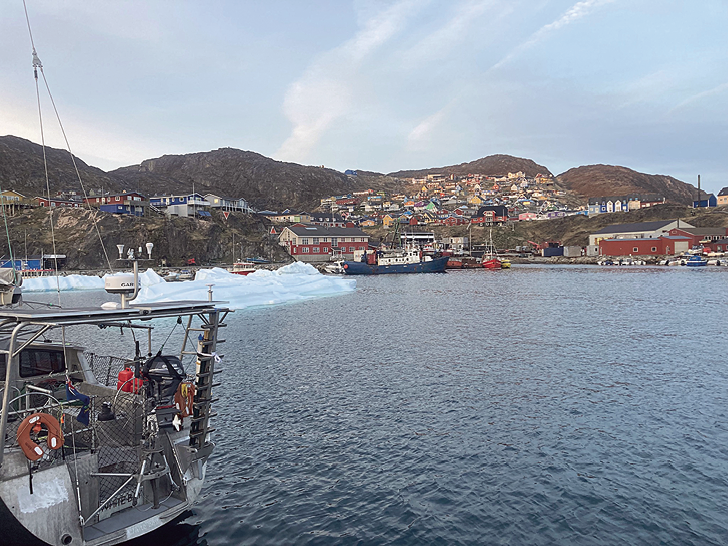 We left Halifax, Canada on May 16, 2022. Two weeks later we arrived in Qaqortoq (formerly Julianehaab), the largest settlement in southern Greenland with a population of 3,000 people.
A mosaic of brightly-colored buildings blanketed the hillside, reminiscent of Greenland's color-coding system that was introduced during colonial times. Churches and schools were painted red, blue buildings identified factories and fish plants, and yellow was assigned to hospitals and healthcare workers. While some institutions still hold onto this tradition, Greenlanders are free to paint their abodes any color they like. Some are fuscia, pastel purple, lime green and whatever colors are on hand.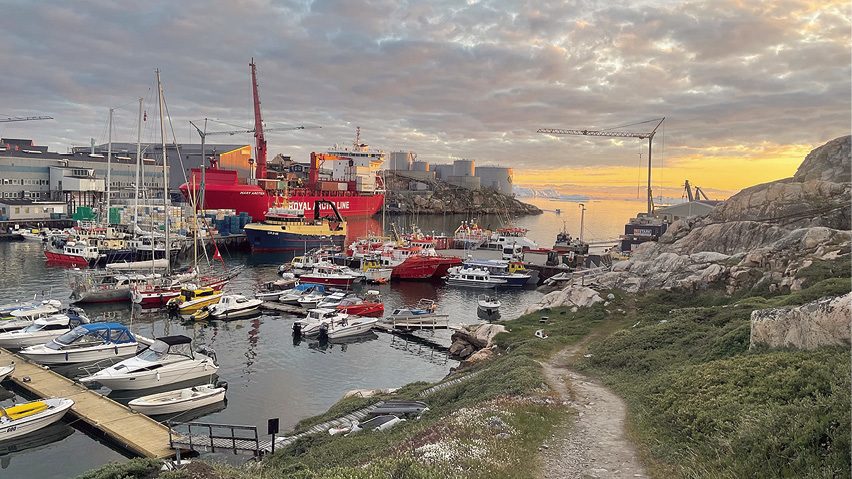 Greenland's climate and geography doesn't lend itself well to roads or rail lines—there are none connecting towns and settlements. All goods and people travel by sea or air.
The Royal Arctic Line (pictured here) docked in Ilulissat harbour, delivers supplies to communities along the coast of Greenland from Denmark. The terrain is classified as entirely tundra, providing little opportunity for commercial agriculture except in the far south where some families farm sheep, grass fodder and root crops.
The inner harbours of Greenland are designed for commercial fishing boats and small open boats, not large sailing yachts. But tourism of all types is on the rise. Twenty years ago, only the most adventurous sailors had this far-flung region on their radar. Last July, our boat was rafted between six other boats, many of them destined for the Northwest Passage. Several had visited before us and there were more to come. A new airport in Nuuk is slated to open in 2024 and Ilulissat's runways and terminals are being expanded.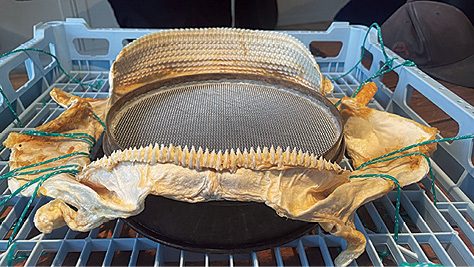 "Want to see something really cool?" asked our friend Max, who we met in Nuuk, Greenland's capital city. He reached above his fridge and gingerly pulled down a large plastic rack with something lashed to one side.
Max is from Denmark and moved to Greenland to work as a marine engineer. Fascinated by Greenlandic traditions and culture, he quickly fell in with the locals and was invited on hunting and fishing trips, bringing home reindeer and rock ptarmigan. On one trip he and another man caught a Greenland shark and Max kept its jaws, which he carefully cleaned and stretched out to dry.
Primordial and lumpish, Greenland sharks live hundreds of meters deep in the North Atlantic and Arctic Oceans, making them one of the longest living vertebrates on Earth—scientists estimate their lifespan to be anywhere from 250 to 500 years.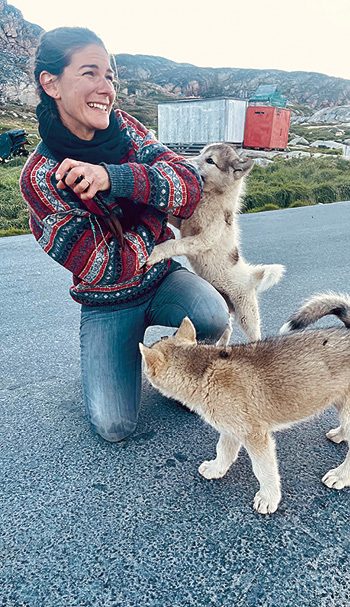 With poor eyesight and slow swimming ability they are primarily scavengers, aided by rows of saw-like teeth that mince and shred anything from halibut to polar bear carcasses. Because of their elusive nature, little is known about them compared to other sharks, including their population.
About 15,000 Greenlandic sled dogs, a type of husky, live north of the Arctic Circle and on the east coast of Greenland. While this may seem like a lot, nearly twice as many dogs existed 20 years ago. A lack of sea ice and increasing costs of upkeep are primary reasons for their decline.
While the adults are kept on leads, young pups are free to wander. These two ran toward us as we walked along the side of a road and one was especially keen on my wool sweater.
To maintain genetics and health, no other breed of dog is permitted north of the Arctic Circle. Any Greenlandic sled dog who leaves this restricted zone isn't allowed to return.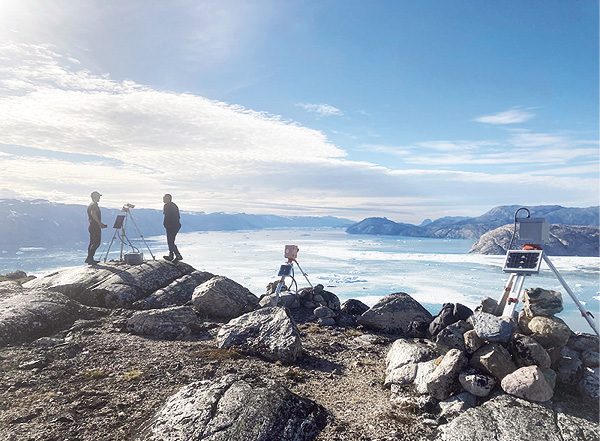 Expedition guide Pierre Muller (left) and Alun Hubbard, glaciologist with the University of Tromso, Norway, collect video footage and weather data from monitoring stations set up at Store Glacier. Store (the Danish word "stor" translates to "great," or "large,") is 3.5 miles wide and considered to be relatively stable compared to more rapidly shrinking glaciers along the west coast of Greenland.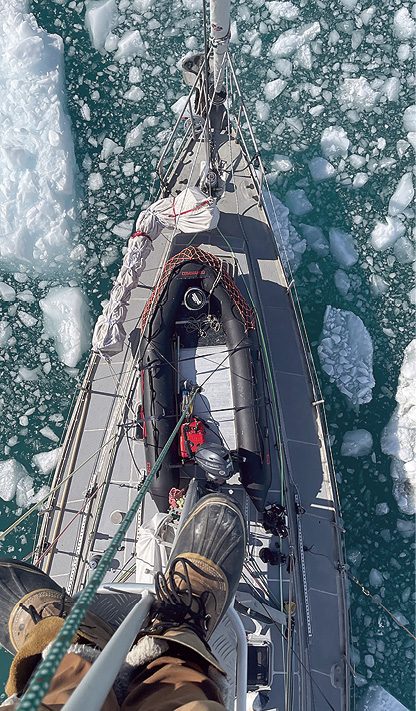 Working together with a handheld radio, Magnus gave directions from the crow's nest while I helmed the boat and slowly nudged brash ice and bergy bits aside. Magnus had a panoramic view of the landscape and could see the fastest route to open water. My job was to strike a balance: go slow enough to avoid damaging the rig or hull, but fast enough to keep momentum and steerage.
Photos by Magnus Day and Julia Prinselaar