In a small Northwestern Ontario town that sits at the doorstep of one of Canada's premier paddling destinations, it's not surprising that the local high school runs an outdoor education program.
But the unique thing about the Atikokan High School Outers Program is that after 54 years of operation, it has become the envy of other schools and a longstanding tradition in the community.
"It's a big part of our school. Some of the students we have this year are third generation 'Outers' in their families," said Brad Gascoigne, director of the program and vice principal of Atikokan High School.
Gascoigne took part in the program as a student in 1998, and since becoming a teacher has been involved with trips every year since 2005—as equipment manager, trip leader and director.
He says he's routinely contacted by other institutions wanting to model their program after Outers, which becomes increasingly difficult in the wake of safety requirements, insurance and liability.
"It's hard to start a program like this right now with all the safety concerns. But with 54 years, there's a lot of trust in the community with what we're doing, and that definitely goes a long way," said Gascoigne.
The program is available as an elective school credit to students in their Grade 11 year. Within the first two weeks of school, students complete a swim test, some preliminary planning, and a day-long canoe orientation. The program then progresses into trips that incorporate wayfinding and navigation skills, followed by overnight trips that run in the fall and winter once the lakes freeze over. That includes an all-night walk by compass that culminates with a big breakfast at a local restaurant at the end of the trip.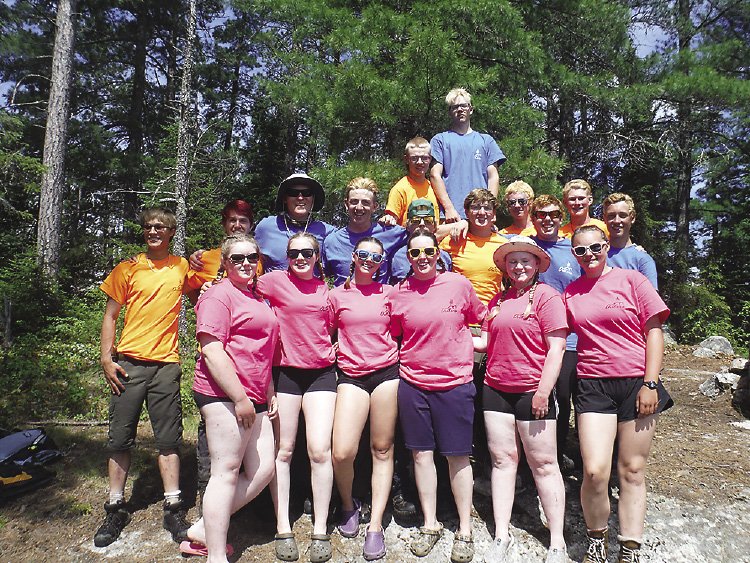 "The whole program is based on progression," said Gascoigne, which leads to a 12-day trip through Quetico Provincial Park each spring.
"That's a long time away from home. No technology and no communication with the outside world. You're living with your canoe and your tent for 12 days with these other students. We're pushing them to their limits, with long portages, mud and bugs, the rain, whatever."
It's under these challenging conditions that students learn to manage their time, cooperate with one another, build confidence, trust, independence and leadership.
"I think the canoe and the paddle is the vehicle we use because that's what we have around here. We're teaching kids the value of hard work, and just trying to imitate life. They're finding out that they can do a lot more then they realize," he said.
In a typical year, about three-quarters of all Grade 11 students at the school enroll in the Outers Program, and each student who finishes is required to complete an additional 30 hours of community service in return for the support that the program receives.
"I think a big part of the program is that we give back to the community," said Gascoigne. Service days typically involve trail restoration in Quetico Provincial Park in partnership with the Ontario Ministry of Natural Resources and Forestry.
"It's important that the community is behind us, and that we give back to the community," he said.