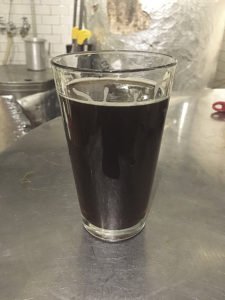 Ranked by Budget Travel as the 'Coolest Small Town in America,' Grand Marais is home to a world-renowned craft school, an art colony that's been in existence since the 1940s, the World's Best Donuts shop, and a pair of very solid breweries. A couple of months ago, I highlighted a winter seasonal from Voyageur Brewing Company, so this month I decided to head to the Gun Flint Tavern to see what sort of magic they had going on in the brewery.
The brewing portion of the Gun Flint Tavern is small and unique. It's comprised of three fermenters and a four-and-a-half-barrel system set against a white-tiled wall with skeleton ceramic tiles lining the top—making the number of styles offered all the more impressive. Of the five Tavern brews usually on tap, I almost always go with the Kölsch. However, I decided to give the Mahnomen 80 Shilling a try; both because it sounded like a fitting beer for a late-winter evening and because Paul Gecas, head brewer at the Gun Flint Tavern, recommended it.
I wasn't disappointed.
A Scottish ale brewed with a hefty amount of wild rice, the Mahnomen is an earthy beer that is balanced well with a honey-like sweetness brought out by the malt. The Mahnomen is smooth for a Scottish ale, with a distinctive wild rice flavor, making it a North Shore brew that's well worth trying.