The Two Harbors Dairy Queen has long been part of the community and a frequent stop for visitors and residents alike

. | SUBMITTED
---
A maybe little known fact to readers: while I've made my home in Cook County, I'm a Two Harbors-ite at heart. I was born and raised in Two Harbors, back when babies were born in the little hospital and we weren't allowed to cross 7th Avenue to Dairy Queen on our own (cue the begging of parents for ice cream cones). During my childhood, the number of dining options was pretty limited. Today, we are lucky that some of the old favorites are still around and new restaurants have joined the scene. These dining spots have stood the test of time, having been around for decades. You won't want to miss out on some of these long-time favorites, as well as the new items they are featuring.
If you want a place that serves breakfast all-day, you'll probably find yourself at Judy's Cafe. Going on four decades, it has been both a local haunt and a place for visitors to stop as they are passing through town. Described by one customer as a small town diner from a movie, Judy's Cafe has the authenticity of a real hometown cafe. Part of this authentic atmosphere is thanks to the regulars that come in for coffee each morning to catch up on what's new.
In 2015, long-time server, Lisa Heinonen, and her husband, Eddy Symons, purchased Judy's Cafe. While they have made a few additions to Judy's Cafe repertoire, including several fresh breads baked on-site, they have kept the well-loved menu and atmosphere. Their most popular item continues to be the Scattered, Smothered, and Covered Hash Browns, which are scattered on the grill, smothered with onions, and covered with cheese. The new hit is the homemade Cranberry Wild Rice Bread. Heinonen's favorite part of owning Judy's Cafe is "still getting to waitress and visit with everyone that comes in."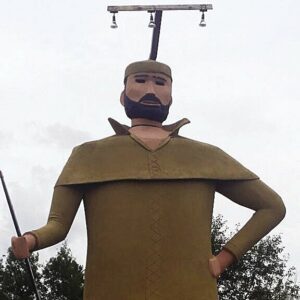 During the winter, look for a special menu item called kroppkaka, a Swedish potato dumpling with salt pork in the middle. And if you find yourself stopping in during the summer months, they offer an all-you-can-eat walleye fish fry. Judy's Cafe is open seven days a week (623 7th Ave.)
As you approach Two Harbors from down the Shore, a large figure greets you: Pierre the Voyageur. He marks not only the start of Two Harbors, but also the location of the Earthwood Inn. Since the 1950s, then called the House of Sweden, the Earthwood has been at this spot. Pierre has been there since 2011, after being moved from his original location in front of a museum and gift shop on Highway 61 in Two Harbors. In March 2017, Pierre again made the news when he lost an arm to some high winds. In addition to being known for Pierre, the Earthwood Inn is also known for their burgers. A visit to Pierre and a burger? Yes, please!
If you wonder how a restaurant becomes known for its burgers, it seems that offering 100 percent hand-pattied Angus beef burgers may be a key step. The most popular burger, the Ragin' Cajun, spices things up with a half-pound burger topped with andouille sausage, grilled onions and pepperjack cheese (also available with chicken breast). For those looking for something less spicy, the Brat Burger may be more your speed; a Bratwurst patty on a pretzel bun with sauerkraut, grilled onions and bistro sauce. To accompany your burger, the Earthwood has several local beers on tap in addition to domestic options, including Castle Danger Danger Ale, Bent Paddle Bent Hop, and Lake Superior Kayak Kolsch. Homemade chili or soup are also available to top off your meal.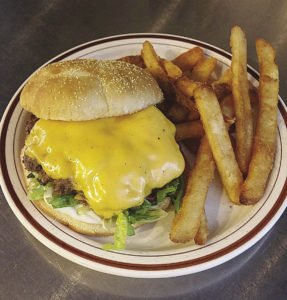 Lunch is also a great time to check out the Earthwood, as they have lunch specials available seven days a week. Choose from a five-ounce cheeseburger and fries for $6, a breaded chicken sandwich and fries for $7, or a fish, coleslaw and fries special for $9 (all available 11:30 a.m.-4 p.m. daily). Likely the longest and most affordable happy hour in town, Earthwood's happy hour runs from 11:30 a.m.-6 p.m., with $2.75 rail drinks. Veterans receive a free drink.
"We appreciate their service and this is our way to give back to them," said long-time Earthwood bartender, Jennifer Trinkhaus.
In May, a new menu will debut, so stop on by to try some new items later this spring. Earthwood Inn's kitchen is open 11:30 a.m.-9 p.m. daily (933 Stanley Road, just off the Expressway between Duluth and Two Harbors). Earthwood Inn's rooms will be available for rental starting in mid to late April, if you are looking for a getaway as well as a meal.
One of the most memorable food locales from my childhood is the Two Harbors Dairy Queen. Having first opened its doors in 1952, DQ has had a long history in Two Harbors. Today it is still a locally-owned business, with Seth and CarrieAnn McDonald at the helm. Both graduated from Two Harbors High School and are now raising their two children in the community. It continues to be not only a family-owned business, but also a family-focused one. What family hasn't been to Dairy Queen after a big game or for a family outing together?
As owner Seth said, "it really comes down to the smiles and stories that are created."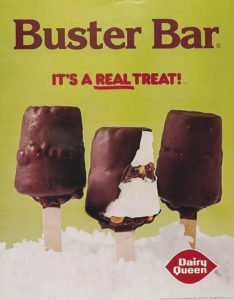 In addition to their classic soft serve, Dairy Queen is well known for its Original DQ Blizzard Treat. There is something about ice cream blended with your favorite candy bar or other flavors, like banana split, which happens to be my Mom's favorite. Now DQ has coined the word "upsidedownrightthick" to try to capture the essence of the Blizzard. Whatever you call it, it's delicious.
The Dairy Queen of my childhood was a strictly summer endeavor, but I was reminded by Seth that "Dairy Queen tastes great in any kind of weather." So whether there is a sunny warm day this month or a cold, dreary day when you need a little pick me up, they'll be happy to serve you your favorite treat with that iconic red DQ spoon. It may be fun to get a Blizzard during a blizzard, but I'm hoping for no blizzards this April! The Two Harbors Dairy Queen is open 11 a.m.-8 p.m., seven days week, with extended hours in the late spring into summer (530 7th Ave.).
Restaurants may come and go, but I hope you'll check out these hometown favorites in Two Harbors that have stayed. You might just see me over at the next table.