"Tea isn't just a beverage. Tea is fuel," Marc Bohemier tells me from across the table. His partner, Denise Atkinson, tops up my small porcelain cup with a splash of Japanese green Kukicha.
The three of us are seated by a window at the end of a long, wooden table in Tea Horse, an artisanal tea shop owned by the couple, located in the Bay-Algoma neighbourhood of Thunder Bay. As we watch people shuffle along the street on a cold January evening, I reflect on Bohemier's statement.
After water, tea is the most widely consumed beverage in the world. With origins in China, trade of the camellia sinensis leaf propelled commerce through some of the harshest trails in Asia for more than a thousand years.
"Tea is really what drove people through the Himalayan mountains," says Bohemier. He is referring to the days when tea was carried in hefty bundles on the backs of people and mule caravans along the Tea Horse Road, an ancient trade route dating back to the seventh century. The passageway once stretched across three main trunk lines throughout China; nearly 1,400 miles of the route marched up from the tea-growing valleys of its Sichuan Province, across the Tibetan plateau, crossing the Yangtze, Salween and Mekong Rivers, and through four 17,000-foot mountain passes before dropping into the holy city of Lhasa. The route connected several monasteries, whose monks would brew crude-tasting pu'erh tea with salt and yak-butter.
For centuries, China traded tea in exchange for sturdy, Nangchen warhorses as it was building its army. For 130 lbs of brick tea, the Chinese would get a single horse from Tibet. By the 13th century, National Geographic explorer Mark Jenkins reports that China was trading millions of pounds of tea for some 25,000 horses a year. As the country's need for horses waned, tea continued its trade for animal hides, gold, salt, gems and later more modern luxuries like typewriters, until the Mao government took over in 1949 and built a highway. Part of the northern route has been paved, while some of the harshest passes have been all but abandoned.
Fast forward to December 2017 in Toronto, Ontario, when Atkinson and Bohemier attended the city's annual Tea Festival.
"We thought we knew tea," said Atkinson. "We came in and started tasting these fermented, aged teas. There's just so much out there, and it was so different than what we thought tea was."
After a weekend of tea tastings and workshops from global tea aficionados like explorer Jeff Fuchs, who has himself traversed portions of the Tea Horse Road, Bohemier and Atkinson decided to bring parts of this tradition to Thunder Bay.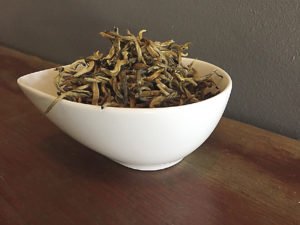 An ode to the ancient commerce route, its tea porters and growers, Tea Horse imports whole leaf teas sourced from small, sometimes family-owned operations in the far corners of the tea-growing world, including China, Japan and Taiwan. Aged cakes of fermented pu'erh teas sit in a display box next to shelves of ornately-decorated metal canisters carrying black, white, green and oolong loose-leaf teas, herbal tisanes and curated blends like the classic Earl Grey.
The taste of tea is partly influenced by how it is prepared, from the temperature of the water to how long it is left to infuse. There's the Western way of tea preparation with the familiar pot and basket, and Gong Fu Cha, a Chinese technique, involving layers of multiple infusions.
"You can run a spectrum of sweet, fruity, floral, to earthy, mushroomy tea, and it's all in the way it's plucked and it's all in the way it's produced," says Bohemier. "The way the tea tastes, how it makes your body feel, its stimulating effects: In these tea areas, they have a language around tea. Dialects."
Although the Tea Horse Road may be a relic of a bygone era, the people behind the leaf remain.
"There's a lineage," he tells me. "We see ourselves as part of this incredible value chain linking us with these ancient people in the Himalayas, from Yunnan and Sichuan, China into Lhasa, Tibet. Those people were there, and they're still there, but they're dying off. There are still people who are alive that were [porters] on the Tea Horse Road, driving through snow storms high in the mountains. And they were doing that for a leaf and hot water."
For anyone who's even a little tea-curious, Tea Horse offers daily samplings and educational workshops. "It's not just about retailing tea," says Atkinson. "We want to educate people. We offer private tea-tasting sessions, compare different flavours and preparation."
And they are careful to avoid exclusivity. "Tea is for all people," adds Bohemier. "If you have a chainsaw or a fishing rod and you want to come in for a cup of tea, leave your chainsaw in your truck and come on in. Take off your hard hat and sit down."