One of my fondest memories of living on the Canadian west coast is hiking the Wild Pacific Trail in Ucluelet. Cutting along the rugged, rocky shoreline of this small Vancouver Island fishing village, the scenic oceanside trail winds through forests of western red cedar, hemlock and Douglas fir. Beneath these towering giants is an abundance of berry bushes—mostly the thick-skinned and mildly sweet salal. Their taste and texture is akin to the Saskatoon berries common in the Great Lakes region.
In Canada, there are more than 200 varieties of what most people refer to as berries, but they're actually botanically classified into several different categories of wild fruits. These include true berries (i.e. blueberries), drupes (cherries) and pomes (Saskatoon berries), to name just a few.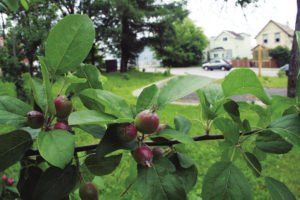 Plentiful from coast to coast, these fleshy fruits were, and continue to be, a food staple for First Nations. Indigenous tribes of the Pacific Northwest harvested salal berries, sweet thimbleberries, juicy salmon berries, and dozens more, like cloudberries, soapberries, blueberries, red raspberries and highbush cranberries. Prized for the vitamins, minerals, sugars and calories that weren't otherwise readily available in a traditional diet, berry patches were valuable food supplements.
Instead of passively harvesting from a given area, many tribes routinely cultivated the land by imparting practices of permaculture, a term coined in the 1970s by Australians Bill Mollison and Dave Holgrem. Permaculture design essentially mimics natural systems in a landscaped environment, using primarily native food plants. Examples of forest gardens can be found all over the world, from the Amazon jungle to the Himalayan Mountains in Bhutan.
Cultivating land was a means to provide a sustainable balance of resources by maintaining the quality and quantity of food production within given territories. Along the north coast of British Columbia, the harvesting areas of the Gitxsan and Wet'suwet'en First Nations were burned to remove competing vegetation, to kill older berry plants and to stimulate new growth. Historic berry gathering areas were often named, controlled, managed and handed down from generation to generation by particular families or groups.
Today, in some relative form, these practices are cropping up in our cityscapes and urban neighborhoods. Harvey Ussery, writer for Mother Earth News, is convinced that imitating Nature's blueprints is fundamental to raising an abundance of food.
"The idea behind forest gardening is that natural forests produce an abundance of food. People all over the world have harvested food from the forest, reaping where they did not sow. Forest gardeners imitate the forest's natural structure to take advantage of this abundance, but they increase yields even further through careful planning and management. The result is a productive fusion of garden, orchard and woodland. Urban food forests mimic the ecology of natural forests, and create a fusion of garden, orchard and woodland," he writes.
Roots to Harvest, a Thunder Bay-based non-profit organization that mentors youth by growing food, planted an edible food forest along a busy downtown corridor a few years ago.
"The idea is that there was a space there that wasn't being used, and Roots to Harvest was able to propose that we use it to grow food," says Kim McGibbon, program coordinator with the organization.
The food forest is planted primarily with low-maintenance foods like apple trees, gooseberries and currants that don't take a lot of work and water to maintain.
"There are a lot of people who don't have access to growing food, who don't have access to their own land, their own property or their own home. But there's an open green space there, and people can just walk in and check it out to see what's growing. It gives people that opportunity to ask questions and to learn about where food comes from," adds McGibbon.
---
If you're near a wild fruit patch and want to try something a little different, here are a couple recipes from Beverley Gray's The Boreal Herbal: Wild Food and Medicine Plants of the North.
Currant Juice

7 cups currants
1 cup water
Put berries and water in a saucepan. Simmer over low heat, stirring and mashing. When fully integrated, remove from heat and strain through cheesecloth or jelly bag into a large measuring cup with a spout (for easy pouring).
The juice will not keep for very long in the refrigerator. I recommend freezing the juice in ice cube trays, then transferring the cubes to a container for use when needed. Add a current-juice ice cube to fizzy water for an excellent natural pop.
---
2 cups sea salt
2 cups juniper berries, ground
4 cups almond, olive or grapeseed oil
1 cup water
Mix ingredients together in a bowl and pour into a jar for use. In the shower or bath, take a dab of the combo in the palm of your hand and scrub from the chest all the way to the tip of your toes. Do not use on your face.
Be aware that the surface of your shower or tub may become slippery with oil, so be careful stepping out. It's recommended to use baking soda to clean up afterward so the next person doesn't slip either.